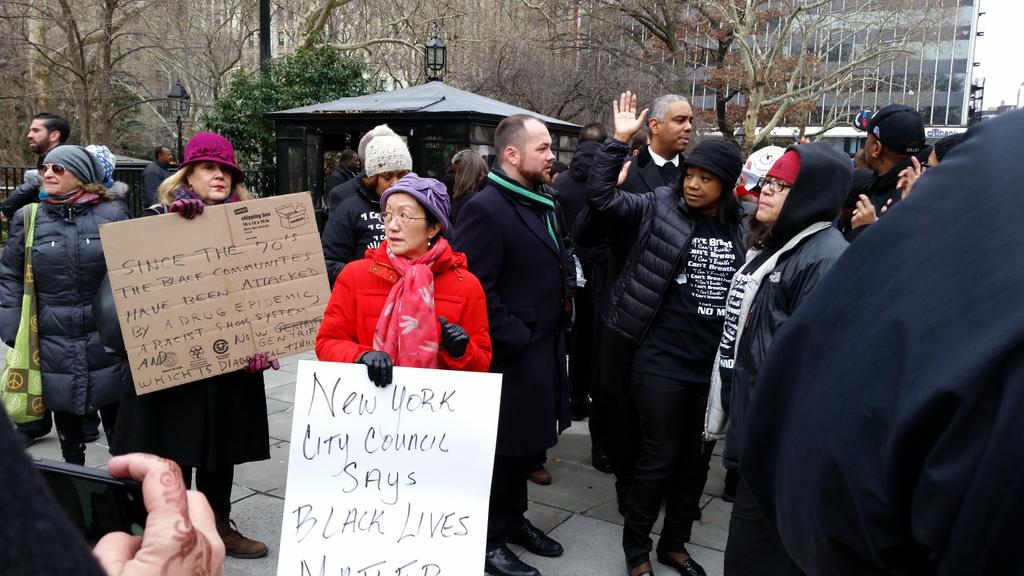 About half of the New York City Council blocked traffic on Broadway before marching into a stated meeting at City Hall, shouting "I can't breathe" in protest of a grand jury's decision not to indict a police officer in the death of Eric Garner on Staten Island.
"This Council will not remain silent, because black lives matter—because all lives matter. And we are not going to stop until there is reform and justice for all," Councilwoman Debi Rose, a Staten Island Democrat, said when the members had reached the floor of the council chambers.
Ms. Rose represents the North Shore of Staten Island, where Garner died after a police officer, Daniel Pantaleo, placed him in what has been described as a prohibited NYPD chokehold while trying to arrest him for selling loose cigarettes. Last week a grand jury on Staten Island opted not to indict Mr. Pantaleo on any charges, spurring days of protests.
A slew of members, including Council Speaker Melissa Mark-Viverito, are wearing shirts today that say "I can't breathe," Mr. Garner's last words and a phrase video captures him uttering 11 times.
Ms. Mark-Viverito, wearing a blazer over her t-shirt, started the meeting by discussing Garner's death.
"Eleven times Eric Garner cried out for help, and eleven times his cries went unheard: 'I can't breathe,'" she said, leading the Council in repeating the refrain 11 times.
The speaker has been outspoken in her belief that the grand jury made the wrong choice in failing to indict in Garner's death, and today spoke a of a justice system that "predictably buckles when a shield is involved."
"What happened to Eric Garner is not justice… A system that produces this much pain is clearly broken," she said.
The decision not to indict in Garner's death follows a similar decision in Missouri in the case of Michael Brown, an unarmed black teenager shot to death by a white police officer, Darren Wilson. It is that case that lead to other rallying cries shouted by the Council members today—including "Hands up, don't shoot," and "Black lives matter."
In protest of the Ferguson decision, several Council members walked out of the body's last meeting, hands in the air.
Today, in response to a death closer to home, the members and activists followed a playbook familiar from the last week of protests. They first staged a "die-in," lying on the ground at City Hall. Then they marched outside—past a huge gathering of Teamsters huddled to protest the Council's introduction of a bill to ban horse carriages—and out to the street to block traffic for several minutes.
The elected officials and activists then returned to City Hall, waiting in a lengthy line to pass through security, as activists chanted and sang. Some of the Teamsters set aside their differences over the horse bill to join in for a "Hands up, don't shoot," chant. The group of Council members headed up the stairs, followed by a mass of people, including many clergy, chanting and then singing "We Shall Overcome" in the cavernous rotunda outside the Council chambers.
Before the Council meeting, Ms. Mark-Viverito said she was still determining if she'd attend a march on Washington scheduled for this weekend, and whether members of the Council might attend collectively.
"The rally in DC is incredibly important, I do hope that many people will turn out, and I think that many will," she said. "We'll be making a decision shortly."
Ms. Mark-Viverito said the Council would be considering other action it could take, including holding oversight hearings.
"Personally, I was extremely affected by the decision," Ms. Mark-Viverito noted, emotion in her voice. "I think it was wrong."
Watch a video of some of the protesting today below: