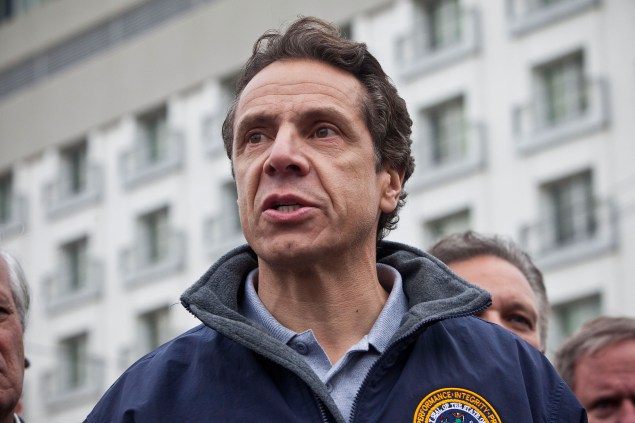 The city's leading Democrats all hailed Gov. Andrew Cuomo's decision today to ban hydraulic fracturing in New York State, reaffirming stances they'd long taken against the gas extraction process.
"I think it's the right decision. A lot of us have watched over recent years with a great deal of concern as more and more information came in," Mayor Bill de Blasio told reporters. "I became convinced a few years ago that this is something we have to entirely rethink, and I think that what the governor has done is the right move for New York State."
Council Speaker Melissa Mark-Viverito and Comptroller Scott Stringer, fellow Democrats, also expressed gratitude over Mr. Cuomo's long-awaited decision.
"The negative health consequences of fracking are well known and the Administration's decision against it is sound science and sound policy," Ms. Mark-Viverito said in a statement. "The governor and his team sent a bold statement today that we must ensure the health and well-being of all New Yorkers."
Mr. Stringer stated that Mr. Cuomo had "sided with history, its citizens and its communities in implementing a ban on hydraulic fracturing."
"It's a great day for all of us who fought for years to 'kill the drill' and protect New Yorkers in every corner of the state from the hazards of fracking," Mr. Stringer said.
Mr. Cuomo, re-elected this fall to a second term, dithered for years about banning fracking. Environmentalists, a well-organized constituency in the state, oppose fracking because extracting gas from deep underground can contaminate the state's air and water supply and pose other public health risks.
Polling on fracking is split, however, because natural gas production can bolster local economies. Abundant gas has drastically lowered the price of gasoline nationwide and many New Yorkers upstate saw fracking as a way to revive their moribund towns and cities.
Mr. Cuomo delivered the decision at a year-end cabinet meeting, pinning the hopes of reviving upstate economies on casino gaming instead. While New York City Democrats were celebratory–the City Council will introduce a bill to ban fracking in the five boroughs–some Republicans lamented Mr. Cuomo's fracking ban.
"How many #fracking activists are blogging about their win in apartments heated cheaper by nat gas in a city with cleaner air bc of nat gas?" tweeted Assemblyman Joseph Borelli, a Staten Island Republican.