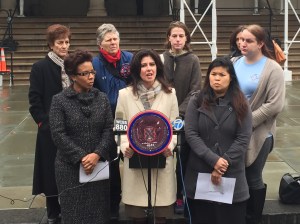 New York has been forced to accept a massive defeat against San Francisco—and almost the rest of the country—when it comes to employing female firefighters. While coastal frontrunner San Francisco's department is currently made up of thirteen percent women, NYC's numbers are staggering in lack: only 44 women currently serve in the 10,500-person New York City Fire Department (FDNY), a chunk that amounts to less than half of one percent of the entire force, according to a press release.
Former Congresswoman and NYC Comptroller Elizabeth Holtzman described the numbers as "deplorable."
In a bid to raise that figure, Council Members Helen Rosenthal, Elizabeth Crowley, Laurie Cumbo and Ben Kallos stood on the steps of City Hall with the United Women Firefighters (UWF) and supporters Wednesday morning. They called on the FDNY for action, meeting just before a NYC Council oversight hearing that will examine existing barriers that prevent female candidates from joining the FDNY.
"Cities like Minneapolis and San Francisco have up to thirty times more women serving in their fire departments," said Ms. Crowley, Chair of the Fire and Criminal Justice Committee and co-Chair of the NYC Council Women's Caucus, in a press release. "The City not only needs to increase and rethink its recruitment efforts, it needs to answer serious questions regarding testing methods in the Fire Academy that may be keeping female probationary firefighters from graduating."
Also in discussion at the hearing will be Introduction 579, a bill sponsored by Ms. Rosenthal and Ms. Crowley that would compel the FDNY to disclose to the NYC Council a report on the applicant pool, classified by race and gender, throughout each stage of the process.
Unfortunately, the city is in too deep for a quick fix—President of the UWF Sarinya Srisakul said that merely to meet the national average would require the FDNY hiring over 400 women.
Ms. Rosenthal, Chair of the Contracts Committee, made note of a puzzling discrepancy: 18% of New York police officers and 13% of U.S. combat troops are women.
"I am eager to learn from the administration at today's hearing what is so unique about being a firefighter in NYC that excludes women," she concluded.