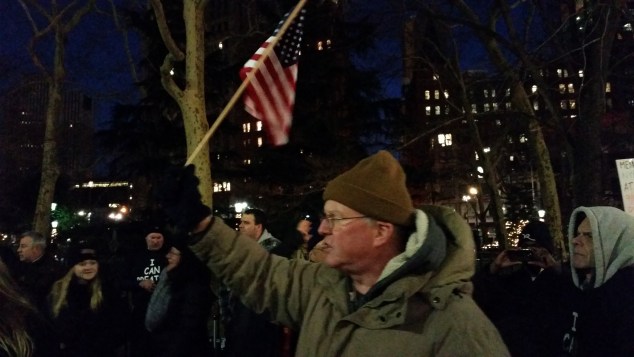 Dozens of pro-police protesters met a wave of counter-demonstrators outside City Hall tonight, singing songs and hurling insults at one another.
Though Police Commissioner Bill Bratton predicted that almost no one would come out to the planned rally, several dozen NYPD-backers poured onto a Broadway sidewalk to decry the mass of anti-police brutality marches that overtook the city in recent weeks. A rival protest quickly matched their own in size and fury, though barricades and cops prevented any dangerous physical confrontation.
"We're supporting law and order. We support the police. We believe they are the thin blue line that supports us and protects us," said Phillip McManus, a Rockaway, Queens resident. Mr. McManus was clenching an American flag.
"You know what? We're not going to block traffic. We're going to follow the law," he added. "This is what happens when you have a government that runs amok and doesn't represent the people."
A Facebook page called "Thank you NYPD" announced the rally last week, but organizers warned several days ago police unions wouldn't be lending their formal support and even suggested not showing up in light of online threats. But a crowd, hoping to push back against the many thousands of people who denounced a Staten Island grand jury's decision not to indict a white police officer in the death of Eric Garner, a black man, still arrived.
Barricaded into camps on the sidewalk and further separated by wary, mostly silent police, the two sides spent more than a hour unleashing streams of invective at one another. One woman, holding a "Who Watches the Watchmen?" sign in an apparent attempt to criticize the police and antagonize some protesters, was called a "communist bitch." Another man, clad in a black ski mask and dangling over a barricade, told pro-cop protesters they were "on the wrong side of history" and compared police officers to the Ku Klux Klan.
In a twist on the "I can't breathe" chant that has dominated rallies since video showed Garner wailing those final words as a police officer placed him in an apparent chokehold, several men wore "I can breathe" black t-shirts and chanted "NYPD, thank-you for protecting me."
As one side yelled "Eric Garner," the other shouted "criminal." At least twice, the pro-cop rally sang bars of "God Bless, America."
"If you follow the law, you don't have a problem with the police. If you act like the rabble-rousers, you weaken the country," said Andrew Insardi, a dentist from Maspeth, Queens. "They're misled and they're being led by people who have no intention of doing any right for their cause."
A friend of Mr. Insardi's, who refused to be identified, blamed Democrats and Mayor Bill de Blasio for inflaming racial tensions in the city and demonizing police.
"All these people, every one of them are Democrats. They're all Democrats. This is the Democratic Party to a 't,'" he said, pointing to the sign-holding mass on the other side of the divide.
"I wouldn't even give them that much credit," Mr. Insardi replied.
Since grand juries voted to not indict white police officers in the deaths of black men in Staten Island and Ferguson, Mo., national scrutiny has returned to how police interact with communities of color. Mr. de Blasio, a liberal Democrat, has strained to strike a balance between offering support for his police force and expressing sympathy for how minorities say they have been besieged by police.
But police unions and some protesters tonight only see a mayor undermining police while catering to protesters who have repeatedly jammed bridges and highways since the grand jury announcements. In a sign of how generations view the conflict, the pro-police demonstrators were older and whiter, a sample of the people who once held more clout in municipal elections. Their opponents were younger, a mix of black, brown and white.
The pro-police rally was also a far cry, in size and aggression, from the police-supporting riot that overtook City Hall and the Brooklyn Bridge two decades ago. Hundreds of protesters and off-duty police, furious at Mayor David Dinkins, the city's first and only black mayor, stormed the area, blocked traffic on the bridge and injured a photographer in 1992.
This time, with the temperature dropping, the pro-cop crowd began to dissipate long before midnight–the planned end of the rally.
"Your privilege won't save you!" one woman from the anti-police brutality camp yelled across the barricades.
"You are clueless," a long-haired man on the other side groused. "You know what's a privilege? America, you clueless loons."