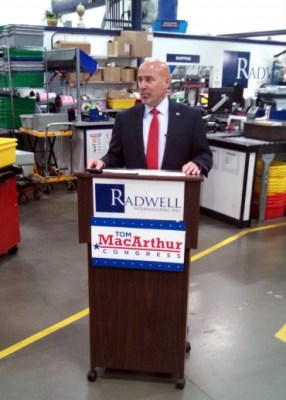 TOMS RIVER — More than a month after clinching a victory over Burlington County Freeholder Aimee Belgard in South Jersey's third congressional district race, U.S. Rep.-elect Tom MacArthur (R-3) announced today that he has secured a seat on both the House Armed Services Committee and the House Natural Resources Committee for the incoming 114th Congress.
"I am grateful to Speaker Boehner, House leadership and my future colleagues for this tremendous honor and responsibility," MacArthur said in a statement. "Serving on the House Armed Services Committee was a top priority for me and I actively campaigned for this assignment ever since my election. Joint Base McGuire-Dix-Lakehurst is vitally important to our region's economy and our nation's military preparedness, and securing its future will be a primary focus of mine."
He said his assignment to the Armed Services committee fulfills a campaign promise he made during the race: to actively seek the role if elected, given its "critical importance" to the future of Joint Base McGuire-Dix-Lakehurst, the state's second largest employer, and South Jersey's economy.
"Through my seat on this committee, I will also be a forceful advocate for policies that seek to achieve lasting peace through military strength and be a strong voice for the large concentration of veterans that call our region home," he added.
"I'm excited to welcome Rep.-Elect Tom MacArthur to the committee," incoming Armed Services Committee Chairman Mac Thornberry, of Texas, (R-13) said. "Tom will be a great advocate for his local communities, and he brings an impressive resume to the Committee as a thoughtful problem solver.  I look forward to working with him in January."
MacArthur won CD3's high profile contest to succeed retiring U.S. Rep. Jon Runyan in November after running one of the most expensive campaign in the country. The latest Federal Election Commission reports show Belgard and MacArthur spent more than $7 million between them, with national independent expenditure organizations like the Democratic Congressional Campaign Committee adding to the bill. An insurance executive originally from north Jersey, MacArthur largely self-funded his own campaign, lending it $5 million over the primary and general elections to become the biggest spender in any of New Jersey's House races this year.
The Republican, who is set to join other freshman congressman in Washington D.C. in January, also commented on his assignment to the Natural Resources Committee, which previous CD3 congressman, such as Jim Saxton and Runyan, also sat on.
"Much like it did for Congressmen Saxton and Runyan, serving on Natural Resources positions me well to address the needs of multiple constituencies in this district across both counties," said MacArthur, an avid boater and outdoorsman.
MacArthur paid a visit to McGuire-Dix-Lakehurst last month, joined by two unlikely allies.