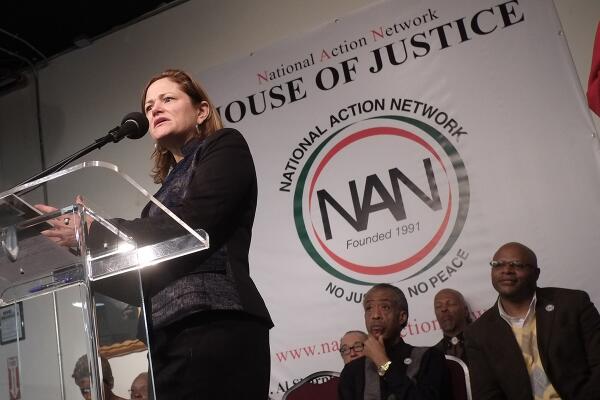 Council Speaker Melissa Mark-Viverito and her allies in the Council's dominant Progressive Caucus blasted a Staten Island grand jury's decision not to indict NYPD Officer Daniel Pantaleo in the homicide of black borough resident Eric Garner in July, and called for President Barack Obama's Department of Justice to get involved.
Ms. Mark-Viverito labeled the 23-member civilian panel's decision of no reasonable cause for arrest "terribly disappointing" and "not reflective of the events that led to Eric Garner's death. She suggested the killing, which involved what many have labeled a prohibited chokehold in the effort to subdue the massive, asthmatic Mr. Garner for selling untaxed cigarettes, was part of pattern of racial killings by law enforcement across America.
"What makes this even more infuriating is the frequent lack of accountability, which is why I urge the U.S. Department of Justice to launch its own investigation," Ms. Mark-Viverito said in a statement. "The use of excessive and lethal police force against people of color is a persistent problem nationwide and we must recommit ourselves to building a more just city and society where all people, regardless of color, are treated equally by law enforcement."
The Council leader also called upon Mayor Bill de Blasio's NYPD Commissioner Bill Bratton to take steps to accelerate new reforms departmentwide—even as she called for peace in the streets.
"Commissioner Bratton must expedite the retraining of NYPD officers – the vast majority of whom serve our communities honorably and bravely – so we can ensure that incidents like the one that led to Eric Garner's death never occur again," she said. "During this painful time, it is imperative that New Yorkers come together rather than allow frustration and anger to boil over and divide us. The Garner family has asked that any demonstrations be peaceful and everyone should respect that call."
Staten Island Councilwoman Debi Rose, a member of the Progressive Caucus who represents the area where Mr. Garner lived and died—and who is the first black woman to represent part of Staten Island—implicitly attacked Republican Staten Island District Attorney Daniel Donovan, suggesting he may have been less than impartial during the grand jury process. She alluded to a video recording made of Mr. Garner's killing, in which he can be heard repeatedly yelling "I can't breathe," and to a coroner's report declaring his death a homicide.
"How the video of the incident clearly showing the overreaction of certain police officers to a report of a minor non-violent crime, the subsequent use of excessive force and the medical examiner's report cannot result in an indictment calls into question the validity and fairness of the presentation to the grand jurors," said Ms. Rose, dismissing Mr. Garner's record of 31 arrests as immaterial. "It is imperative that the United States Department of Justice immediately conduct an independent investigation. I want to emphatically reject the idea that because of Eric Garner's prior arrests, that it somehow allows the use of excessive force—of deadly physical force by the police against any unarmed person."
Mr. Donovan's office did not immediately respond to a request for comment.
The 19-member Progressive Caucus echoed many of these concerns and complaints in its collective statement to the press.
"Members feel that a major injustice has been committed and that the challenges regarding police and community relations is one in dire need of solutions. Council Members agree that the result in the case of Eric Garner's death is another racial injustice stemming from systemic problems including institutionalized discrimination, hostile relations with public safety agents and failed police accountability," the conference said.