[youtube https://www.youtube.com/watch?v=gRaRbUXPleA]
Hecktor Irakliotis, 26, and Tatyana Sandler, 25, made headlines last week when they tied the knot on the N train in New York City.
As their favorite subway line crossed the Manhattan Bridge from Brooklyn, the couple exchanged vows in a subway car decorated with white ribbons by Mr. Irakliotis' groomsmen. Commuters were invited to the ceremony–if it was along their route–and moved toward the back of the train to make room for the wedding party.
Ms. Sandler told The Daily News, "I'm originally from Ukraine, and each time we'd come back here, I'd say to Hector, 'It doesn't feel like home until I see the skyline as we're crossing the bridge.' And he remembered that. He planned it out specifically so that we'd see the skyline as we were married."
But Mr. Irakliotis and Ms. Sandler aren't the first New Yorkers to forgo the traditional nuptial route and invite dozens, or even millions, of strangers along for the ride.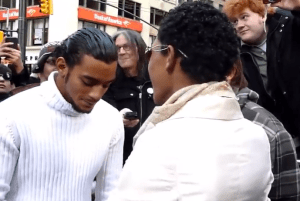 Five days after Occupy Wall Street protesters were forced to leave Zuccotti Park in 2011, Jonathan Lopez and Ivan Cabrera went back to the park, minus the signs, to exchange vows in front of hundreds of returning protesters.
And after winning a 2010 contest, Bethany Philips and Geoffrey Dubie, who met in Iraq as soldiers, became the first couple ever to exchange rings in Times Square on New Year's Eve in front of 1 million witnesses. 
Meanwhile, that same year Josh and Ting Li, who share a love for Apple products, became the first couple to get married inside of an Apple Store. The couple said 'I Do' at the store on Fifth Avenue on Valentine's Day. A priest dressed as Steve Jobs officiated and the couple read their vows off iPhones. 
In 2012, Ohio couple Scott Everhart and Jason Welker exchanged vows at Midtown Comics in honor of the release of "Astonishing X-Men No. 51," in which superhero Northstar marries his boyfriend Kyle. They mixed some superhero songs in with the traditional wedding music. 
[youtube https://www.youtube.com/watch?v=vBBxs5GY6B0]
Mary and Raymond Donaldson also tied the knot, this time in motion–at mile 22 of the New York City Marathon. The couple said "I do" in 2011, while running, and crossed the finish line as husband and wife. Even more impressive, their officiant ran the whole race ahead of them.
As for Irakliotis and Sandler, they should be off honeymooning as husband and wife–hopefully somewhere above ground.