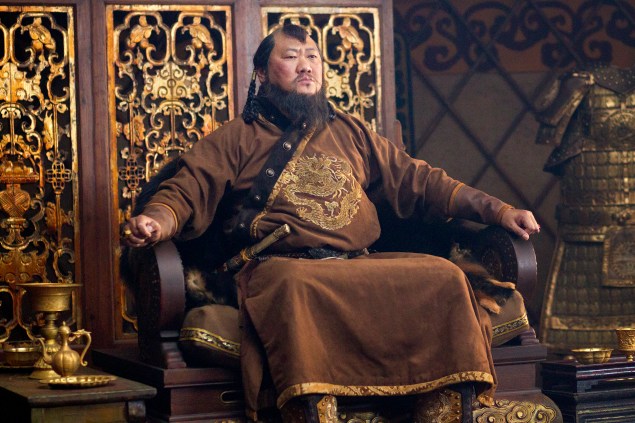 It's not every morning you spend in a hotel room 42 floors above the streets of New York with Marco Polo and Kublai Khan. And even if this situation should arrive, it's not likely that Marco Polo and Kublai Khan are yelling, enthusiastically, about how much they love Netflix (NFLX)'s model of releasing all episodes of a show at once. But sometimes, such is life.
We were seated at an event held at the Mandarin Oriental in Columbus Circle, meant to preview the newest 'prestige' show to hit streaming, and I had just asked about binge-watching.
"Customer freedom!" yelled Lorenzo Richelmy, who plays the titular character of Netflix's Marco Polo.
"Customer freedom! Don't dictate how I want to watch my TV!" echoed his co-star Benedict Wong, who portrays Kublai Khan, grandson to Genghis Khan, on Netflix's newest original series.
"Stop being brainwashed by commercials, man. That's the philosophy. You want to see it? Just open up your PC and hit play," Mr. Richelmy told me in his thick, Italian accent. This will in fact be the philosophy when Netflix releases all twelve episode of Marco Polo tomorrow, December 12 for the world's binge-watching pleasure.
But years before Marco Polo was ready for release, it was a grand project worthy of the explorer himself. The show, which portrays Marco Polo's time spent against his will in the Mongolian court of Kublai Khan, is backed by the mighty Weinstein Company. The show first assembled an A-List behind the scenes crew, helmed by producers John Fusco and Dan Minahan. Every single person I spoke with involved with Marco Polo, cast and crew, mentioned the name Tim Yip, the show's costume designer who has previously won an Oscar for Crouching Tiger, Hidden Dragon. 
The actors themselves proved a motley crew, assembled from basically every corner of the earth. Mr. Richelmy himself, a native of La Spezia, Italy, spoke zero English little more than seven months prior to speaking with me. He only got the part of Marco Polo by creating his own audition tape and shipping it to renowned casting director Nina Gold. By some fortune, that tape ended up off the pile and into the hands of the show's producers. Relatively unknown Australian actor Uli Latukefu auditioned for Mr. Fusco, who was in Mongolia, via Skype while in Sydney. "They kept having to move the camera back, to get me totally in the frame," Mr. Latukefu mentioned. It's worth noting that Mr. Latukefu is a massive human being.
Filming itself spanned hundreds of thousands of miles. Majority of production took place in Malaysia, with a number of scenes shot in Venice, but producers soon found that nothing in these locations doubled for the Mongolian Steppe. Naturally, that meant picking up and shooting scenes in Kazakhstan.
All this — actors, creators, locations — to the tune of $90 million, the highest Netflix has spent for a show to date.
But you can't put a price on authenticity, I suppose, and Marco Polo is nothing if not authentic. Mr. Yip's costumes, coupled with Lilly Kilvert's set design, mixed together with the shooting locations makes Marco Polo some of the most visually striking TV on any platform. These surroundings, this literal cultural osmosis, was no small help to the cast's performance.
"In Kazahkstan, you would drive five hours outside the city, to where roads sort of stop being roads, and it was just in the mountains, and deathly quiet," Mr. Wong said. "And you could only really hear the clumping of the horses, and it was a sort of a beautiful silence. Like it enveloped you."
Mr. Wong's cast mate Mahesh Jadu, who plays Khan consultant Ahmad on the show, told me of a much more personal, musical experience.
"I remember picking up a pebble and going, 'this pebble could have last been picked up by someone from [Marco Polo's] era," Mr. Jadu told me. "I was listening to Mongolian musicians in the car while driving through the Steppes. And it was as subtle, but as real as you can get. This location is what inspired them to make this music."
"Are you very familiar with Mongolian throat singing?" interrupted Remy Hii, who plays Kublai Khan's son on the show. "It's haunting. It's guttural. They use a lot of it in the show."
All of this — this massive production, these grand ideas — come back to Mr. Fusco, who conceptualized the show many years ago. Luckily, he found that he and Harvey Weinstein shared a love of Chinese cinema, and they were off to the races. I had to ask, though, why Marco Polo of all people?
"I grew up with this great interest in Asia. And I was this unlikely Italian-American kid who loved the East, and I was always reading about ancient China. And you cannot go into that world without encountering Marco Polo," Mr. Fusco said. "What has haunted me these past couple of years is, I've just been amazed that Marco Polo has been hidden under this shroud of historical dust and this mythology. Like, 'oh, he brought noodles back to the West.' That's all I hear. I've talked to some really smart people who say, 'I don't know, he's an explorer?'"
I've seen the first three episodes of the series so far, and Mr. Fusco's wish, that viewers learn things about Marco Polo that a basic History 101 course would never teach them, is certainly fulfilled. And as Marco Polo and Kublai Khan themselves would tell me, if I wanted to continue past those first three episodes, I'd have the freedom.
"We call the sections hours, not episodes. This is basically a ten hour long movie," Mr. Fusco said. "It's like literature, it's a very novelistic format. You close a book at the end of a chapter, you don't have to wait until next week to go to the next chapter. That's so freeing as a storyteller, and as a viewer."
(Featured image: Lorenzo Richelmy in a scene from Netflix's "Marco Polo." Photo Credit: Phil Bray for Netflix.)