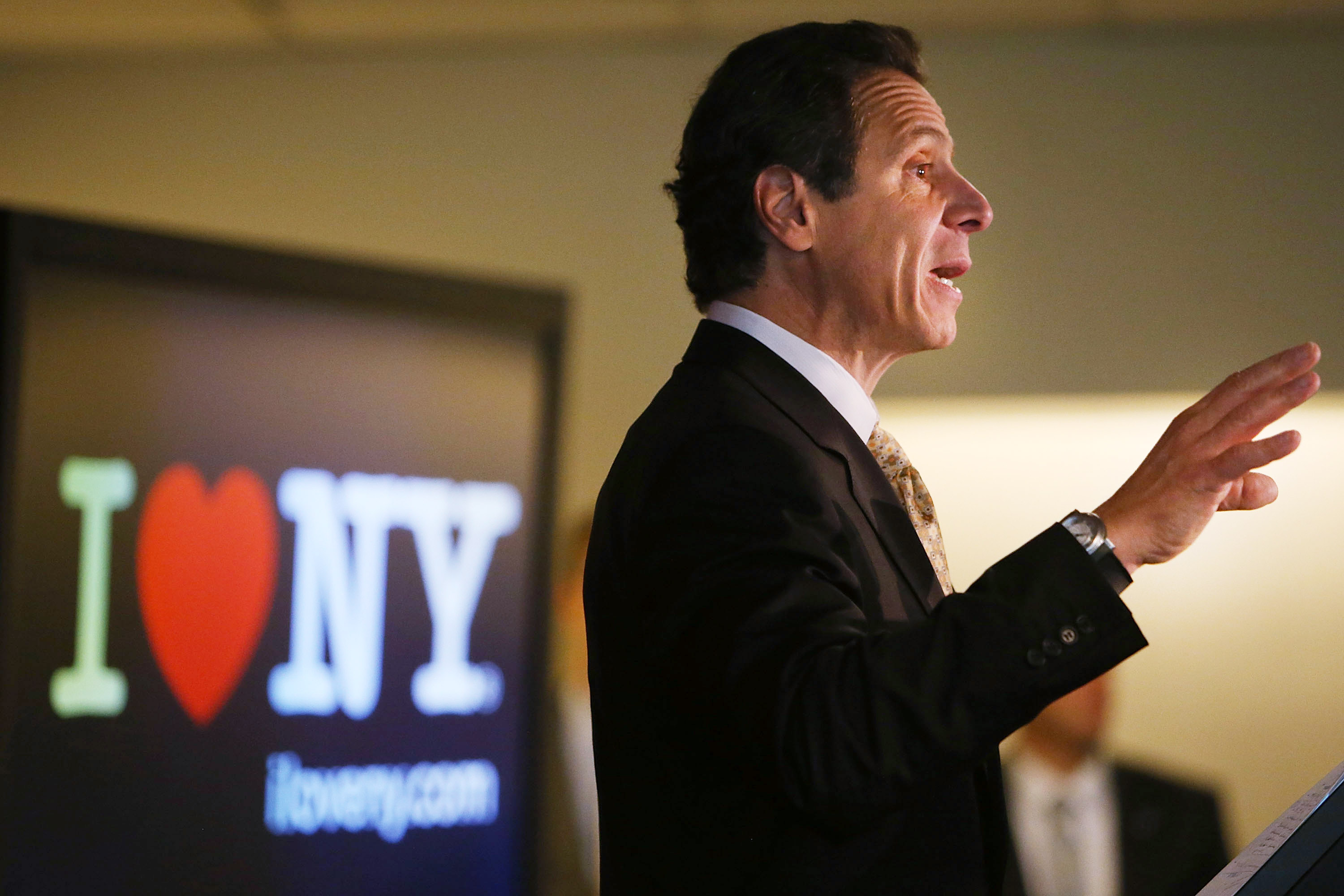 Gov. Andrew Cuomo proposed a sweeping, if somewhat vague, package of changes to policing and prosecution today that he hopes the state legislature will take up next year in reaction to the non-indictment of a police officer in the homicide of Eric Garner, a black Staten Island man.
Speaking on the Capitol Pressroom radio show, Mr. Cuomo rattled off a long list of of changes he said he would seek from the State Senate and Assembly next year to prevent a recurrence of the fatal encounter between the officer, Daniel Pantaleo, and Garner in July.
"I think we need a comprehensive look. This is about race relations, this is about police training, certainly, and better training, this is about transparency, this is about accountability, this is about diversity in the police force, it's all of the above," he said.
"And it's about the grand jury process and possible reforms to the grand jury process. It is about cameras on police. It's about the laws concerning a police officer and their right to affect an arrest. I think we should have a comprehensive review of all of the change of venue comes up, the D.A.'s role and procedures comes up. I think there should be an opportunity look at all of the above," he added.
Nonetheless, Mr. Cuomo would not commit specifically to a law requiring a special prosecutor to handle allegations of police misconduct. A number of politicians and advocates have suggested that Staten Island District Attorney Daniel Donovan, a Republican, was too close to the police to properly present evidence to the grand jury that determined there was insufficient cause to charge Mr. Pantaleo with a crime.
"I think we should look at the whole. I don't think there's going to be any one answer. I think that's, that's the first point, right? Because this is not just Eric Garner, this is not just Missouri, it's bigger and broader and with a fundamental genesis. And I think we should look at the whole system and it's not going to be just one quick fix," he continued, alluding to protests in Ferguson, Mo. over a white police officer's killing of black 18-year-old Michael Brown and a grand jury's subsequent non-indictment of the officer, Darren Wilson.
Mr. Cuomo argued that reforms are necessary to the continued proper functioning of state government and society as a whole.
"This is troubling and disturbing to say the least. You know, the justice system is a fundamental institution of our democracy, and it has two basic goals: to do justice, to deliver a just outcome, and two, to instill in the public confidence that the justice system works for all, right?" he said. "That justice is blind, justice for all. And we have a large segment of the population that believes that they do not get justice. If the justice system does not have confidence, then we have a real problem in our society."
Mr. Cuomo said he saw a trend in the abuse and killings of black men by law enforcement. He recalled the 2012 shooting of teenager Trayvon Martin at the hands of Sanford, Fla. neighborhood watchman George Zimmerman, the 1999 death of Amadou Diallo in a hail of NYPD bullets, the killing of Sean Bell on his wedding day in 2006 and the case of Abner Louima, who was brutally beaten, tortured and sodomized with a broom handle by police officers in Brooklyn in 1997.
Only Mr. Louima's case resulted in an indictment and imprisonment for the officers involved.
"It's not just this case, it's not just this year. It is, as you say, Martin and Diallo and Bell and Louima, it's Missouri," Mr. Cuomo said.
The governor added that he sympathized with those who viewed the video of Garner's death, which shows the deceased repeatedly declaring "I can't breathe" with Mr. Pantaleo on his back and with the cop's forearm around his throat.
"The video tape was damning in its apparent suggestion as to what happened," Mr. Cuomo said, attributing the protests that wracked the city last night to the video and disappointment in the legally required secrecy of the grand jury proceedings. "Nobody knows what happened in that room. But the incongruity between what was apparent on the video tape and the grand jury's decision has trouble many people, and that's what the protests are all about, et cetera."