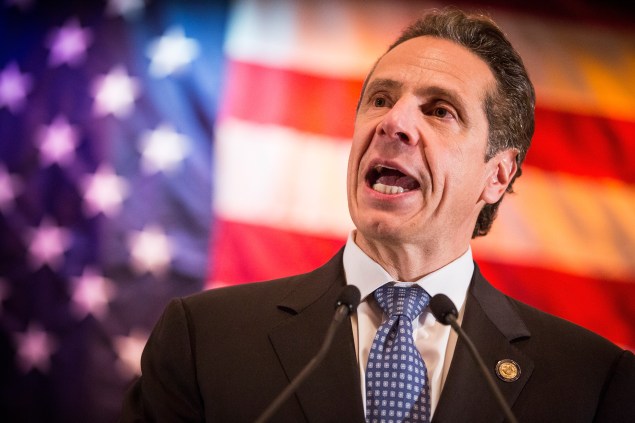 Gov. Andrew Cuomo repeatedly refused to condemn the president of a top police union for claiming Mayor Bill de Blasio had "blood" on his hands after two cops were killed execution-style Saturday.
Mr. Cuomo, pressed today in a radio interview with WNYC's Brian Lehrer, said he was supportive of both Mr. de Blasio and Patrick Lynch, the president of the Patrolmen's Benevolent Association, though Mr. Lynch has been a loud critic of the Democratic mayor.
"I don't want to get into who's to blame, who's worse, who went first. That's part of the negative cycle we're in," Mr. Cuomo said. "Pat Lynch reflects the feelings and represents the feelings of the police officers but I don't want to point fingers and blame. I am going to talk to Pat Lynch. I know him for many years, I respect him as a leader."
The December 20 murder of two police officers, Wenjian Liu and Rafael Ramos, by 28-year-old Ismaaiyl Brinsley, has ignited long-smoldering tensions between the mayor and the city's two largest police unions. Brinsley posted on social media he was seeking revenge for the deaths of unarmed black men Eric Garner and Michael Brown. Mr. Lynch blamed the mayor—who has been sympathetic to people protesting against police brutality—for the officers' deaths, telling reporters Saturday that "blood on the hands starts on the steps of City Hall, in the office of the mayor."
Most of Mr. de Blasio's Democratic allies condemned the remark. But Mr. Cuomo, a fellow Democrat who professes to be close to the mayor, tried remain above the fray today, calling for everyone to "reflect" and "turn the temperature down."
"I will be open to and convene a discussion after this on where to go and what have we learned but I believe the first order of business is to bring down the rhetoric," Mr. Cuomo said.
Mr. Lehrer then asked Mr. Cuomo if he believed Mr. de Blasio had done anything to contribute to the police murder on Saturday. "I think Mayor de Blasio is doing the best he can under very difficult circumstances to hear all sides of the matter. You have polarization in this city and that's the fundamental issue. You have different points of view that right now are seemingly irreconcilable," he said.
The governor maintained he could support both Mr. de Blasio and Mr. Lynch, despite how adversarial they seem to be.
"I don't want to point fingers. I don't want to cast blame. I don't want to further the accusations, which you're trying to do," Mr. Cuomo said.