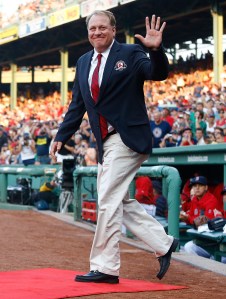 Curt Schilling and Elizabeth Lauten don't seem to have much in common. One is a former pitcher who had borderline Hall of Fame statistics and an extraordinary ability to beat the Yankees in big games. The other is a former staff member for a Republican congressman.
Yet these two made news recently for their use of social media. Lauten penned a bizarre Facebook post on Saturday scolding Sasha and Malia Obama for their conduct and appearance at the official Thanksgiving turkey pardoning at the White House. Schilling, one of the greatest post-season pitchers in baseball history and an ESPN baseball analyst, initially made some post-World Series news in early November by Tweeting his views on evolution. "We didn't evolve from another creature, never happened and no one earth can prove that it did," suggested Mr. Schilling. And: " Hey clown, why don't apes still evolve into humans if that was the path?…" Mr. Schilling's views on evolution are his own business; and he is certainly entitled to share those views on Twitter.
Apparently, ESPN did not feel that right extended to Keith Law, a respected baseball writer and believer in evolution. Law responded to Schilling with Tweets that said "Seriously, if someone says evolution is wrong because there aren't fossils between monkeys and men, find a monkey and hit him with it," and "There are hundreds of transitional fossils on record, Curt." ESPN, for whom Schilling and Law both work suspended Law, but not Schilling.
Mr. Schilling and Ms. Lauten both offered follow-up statements following their initial posts. Ms. Lauten offered an apology, but resigned her job under pressure anyway. Perhaps the most striking thing about Ms. Lauten's apology was that she stated that she realized her words were hurtful after "many hours of prayer." For his part, Mr. Schilling in an effort to demonstrate he had no hard feelings for Mr. Law restated his position that humans did not evolve from other primates and expressed surprise at the "lack of Christians chiming in" on Twitter to defend his views.
Taken together these two incidents are stark reminders of both the enduring role of religion in American public life as well as the partisan divide around religiosity. Ms. Lauten worked for a Republican member of congress; and Mr. Schilling expressed surprise at "the anger, hatred and vile tweets from Atheists/Liberals, Democrats." The question of why it took Ms. Lauten hours of prayer to figure out that a grown wonan should not publicly insult two adolescent girls notwithstanding, it is clear that both Ms. Lauten and Mr. Schilling are people of faith, and that contributes to their identification as Republicans.
These online skirmishes about the Obama daughters and evolution are the kind of thing that have hamstrung the Republican Party in the past. Neither Ms. Lauten or Mr. Schilling are Republican candidates, but in the era of social media, this is not so important. These incidents while probably resonating positively with the Republican base, contribute to an image of that party as mean, petty and opposed to modernity. This cannot be the image the party wants to project shortly after a big election win and heading into a presidential campaign that should be very competitive.
Lincoln Mitchell is national political correspondent for the Observer. Follow him on Twitter @LincolnMitchell