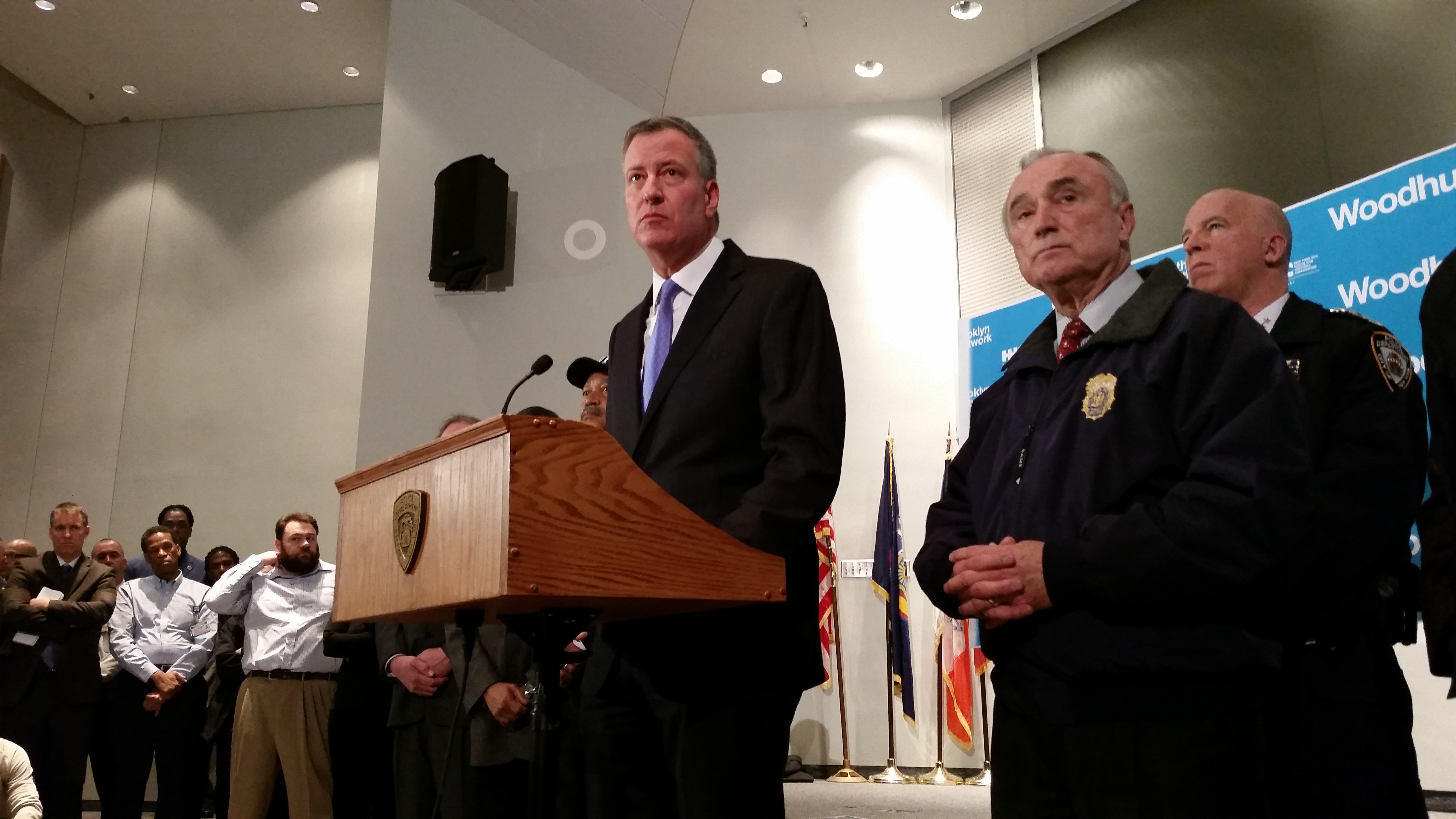 Mayor Bill de Blasio confirmed this evening that two police officers were gunned down in an ambush in Brooklyn today—calling the shocking crime a "particularly despicable act which goes at the very heart of our society and our democracy."
"It is an attack on all of us. It is an attack on everything we hold dear. We depend on our police to protect us against forces of criminality and evil. They are a foundation of our society, and when they are attacked it is an attack on the very concept of decency," Mr. de Blasio said at a press conference at Woodhull Medical Center in Brooklyn tonight. "Therefore, every New Yorker should feel they too were attacked. Our entire city was attacked by this heinous individual."
The two officers, Wenjin Liu and Rafael Ramos, were shot to death in broad daylight as they sat in their patrol cars in Bedford-Stuyvesant around 2:45 p.m., Police Commissioner Bill Bratton said. The gunman, who police identified as 28-year-old Ismaaiyl Brinsley, walked up to the passenger side of the marked NYPD vehicle and opened fire, Mr. Bratton said.
"Officer Liu and Officer Ramos never had the opportunity to draw their weapons. They may never have actually seen their assailant, their murderer," Mr. Bratton, clearly shaken and emotional, said.
Brinsley then fled into a nearby subway station, where he shot himself and was later pronounced dead. The officers were rushed to Woodhull Medical Center, where they were both pronounced dead despite efforts to save their lives.
"Our city is in mourning. Our hearts are heavy. We lost two good men, who devoted their lives to protecting all of us. Officer Ramos and Officer Liu died in the line of duty, protecting the city they loved," Mr. de Blasio said.
The mayor said he and Mr. Bratton met with the families of the two officers, including Ramos' 13-year-old son and Liu's wife, whom he wed just two months ago. He called the feeling a "sadness that is very, very hard to describe."
"We prayed over the bodies of these two police officers, and I ask that all New Yorkers pray for them and pray for their families. It is a moment of terrible loss, and it is a moment when we must all come together to support these families," Mr. de Blasio said.
Mr. Bratton said that Brinsley arrived in Brooklyn after committing another shooting this morning, when he severely wounded his former girlfriend in Baltimore County at around 5:45 a.m. The woman's mother alerted police in Maryland to postings she believed Brinsley was making on an Instagram account, which included anti-police writings—several news outlets have tied Brinsley to posts saying he wanted to kill police officers in revenge for recent police-related deaths of unarmed black men Eric Garner in Staten Island and Michael Brown in Ferguson, Mo.
Baltimore police faxed New York City authorities a warning about Brinsley around 2:45 p.m., Mr. Bratton said.
"Tragically, this was essentially at the same time as our officers were being ambushed and murdered by Brinsley."
The mayor emphasized that if anyone sees similar postings online, they must alert authorities.
"Any time anyone has information that there might be an attack on our police…it is imperative that that be reported immediately," he said.
The shooting of the officers comes after anti-police brutality protests have gripped the city. Those protests followed a Staten Island grand jury's decision not to indict police officer Daniel Pantaleo in the death of Garner, who died as Mr. Pantaleo tried to arrest him for selling untaxed cigarettes. Some have already looked to connect the shooting to those protests.
But Mr. de Blasio would not say much on whether the shooting would further inflame tensions between police and community.
"I think this is a time to think about these families. I don't think this is a time for politics or political analysis. It's a time to think about families who just lost their father, their husband, their son, and we just met those families. And what we should be thinking about now is how to support these families, and how to ensure that not only our communities are safe, but our officers are safe," Mr. de Blasio told the Observer. 
He continued: "That's why I'm saying there is something important here: this individual, this horrible assassin, put information on the internet. It was a very, very brief timeline, but there may be other people posting things like this. What we should focus on is if anybody knows of anybody who puts information like that on the internet, or says it to someone, it has to be reported right away so we can protect our officers."