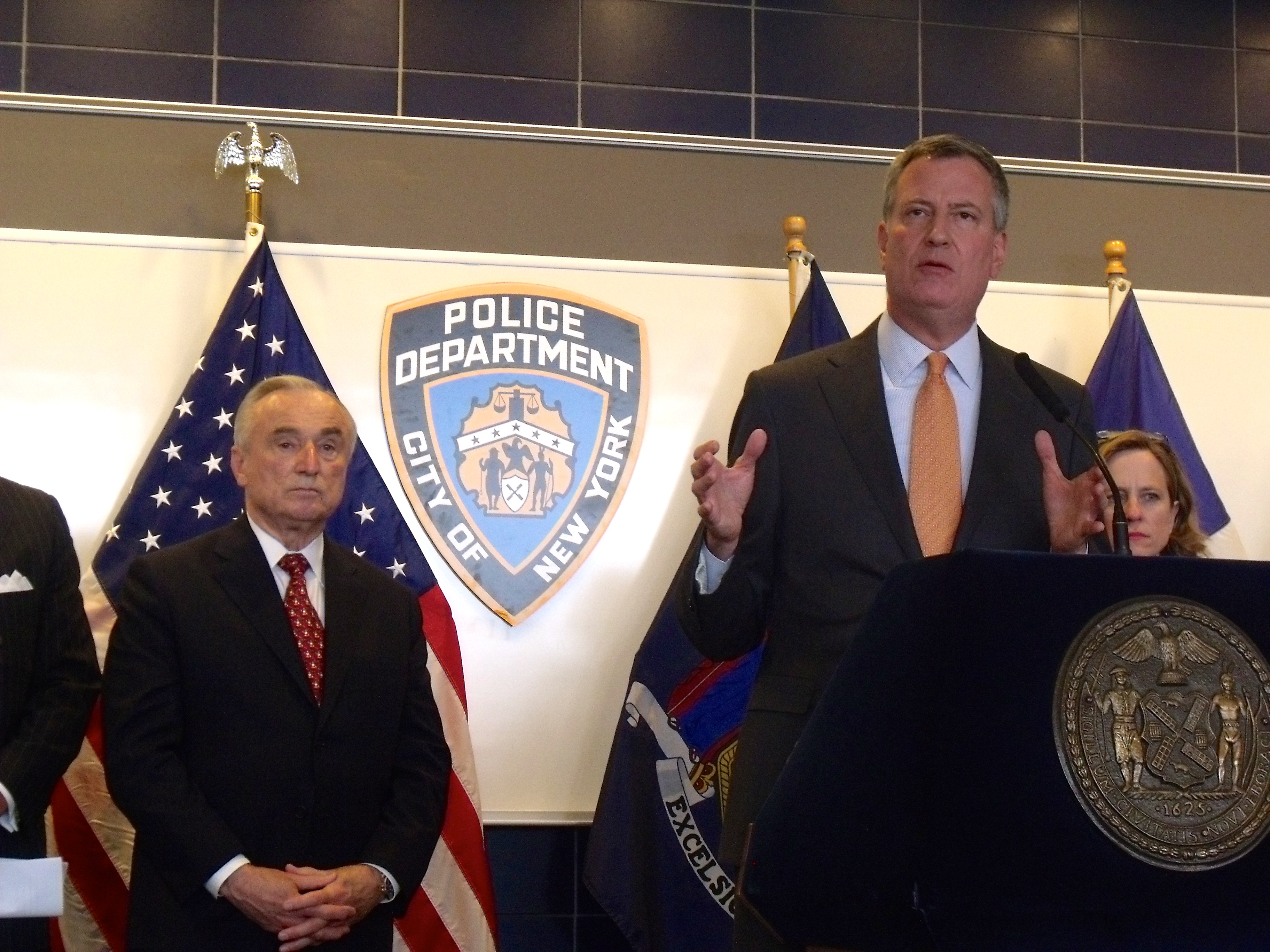 Mayor Bill de Blasio and top police brass offered details today on an NYPD retraining initiative that he has repeatedly heralded in the wake of the Eric Garner grand jury decision—but he stopped short of saying the new instruction would have prevented Garner's death.
"I think we all know that those hypotheticals only get us so far. I think you're gonna see a very different reality after this training has been achieved. I think this will protect our officers. I think it will protect the lives of our citizens. I have no doubt that some tragedies will be averted," Mr. de Blasio said today when asked if the new guidelines would have forestalled Garner's death.
Garner, 43, a black Staten Island man, died after a white police officer, Daniel Pantaleo, placed him in an apparent chokehold while trying to arrest him for allegedly selling loose cigarettes. A Staten island grand jury decided yesterday not to charge Mr. Pantaleo in the death, which has stoked tensions between police and the minority community.
Mr. de Blasio and Police Commissioner Bill Bratton have cited the retraining effort as one way to continue to mend the relationship between police and those they protect.
"If we police this way, it's going to result in fewer injuries to citizens, it's going to result in fewer injuries to officers, it's gonna result in fewer complaints about officers," Mr. Bratton said.
Mr. Bratton had made retraining a priority when he began at the department, and initial efforts began in March. Just days after Garner's death, Mr. Bratton called for "top-to-bottom retraining" of the department, particularly around the use of force. Over the following months, he and Mr. de Blasio fleshed out further details of what that would entail—offering up an outline of the three-day in-service training more fully laid out today. The in-service instruction is something new for the department, police officials said: besides routine firearms training, most police officers never received additional training after leaving the academy in the past.
"We train and retrain in so many fields—think about airline pilots, think about members of the military, think about teachers," Mr. de Blasio said. "We haven't done that enough with the people we depend on to protect us."
Placards placed behind the mayor and police officials outlined what the three days would focus on—beginning with topics like the "nobility of policing," ensuring officers have the right "heart set, mindset, skillset, and toolset," and the importance of not pre-judging people on day one.
Day two would include topics surrounding interactions with the public before an arrest or force might become necessary—reminding officers that cursing at a cop is not a crime, that they should not use foul language, emphasizing the value of communication and other "smart policing techniques."
Day three focuses on how to proceed if an arrest or force is necessary—tactical skills such as the proper holds to use in subduing a suspect.
But First Deputy Commissioner Benjamin Tucker spoke of the need to avoid "taking someone down" when you could "talk them down" instead.
"When I was a cop, I'd much rather make an arrest in a way where I don't have to roll around on the ground with a suspect—it's never fun," Mr. Tucker said.
Deputy Commissioner Michael Julian said pointed to a difference between those who are "actually resisting arrest" and those are "not cooperating" during an arrest. Some have disputed the idea Garner resisted arrest, and might argue "not cooperating" is a more accurate description of his verbal protests to police, caught on video.
"We never taught police how to deal with that," Mr. Julian said of people not cooperating. "So the police officer's only option was restraint."
But in a nonviolent situation, he said, there are other options, like bringing in an intermediary such as allowing a parent to speak to a young person before police resort to using force for an arrest.
"We have to be more human and understand it's not a threat," he said, to allow for communication.
The training will cost $35 million in this fiscal year, the mayor said, and the department will evaluate additional costs going forward. By June, 20,000 officers will have been trained, Mr. Tucker said.