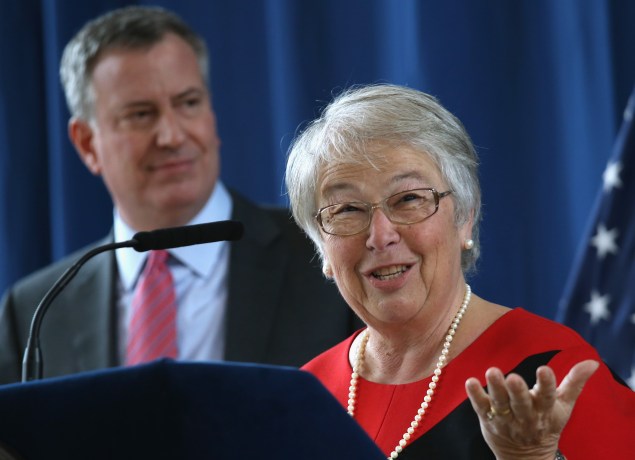 She's not a straight A student–yet.
Schools Chancellor Carmen Fariña gave herself a B+ grade for her first year as the head of the Department of Education, but like any overachieving student, she said she aspired to an A grade.
"I would say, B+ but aspiring to become an A … because I think there's still so much to do," Ms. Fariña told NY1's Errol Louis after she was asked to grade her performance. "This is one of the reasons also that I would say I'd rather be judged on the capacity framework and not on absolute grade because I think an absolute grade doesn't cover the nuances of the work that we've been doing."
Indeed, Ms. Fariña scrapped the A-F grading system for public schools implemented under former Mayor Michael Bloomberg. The grades rankled some educators and parents and in their place, Ms. Fariña instituted two new tools to evaluate schools: the School Quality Snapshot and School Quality Guide.
Ms. Fariña, a former teacher and principal, has charted a different course for the DOE than her Bloomberg era predecessors, who did not have backgrounds in education. While the Bloomberg administration stressed test-taking, stronger accountability standards for schools and teachers and the growth of charter schools, the de Blasio administration has questioned many of the key assumptions underpinning the Bloomberg approach to education.
In addition to overseeing Mr. de Blasio's swift and unprecedented expansion of universal prekindergarten, Ms. Fariña is also tasked with implementing a $150 million "community schools" initiative that the de Blasio administration is hoping will boost failing schools. The plan, long advocated by Mr. de Blasio, will offer social services targeting entire families like food pantries, English-language classes for parents, or mental health to help in 94 struggling schools.
Like her boss, Ms. Fariña's first year has not been without controversy. She chose to keep schools open in February as a snow storm walloped the city, telling reporters it was a "beautiful day" as snow and freezing rain fell outside. Ms. Fariña also irked charter school advocates when she said one charter was "on their own" after the school was booted from a city-owned space.