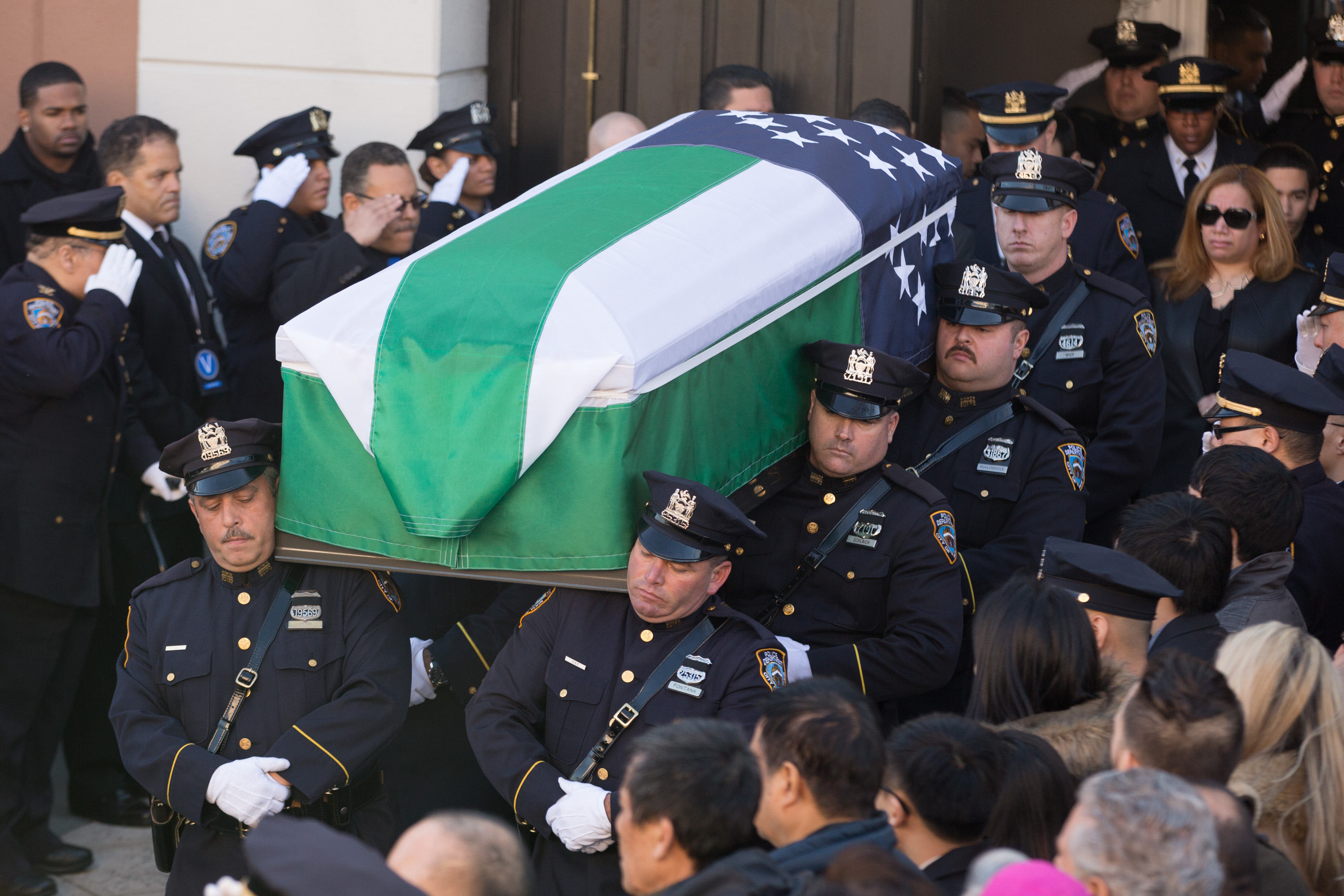 Tens of thousands of officers from police departments around the country lined Myrtle Avenue in Glendale, Queens under a bright December sun. Inside the Christ Tabernacle Church were hundreds more, the officers who served in the 84th Precinct, where Rafael Ramos worked, and the 79th Precinct, where he died.
And standing before the casket, draped in the flag of the NYPD, were leaders of the city, the state and the nation—offering eulogies of Ramos, a former school safety officer who became a police officer at 37 and wanted to be an NYPD chaplain, trying to make sense of his death. They tried, too, to make sense of the division in a city and a nation, division that some have implicated in the death of Ramos and his partner, Wenjian Liu, gunned down by a man who wrote he was seeking revenge for the deaths of unarmed black men.
"When an assassin's bullet targeted two officers, it targeted this city and it touched the soul of the entire nation. A city where the son of a Chinese immigrant shared a patrol with a Hispanic minister in training," Vice President Joseph Biden told the packed church and thousands more police watching on video. "A city where a single ride on a subway brings you into contact with more people, more lives than many people in this country will encounter in an entire lifetime."
Mr. Biden went on to invoke famous words of President Barack Obama, a man he noted the city had educated: "This is not a black America or a white America or a Latino America or an Asian America; this is the United States of America."
But despite these calls for unity, even at the solemn and sacred occasion of an officer's funeral, the signs of division remained. Mayor Bill de Blasio has been struggling to grapple with the anger of police officers, led by their unions, who have said the mayor's embrace of protesters seeking police reform—and sometimes lobbing odious rhetoric at cops—helped lead to the officers death. He has been lambasted by the unions for his comments in the wake of a grand jury's decision not to indict an officer in the death of Eric Garner, when he said he told his biracial son to take "special care" around police.
And today, like they did just hours after Ramos' death, police officers turned their back to the mayor. This time it was officers outside the funeral, watching in the street, who turned as his speech appeared on a giant screen. Inside the church, one person in attendance told the Observer uniformed officers who stood for the remarks of other dignitaries did not stand for Mr. de Blasio.
In a statement, the mayor's office said its "sole focus is unifying this city and honoring the lives of our two police officers." Patrolmen's Benevolent Association president Patrick Lynch would not discuss the officers turning their backs with the press today.
In his eulogy, Mr. de Blasio did not mention the rifts in the city. Instead he focused on Ramos, and on what his death meant to his family and to a city. He cited the Sermon on the Mount and its promise: "Blessed are the peacemakers.
"That could have been said with Officer Ramos in mind. He was a peacemaker in every sense. Throughout his life, he was a man of peace, a man of love," Mr. de Blasio said.
He was a peacemaker in church, a peacemaker in his family and a peacemaker on the streets of the city, Mr. de Blasio said.
"Police officers are called 'peace officers,' because that's what they do—they keep the peace. They help make a place that otherwise would be torn with strife a place of peace. Officer Ramos put his life on the line every day so other New Yorkers could live in peace, so they could live in safety. That's what he believed in," Mr. de Blasio said.
While the mayor made no mention of the tumult between police and the community, others addressed it head on. Gov. Andrew Cuomo praised police for their restraint during days of protests aimed largely at them in the weeks before the officers' deaths, and continuing despite pleas for quiet before their funerals.
"The NYPD protected the right of freedom of speech even though they themselves were the target of false and abusive chants and tirades by some," Mr. Cuomo said to a standing ovation. "What a beautiful testament to their professionalism."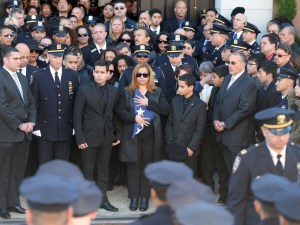 The governor spoke of the racial and ethnic tensions wracking the city—but also of the joy of diversity, and of how in New York, "the knife of division breaks on the rock of unity."
"When the name of Police Officer Ramos is uttered, from now forth let us bow our heads, wish him and his family peace and remember the principles he died for," Mr. Cuomo said. "We respect the rule of law and we protect each other, because at the end of the day, we are one. We are one people, one city, one state, one community, one family, the family of New York."
But the most moving discussion of the disconnect between police and community came from Police Commissioner Bill Bratton—a man who has walked in the shoes of the police officers he commands and consoles, but who also has been called to lead them through a time of reform. Mr. Bratton attended his first police funeral 44 years ago in Boston, a city then similarly overtaken by anger.
"The job can reward you like no other, but one day it might demand from you everything in return. For the Ramos family, today is that day. And here we are," Mr. Bratton said. "We're in a city struggling to define itself, where people are searching for what they stand for and why, where people claim to know best what it's like to be everybody else. But we know who we are, because we know who Rafael Ramos was. He was a father, a son, a brother, and a husband. He was a New Yorker. He was a New York City police officer. And he was—he is—a hero."
Mr. Bratton spoke directly to Mr. Ramos' sons, acknowledging that their private grief had suddenly become very public—because their father "represented the blue thread that holds our city together when disorder might pull it apart."
"Rafael Ramos was assassinated because he represented all of us, even though, beneath the uniform, he was just a good man. And he was just your dad," Mr. Bratton said. "And maybe that's our challenge. Maybe that's the reason for the struggle we're now in—as a city, as a nation. Maybe it's because we've all come to see only what we represent, instead of who we are. We don't see each other."
The police, those who are protesting them, those who want them to be better, and madman who couldn't see beyond two blue patrol uniforms, Mr. Bratton said, all "don't see each other."
"If we can learn to see each other, to see that our cops are people like Rafael Ramos and Wenjian Liu, to see that our communities are filled with people just like them too, if we can learn to see each other, then when we see each other, we'll heal," Mr. Bratton said. "We'll heal as a Department. We'll heal as a city. We'll heal as a country."
Both officers, he said, have been posthumously promoted to detectives. And Ramos will be a posthumous chaplain, Mr. Bratton said.
After the service, the officers of the 84th Precinct filed onto the street, waiting for the fallen brother, saluting his flag-draped casket. Mr. Biden, Mr. de Blasio, Mr. Cuomo, and Mr. Bratton stood somberly with a flag guard.
Outside the church the grief felt by many at Ramos' death manifested itself in moments big and small, with those closest to the officer an those who never met him. Mr. Ramos' wife, Maritza, stood between her sons as she was handed a folded flag. She clutched the triangle to her chest. Overhead, massive NYPD helicopters flew in the "missing man formation." And on the ground, dozens of motorcycles from police departments around the nation roared down Myrtle Avenue.