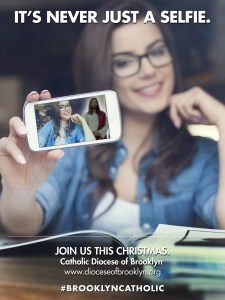 The Diocese of Brooklyn is repackaging the sacraments for the smartphone generation.
In its new Christmas ad campaign, the diocese is reaching out to the young through print ads featuring trendy images like a woman taking a selfie with Jesus in the background. The Catholic group is also using #BrooklynCatholic to appeal to millennials.
This campaign follows one from earlier this year that claimed Jesus Christ was "the original hipster."
The effort to increase church attendance comes at a difficult time for New York City's Catholics, with more than 50 parishes having closed in recent months
The Diocese of Brooklyn, which also covers Queens, has not been immune to these hardships–1.4 million Catholics live in the borough, but only 250,000 of them attend one of the diocese's 189 churches.
Stefanie Gutierrez, press secretary for the Diocese of Brooklyn, said that the Christmas season, when people traditionally go "home for the holidays," was the perfect time to appeal to those who had gone away from the church.
"We wanted to convey that we're here," Ms. Gutierrez told the Observer. "What happens to the people who aren't going home to Ohio or West Virginia?"
Ms. Gutierrez and her team determined that ads referencing modern technology would reach more people than "a traditional, boring campaign."
It's true–realizing you have a family of one billion is more likely to make you return to church than singing "Kumbaya."