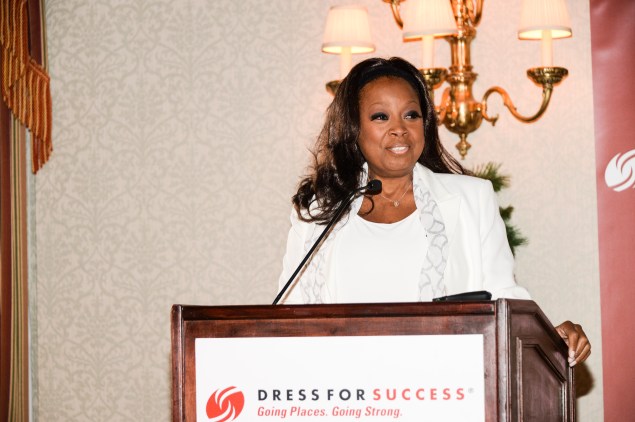 Patrice Sanders found herself at rock bottom after the death of her partner several years ago. She collected welfare for a time and watched her growing son misbehave more and more, until one day, she decided to dust herself off and get back to work.
Ms. Sanders heard about Dress For Success, a nonprofit that provides women with career development training and top-notch work clothes for women who've fallen on hard times and are trying to reinvent themselves. After receiving a spiffy new suit and a pair of Chanel pumps, she was on her way to reclaiming her life. Now, she is a flight attendant with Delta Airlines who is leading her family to success.
She recounted her story at Dress For Success's Women Helping Women breakfast yesterday at the New York Athletic Club's dining room on Central Park South. With presentations from Spanx EVP of Global Commerce Jill MacRae and a panel featuring three New York City business luminaries, the event was as educational as it was inspiring.
Attorney and TV personality Star Jones moderated the panel, during which TV presenter and Starfish Media CEO Soledad O'Brien, journalist Pavia Rosati, and Rent the Runway CEO Jennifer Hyman talked about the difficulties and triumphs they've faced as successful women in business.
Ms. O'Brien spoke candidly about what it really meant when CNN decided to "go in a new direction" after she had served as a prominent anchor on the network for 10 years. What they really meant, she said, was that they were "replacing you with someone in her late 20s." Ms. O'Brien knew her strengths and was proud of her body of work, but no one "wanted to make [her] a centerpiece" of a new program.
So instead of waiting for a new opportunity, she started her own media group. Now, she has "never been busier — or compensated better," she said.
Ms. Rosati talked about her former role as founding editor of Daily Candy, a job she took as a risk after AOL laid her off. She was supposed to serve as a contractor for three months, but ended up staying 10 years. After Daily Candy was bought out, she started Fathom, a travel site.
Ms. Hyman shared a story to which many women at the breakfast no doubt related. When she was starting her career, a woman higher-up in the company where she worked took her aside and told her she was too outspoken and opinionated in meetings. "Your ideas are smart," she told Ms. Hyman, "but remember, you're a girl and no one will appreciate that." Ms. Hyman started bawling and a male associate asked her what was wrong. She took him aside and explained, and he told her not to change her workplace ways. She went on to found Rent the Runway, a 500-person, $54.4 million startup that is revolutionizing the way women dress for events.
Ms. Jones supported Ms. Hyman's outspokenness with her own story of an adult trying to quiet her down. In school, a guidance counselor told the young Ms. Jones, "Don't rock the boat." Ms. Jones went home and told her mother, who responded, "If you ain't in the boat, throw that bitch over."
Dress For Success's Career Center helps women who are getting out of jail or who simply want to start over. Donations can be made on the group's website.