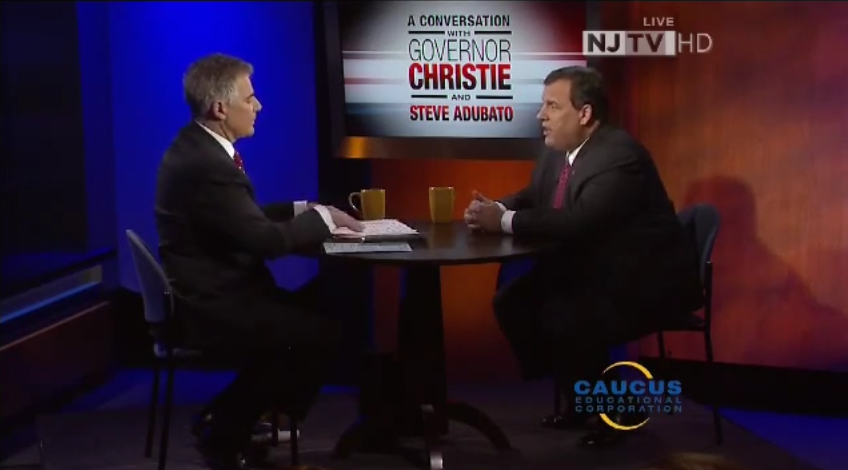 Gov. Chris Christie took a page from the book of a prominent New York Democrat when asked for his response to the recent murders of two NYPD officers on Monday.
In a live interview with NJTV's Steve Adubato tonight, Christie called for careful reflection and the suspension of political debate in the wake of the shootings, which, along with the recent killing of Michael Brown by a white police officer in Ferguson, MO have spurred nationwide protests and conflict in recent weeks. The comments mirrored those offered by New York City Mayor Bill de Blasio earlier today, who said it's "important that regardless of people's viewpoints, that everyone recognizes it's a time to step back and just focus on these families."
"One of the things that disturbs me about the entire conversation that we're having right now is it seems like lots of people are trying to score political points here," Christie said when asked about the same issue. "And, what I'm thinking about as we sit three days away from Christmas, are those two families of those two police officers who will not have them at their dinner tables at Christmas time, who won't have them there to open up present under the Christmas tree, who will not have them, not only this Christmas, but every Christmas going forward. And I think before we get into that analysis, it may be time for everybody in this region and around this country to take a deep breath and to think about the loss that's been suffered by these two families."
The relationship between the two pols is complicated. In November last year, shortly after de Blasio took office, Christie said New York City was going "in the wrong direction," and that residents should move to New Jersey. Likewise, De Blasio, at the height of the scandal surrounding the closing of commuter lanes at the George Washington Bridge in 2013, blasted Christie and his administration for mishandling the incident. But the sometimes vitriolic comments haven't kept the two from making public appearances together, such as at a Super Bowl kick-off party in January, where the Republican and Democrat were found chumming it up on stage with New York Giants co-owner Jonathan Tisch.
More recently, de Blasio has taken heat from some New York Republicans — including former New York City Mayor Rudy Guliani, a close Christie ally — for his handling of public unrest that has followed the recent police officer-on-civilian shootings. Giuliani and others have accused de Blasio of stoking anti-police sentiment by sympathizing with protesters, allowing highways and Manhattan streets to be choked with demonstrations earlier this month, and by declaring the investigation into the death of another black man killed by a police officer on Staten Island "not over" after a grand jury declined to bring charges against the office.
Christie, however, at least seemed to stand implicitly with de Blasio when asked about his take on the latest violence and how it's been handled, saying there will be "plenty of time" to discuss its political implications later.
"I'm not going to be the one who is going to participate in this at the moment," Christie said when asked if he agreed with Giuliani. "I'd rather allow these police officers to be laid to rest, to let these families grieve, and for us as a society to think about what that means."