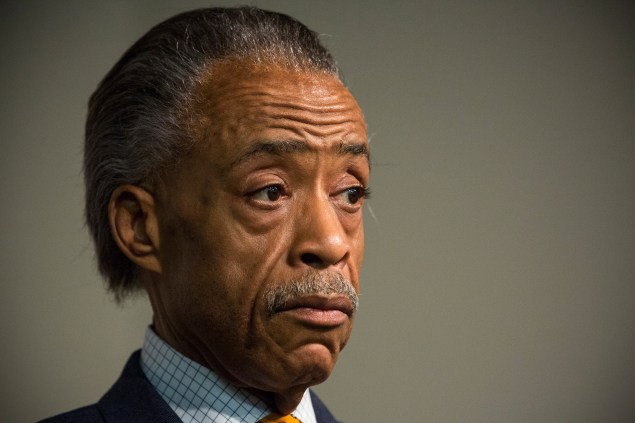 Elected officials and activists have begun expressing outrage and sorrow after two police officers were reportedly shot to death in Brooklyn this afternoon—with some elected officials drawing a clear line between the killing and recent protests against police, and Rev. Al Sharpton denouncing those connections.
It's not clear yet why the two officers were shot and killed in their patrol cars in Bedford-Stuyvesant, Brooklyn. The man who opened fire on their car then ran into the subway, where died from a self-inflicted gunshot wound, according to reports. The killings come weeks after a Staten Island grand jury voted not to indict a white police offer in the death of Eric Garner, a black Staten Island man, and as anti-police brutality protests have rocked the city.
In a statement, Mr. Sharpton said tonight he was "outraged" by the killing of the two officers, who have yet to be identified by police, but insisted that anyone who invoked the names of Eric Garner or Michael Brown in the name of killing cops is "reprehensible."
"I have spoken to the Garner family and we are outraged by the early reports of the police killed in Brooklyn today," Mr. Sharpton said in a statement. "Any use of the names of Eric Garner and Michael Brown, in connection with any violence or killing of police, is reprehensible and against the pursuit of justice in both cases."
The Daily News and other media outlets have connected the crime to an Instagram account in which a man brags about planning to kill police—to get revenge for the deaths of Garner and Brown.
Mayor Bill de Blasio and Police Commissioner Bill Bratton are expected to address the press at 7 p.m. at Woodhull Medical Center in Brooklyn.
Some elected officials, particularly those who have been critical of protesters and calls for police reform, were already tying to brutal attack on the cops to the actions of demonstrators who have flooded the city's streets in recent days. Councilman Vincent Ignizio, the city council's Republican leader, wrote on Twitter that the rhetoric of protesters "led to" to death of the police officers. He posted a link to a video of protesters chanting: "What do we want? Dead cops."
"Angry as the rhetoric ratcheted up by some w/o regard 4 the anti-cop atmosphere created it now led to 2 dead cops," Mr. Ignizio tweeted.
Mr. Sharpton said in a statement that his organization, the National Action Network, has repeatedly spoken out against violent rhetoric.
"We have stressed at every rally and march that anyone engaged in any violence is an enemy to the pursuit of justice for Eric Garner and Michael Brown. We have been criticized at National Action Network for not allowing rhetoric or chanting of violence and would abruptly denounce it at all of our gatherings. The Garner family and I have always stressed that we do not believe that all police are bad, in fact we have stressed that most police are not bad," he said.
But Staten Island Assemblyman Joseph Borelli, also a Staten Island Republican, scoffed at those seeking to say the shooting and the protests weren't related.
"I cannot take the folks falling over themselves in a rush to dismiss any evidence that this was linked to recent anti-#nypd protests," he tweeted.
Brooklyn Republican State Senator Martin Golden said police had become "targets of violence."
"Our NYPD have become targets of violence, and this cannot be allowed to go unanswered," he said in a statement. "The Mayor needs to act swiftly to ensure that members of the NYPD are safe on the job.  We cannot allow our fellow men and women in uniform to be targets of violence. The time for sitting on the sidelines while our city is torn apart is over. Its time for the Mayor and his administration to act.  When our police are victims, everyone loses."
And another Staten Island Republican, Assemblywoman Nicole Malliotakis, said in a statement the city had "descended dangerously close to turmoil."
"It is well past the time for our mayor and citywide leaders to call for a return to order in our streets, and take a hard stance that that lawlessness and aggression towards police officers will not be tolerated. Extreme anti-police sentiment and public unruliness have been permitted to fester for far too long," she said.
Many other elected officials offered condolences or expressions of anger or grief on social media or in statements—steering clear of the recent political strife over police reform and protests, or simply calling for more unity in the city moving forward.
"My deepest thoughts and prayers are with the families of the police officers killed in the line of duty today. Every day, New York City Police Officers put themselves in harm's way to protect us," Public Advocate Letitia James said. "Today, the entire city mourns with the NYPD. We will never forget the sacrifice these brave officers made to keep our city safe, and we honor the service of New York's Finest."
And Bronx Borough President Ruben Diaz said criticizing some police tactics doesn't diminish support for the department.
"My thoughts and prayers are with the families, friends and fellow officers of the two NYPD officers who were shot today in Brooklyn. Though we may at times be critical of tactics, that does not diminish the support and admiration I have for New York's Finest. These men and women put their lives on the line everyday to keep our communities safe, and their sacrifice demands our respect. The people of The Bronx are praying for these two heroes," he said in a statement.