At the New York Public Library last evening, artist Thomas Struth glanced at one of his own images of Dusseldorf projected on the Celeste Bartos Forum screen. "It's like open-heart surgery—looking down the middle of the street opened from the two sides. It's a mixture of a fairy tale and a nightmare. The little cars are like a fairy tale while the 1950s buildings have reconstructed a city that's embarrassed about its past."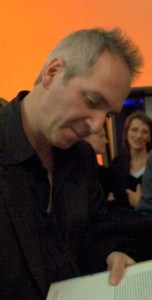 The world-class photographer, whose pictures of families, cityscapes and cultural sites appear on museum and gallery walls as often as they do in publication, Struth first came to prominence in the mid-1980s. Along with his destined-for-fame classmates at the Kunstakademie Düsseldorf, Thomas Ruff and Andreas Gursky, the trio was dubbed in artistic circles "Struffsky." (They all studied photography at the academy with the conceptual artists Bernd and Hilla Becher, celebrated for their stark images of industrial structures organized in grids.)
Interviewed onstage last night by cultural scholar Paul Holdengräber, director of LIVE from the NYPL, Struth was quizzed about his interest in music and commissioned portraits of such public figures as Gerhard Richter, another former teacher, and Britain's Queen Elizabeth II, who posed for a picture commemorating the Queen's Diamond Jubilee, along with his body of photography.
Struth said he weighed the National Portrait Gallery's request to photograph the Queen and Prince Philip for three days before accepting it. "I'm not a photographer of famous people," and it was hard to be satisfied with the photograph, he said. He selected the dress the monarch wore, the furniture (a loveseat) and the placement carefully, he said. "I wanted to make a better picture, I wanted to show them as human beings, as vulnerable and relatively casual, but I didn't want to avoid the pomp and circumstance that they are."
Struth's more emblematic urban street scenes shot in the early morning hours, when the roads were devoid of traffic, are part of the Library's exhibition, "Public Eye: 175 Years of Sharing Photography".
When Mr. Holdengräber commented on the streets being empty in the Düsseldorf pictures, Mr Struth amusingly stated that they were empty "because it's not a musical with people walking and singing," which got the biggest laugh of the evening.
From there, the discussion turned to Mr. Struth's New York photos, of which one such 1978 black-and-white photograph, United Nations Plaza, is on view at the Library's exhibition.
More pictures from the series are included in the Metropolitan Museum of Art's current exhibition, "Thomas Struth: Photographs", of the artist's comprehensive selection of photographs from its collection.