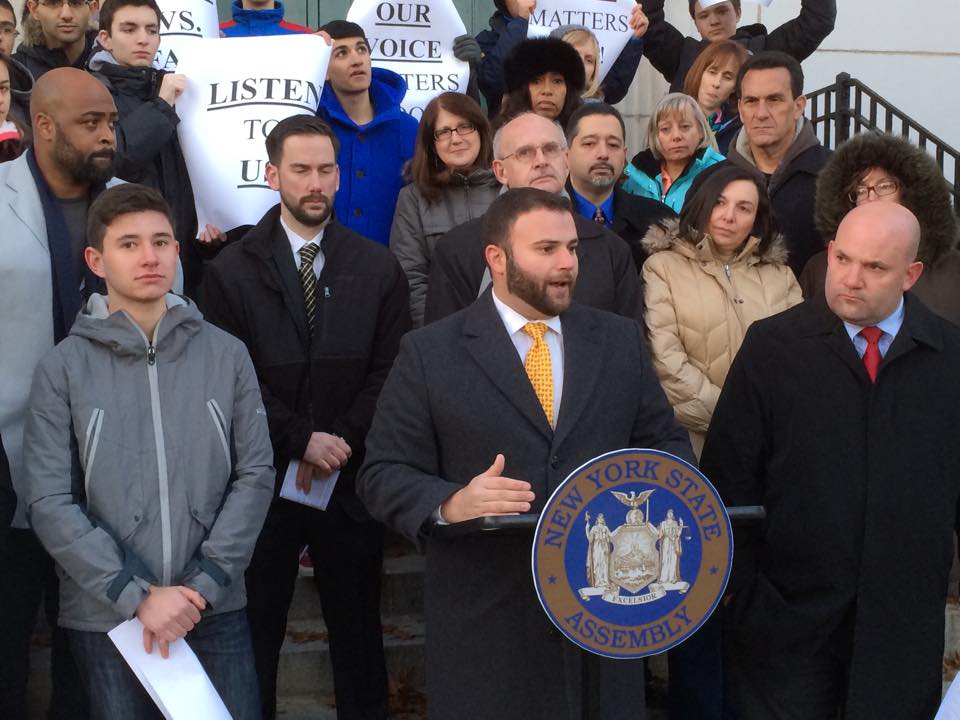 An Eric Garner-related tweet has sparked an online war between a Staten Island Republican and a Brooklyn Democrat.
Assemblyman Joseph Borelli, a Staten Island Republican, lashed out on Facebook at Councilman Jumaane Williams, a Brooklyn Democrat, for calling an encounter with a member of the Bloods street gang at a Garner protest a "powerful moment," even though Bloods members have killed police in the past.
"When a prominent NYC Council Member posts on his Twitter that it's a 'powerful moment' when a BLOODS GANG MEMBER is protesting for the movement, I am now starting to think that all hope is lost in NYC," Mr. Borelli wrote on Facebook today, responding to a tweet from Mr. Williams. "I do not know what to say to the vast majority of #NYPD who just want to do their job in peace…Or to the majority of NYers who (should) see the Bloods street gang as more of a threat than a police officer."
Mr. Borelli included a screengrab of the councilman's tweet in his Facebook post. The Republican recalled that Bloods members killed two cops a decade ago just blocks from the Staten Island street corner where a white police officer applied an apparent chokehold to Garner in an effort to subdue him for selling untaxed cigarettes. Garner, who was black, died shortly after in July. A grand jury voted last week to not indict the officer, Daniel Pantaleo. .
"Most powerful moment: a brother from the Bloods came up 2 me & said we're here for the movement, 'for peace' &  'I wish more homies were here,'" Mr. Williams, a prominent advocate for police reform, tweeted on Saturday.
Mr. Borelli, who represents the conservative South Shore—a political and cultural world away from the North Shore neighborhood where Garner lived and died—told the Observer that he was speaking out against what he saw as a growing prejudice against his borough and against the police in the current City Council. He noted that he represents thousands of NYPD officers and their families.
"It's literally every other house in my district is a police household, whether it's active or retired or whatever," Mr. Borelli said. "The anti-cop, the anti-Staten Island rhetoric is absurd. The belief that we somehow as a borough are incapable of being impartial or are incapable of working without prejudice is so absurd it's not even worth talking about."
But the assemblyman refused to attack recent comments critical of law enforcement by Councilwoman Debi Rose, who represents the neighborhood where Garner died. He distinguished between Ms. Rose's comments—which asserted that minorities face unfair treatment from cops—and Mr. Williams'.
"There's a line crossed between making political statements whether I'm in agreement or not, and justifying gang members in a peaceful protest, in a peaceful movement, violent gang," Mr. Borelli said. "It's offensive to a lot of people that the Bloods street gang could be seen as a positive poltiical force and not as the gangbangers they are."
The Republican said he could not form a full opinion on the grand jury's decision not to indict Mr. Pantaleo without seeing all the evidence Staten Island District Attorney Daniel Donovan presented, and called for the release of transcripts of the proceedings.
Mr. Williams did not immediately respond to requests for comment. However, responding to criticism on Twitter, he said the man he spoke to had expressed interest in getting involved with anti-violence measures, which the councilman argued was a move toward personal reform.
"If all we see is "Blood" and not lost young people who can need guidance we are all in trouble," he tweeted. "And if someone takes a step we should welcome it. Not banish them to the wilderness and continued destruction."