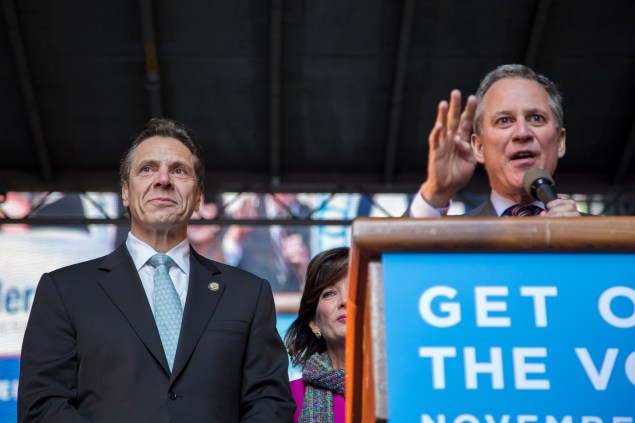 Less than a week after a Staten Island grand jury failed to indict a NYPD officer in the death of Eric Garner, Attorney General Eric Schneiderman is asking Gov. Andrew Cuomo, a fellow Democrat, to temporarily authorize him to investigate and prosecute future cases where a police officer's actions lead to the death of an unarmed civilian.
Mr. Schneiderman, in a letter sent to Mr. Cuomo today, said the public is questioning whether local district attorneys can fairly prosectute cases involving police departments they often work with, but insisted any authorization Mr. Cuomo issues would only affect cases on or after the date Mr. Cuomo, a former attorney general, gives the order–lending Mr. Schneiderman no power to investigate the Garner case, now under the jurisdiction of the U.S. Department of Justice, or the November police shooting of a Brooklyn man.
"We stand here today in the shadow of a tragedy that weighs on the hearts of all New Yorkers and all Americans," Mr. Schneiderman said at a press conference in his Manhattan office. "As prosecutors, it is time to acknowledge that the public has lost confidence in part of our criminal justice system."
A bevy of Democrats joined Mr. Schneiderman, including Public Advocate Letitia James, Comptroller Scott Stringer, the Manhattan and Brooklyn borough presidents and a handful of city council members and state lawmakers. They echoed Mr. Schneiderman's concerns and lamented the outcome of the Garner case, where a white police officer was not indicted despite placing Garner, who was black, in an apparent chokehold that many say led to his death in July.
Despite other lawmakers at the press conference like Ms. James criticizing local district attorneys for protecting their political "turf" at the expense of justice, Mr. Schneiderman repeatedly insisted his proposal is not "anti-D.A." or "anti-NYPD." After the Garner decision and Michael Brown case in Feguson Mo., in which a white police officer was not indicted for shooting to death a black teenager, some elected officials and legal scholars have questioned whether district attorneys who work so closely with local police departments can effectively hold accountable those same departments when they commit questionable acts.
Gone unmentioned in the press conference was another political factor. Mr. Schneiderman's letter came in response to Staten Island District Attorney Daniel Donovan not securing an indictment in the Garner case–Mr. Donovan happens to be the same Republican who challenged Mr. Schneiderman for attorney general four years ago.
Mr. Schneiderman insisted he had the highest respect for all district attorneys in New York, though at least one district attorney, Kenneth Thompson of Brooklyn, has spoken out against the use of special prosecutors.
"As the State's chief law enforcement officer, I know that I and the overwhelming majority of my fellow prosecutors are … conscientious about our ethical duty to see that justice is done in every case," Mr. Schneiderman wrote to Mr. Cuomo.
"Rather, the question is whether there is public confidence that justice has been served, especially in cases where homicide or other serious charges against the accused officer are not pursued or are dismissed prior to a trial by jury," he added.
Mr. Schneiderman, a former state senator, said he would work with members of the Assembly and State Senate who have introduced various bills to give power to independent prosecutors to investigate cases where police use lethal force on unarmed civilians. In the event such legislations passes, Mr. Schneiderman said he would not use his potential investigative powers any further.
He said, however, that he cannot wait "months" for the legislature to act.
"It carries an imminent risk of danger when the trust between the police and the communites they serve and protect breaks down–everyone is at risk," he said.
Mr. Cuomo has promised vaguely to reform the justice system in the next legislative session, and today a spokeswoman said he was reviewing Mr. Schneiderman's proposal.
"When people begin to lose faith in the criminal justice system, reform must follow. As the Governor said, meaningful change will require thoughtful dialogue and a real top to bottom review with criminal justice experts, community stakeholders, and police, prosecutorial and judicial representatives. We are reviewing the Attorney General's proposal as we pursue this broader approach that seeks to ensure equality and fairness in our justice system," Melissa DeRosa said.
This story has been updated with comment from the governor's office.