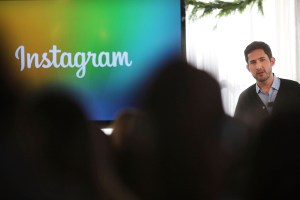 "What is Instagram?" asked the founder of Instagram. "Instagram is not a photo company, Instagram is a communication company."
Mr. Systrom was sitting on a Art Basel Miami Beach panel called "Instagram as an Artistic Medium" alongside the art world figures who have most enthusiastically embraced his social media service: Hans Ulrich Obrist, Klaus Biesenbach, Simon de Pury and Amalia Ulman. The room was packed, every seat taken, the back stuffed, which might not be too surprising, considering the people on stage had a combined 1.6 million Instagram followers.
"We have three core values," Mr. Systrom said, continuing his introduction. "We want to inspire creativity. Second is that the community comes first. Community always comes first—we're not a technology company, we're a community company."
We don't recall him mentioning a third, but no matter. This came after an opening salvo from Ms. Ulman, in which the artist detailed in a cool, detached tone how she used stock images, photo manipulation, and careful mimicry to stage a long con through Mr. Systrom's social media service: she pretended to be a teenage girl going through a meltdown.
"My hero was Amanda Bynes," Ms. Ulman said.
A powerpoint presentation unspooled on a projector as Ms. Ulman calmly read from her iPhone, describing how the character who appears in selfies on the @amaliaulman Instagram feed was an aspiring model in Los Angeles, who broke down and had plastic surgery in order to make it. "Bodies are mere suitcases for our consciousness," read the text onscreen, with a Whole Foods bag next to it. Video footage of liposuction came onscreen and people in the audience turned away. Then came a Kim Kardashian Selfie. Then some Korean girls taking selfies in mirrors.
Ms. Ulman went on to describe how she created this fictitious online narrative that thousands of people were emotionally invested in. The online presence of Amalia Ulman wasn't making it as a model. The online presence of Amalia Ulman decided to get her life together. She posted pictures of flowers and avocado toast—normal things, because she's settled down now. She posted a picture with a baby that she said was her cousin. She posted phrases like "Don't be sad that it's over, smile because it happened." At the end of her presentation, Ms. Ulman displayed a video selfie: hair dyed bleach blond, tiny dress, staring at the audience—the audience at the fair, the audience looking at Instagram on their phones—through a mirror.
"How do we consume images and how do they consume us?" she said, and put down her phone.
The boys on the panel weren't exactly sure how to follow her, so they began to detail their slightly less conceptual and less subversive practices on the social media services. Simon de Pury took a populist tack.
"Every user of instagram is basically an artist!" he said, hands gesticulating. "What's happened with Instagram is that everyone has become an artist! And it's absolutely marvelous."
Mr. de Pury primarily uses the service to catalog pieces and items that he finds beautiful or fascinating, sizing them up individually, as he does when auctioning off a lot. He also likes to follow his peers.
"Snoop Dogg is one of my Instagram heroes," he said "He's must be very very busy because he posts more than anyone I know."
(One of Snoop Dogg's 33 posts in the last day include a picture of him holding what appears to be a torso-sized bag of marijuana.)
Next up was Hans Ulrich Obrist, who explained that shortly after Ryan Trecartin introduced him to Instagram a few years back, he began asking cultural figures to write short phrases on post-it notes, and it's turned into a massive series called The Handwriting Project. "Life is a miracle," wrote Marina Abramovic. "Good taste is a gift, but bad taste is a privilege," wrote Kanye West. "TOO MANY SELFIES" wrote Douglas Copeland.
"In a way, Instagram has just begun!" Mr. Obrist exclaimed.
And then Klaus Biesenbach explained how Instagram helped him get over a fierce aversion to revealing anything about himself.
"I used to hate talking about my personal life," he said. "Hated it, hated it, hated it! I had an empty apartment and I would have these parties with Doritos, and I couldn't take pictures of Doritos. But then, once I got Instagram, I actually think I made this presentation fictitiously personal, which made it very personal."
Then he started taking selfies.
"At first I was like, what's a selfie? But I thought I should do a selfie, so I was shaving and I thought, I'll do a selfie."
Several of Mr. Biesenbach's shaving selfies appeared on the screen. More selfies followed.
"I asked my dentist if I could take a selfie and she said fine—she didn't know what instagram was!" he said.
Selfies with Marina Abramovic and Lana Del Rey came on screen, then pictures of James Franco taking pictures of Lana Del Rey.
"James Franco is perhaps the most notorious one," Mr. Biesenbach said. "He takes the good pictures and gets 10000 likes because, like, ugh, whatever."
And while we can all powwow about James Franco selfies for a while, it was time to head out so another less-starry panel can commence.
"We can continue the conversation on Instagram!" said moderator Bettina Korek. Or, actually, we can continue the conversation at Soho Beach House, where Kevin Systrom and his Instagram co-founder Mike Kreiger were hosting an intimate cocktail party alongside Mr. Obrist. Founders of art world startups such at ArtBinder and Artsy huddled around the tech heroes, piquing their brain for advice.
After a few rounds, Mr. Systrom addressed the crowd.
"Our mission is to capture all the world's moments, but our core value is to inspire creativity," Mr. Systrom said, and Mr. Biesenbach nodded along.
Later that night, he posted a selfie from the fair. "So happy to see the ig community flourishing here at Art Basel," he wrote. It currently has 5600 likes.