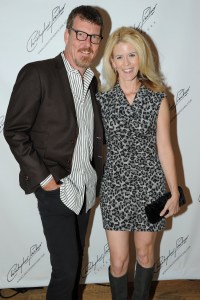 One need not watch this space too closely to discern the Observer's frequent skepticism about prevailing trends in Brooklyn ecology. It's a skepticism that spikes particularly in certain precincts—you know, the ones with beautiful old houses formerly inhabited by artists and writers and more recently gutted and re-imagined as luxe, sterile affairs by private equity managers? But trends are just that, of course. There are exceptions, and plenty of nice people and places persist in these same areas. Sometimes, annoying ones even leave. Like Simon Van Kempen and Alex McCord—one of the famously-insufferable duos to star, for a time, in Bravo's Real Housewives series.
Mr. Van Kempen announced the couple's plans to move to his native Australia via social media in September, and city records now appear to confirm the relocation, showing that their house at 56 Butler Street, in Cobble Hill, has sold for $2.67 million.
The listing, held by Stribling's Brooke Joslyn and Jeanne Kempton, is not content to place the townhouse strictly in that neighborhood, however, suggesting that it is "tucked between" Cobble and Boerum Hills. Does this increase its cache? Eh, probably not. But either one of those lovely neighborhoods would do just fine for the purposes of most buyers. (The two concerned here are Marc and Jennifer Limotte, founders of the Milk and Cookies Bakery in the West Village.)
Renovated during the former owners' stint in reality television, the owner's triplex offers both modern refinements—kitchen, bathrooms, a glass bi-fold wall system in the master bedroom opening onto a landscaped yard—and classic charm: pressed tin, high ceilings, molding and hardwood. The third and fourth floors, however, are in dreaded "original" condition and one houses a rent-controlled tenant. ("Interested buyers should refer to state guidelines as provided by DHCR.") This goes some way, of course, toward explaining the relative bargain price for such an enviably "tucked" place with six bedrooms, five baths, 3,884 square feet in all.