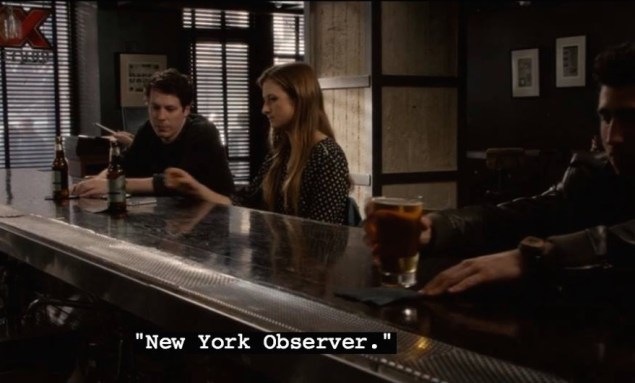 Last week, Aaron Sorkin addressed members of the Writers Guild Foundation in Los Angeles about a myriad of topics relating to his personal mission statement totally fictionalized show, The Newsroom. Last night's epic finale was screened before the conversation. While we reported several of his responses regarding last week's episode and the ensuing controversy, we weren't monsters enough to release any actual spoilers about the series' finale. So here, for the first time, is Aaron Sorkin describing fatherhood, Jim and Maggie's (Jaggie's?) epic romance, and the early draft of the last episode involving Mac getting hit by an ice cream truck.
Did you know at the start of the series that you would end it this way?
No. I didn't know then or at the start of this season. We talked about it in the writer's room. Lots of suggestions – it's the end of ACN and the last scene would be them in a warehouse broadcasting on a tiny camera on the web. There were all kinds of ideas but then this one started to come into focus. I envy the writers who know how their show is going to end. I envy the ones who know what's going to happen next week.
In the beginning, there was a suggestion that we dramatize the end of cable news as we know it and I said we can't do that. This is an optimistic show, a romantic show, it's an idealized show. We came up with the metaphor about the boat and how it's just going to keep going and the it's just always going to be this way and the honor is in the struggle.
Halfway through is when I knew that someone was going to die. At the beginning of the season there's no such thing as a bad idea, so we talked about pretty much everyone dying. No one who was safe for a while there. And we always talked about, was it going to be random? Was Mac going to be hit by an ice cream truck walking across the street? What we landed on was what Sloan says in the finale ….that Charlie died fighting for something he didn't believe in, which was excruciating, although Don makes her see differently.
On servicing the romance storylines in the last season.
Jim and Maggie – I said to the staff you know I don't think they have to get together at the end of the season, not everything has to be tied up and it was Paul Lieberstein who said — and he was 100% right — in the pilot episode a promise is made to the audience that Jim and Maggie are going to get together. Mac says to Jim, 'that's me before I grew into myself and got hotter with age. You have to go introduce yourself to your wife.' So we made that promise and we had to keep it.
On Mac's pregnancy.
I'll take as much optimism as I can get. The decision for that was more about Will shedding everything about his father, that loneliness, that anger and becoming a father. I'm a father, and I can tell you there's nothing that makes you feel more like a man than being a father and I just wanted that for Will.
Accusations of his writing being his personal politics platform.
Let me be as clear as I can be. Neither this show nor anything else I've ever written have been autobiographical, nor have they been a ventriloquist act. I'm not speaking through these characters. I've always liked the sound of debate. I like a conflict of ideas, romanticism and idealism and I just try to create a world where that can happen. I know genuine political activists and I'm not one of them.
It sounds like it's me being an activist but it's not. I write characters who are smarter than I am and who care deeply about these things and they fight with each other over these things. It's very rare that I answer a question that I've asked.