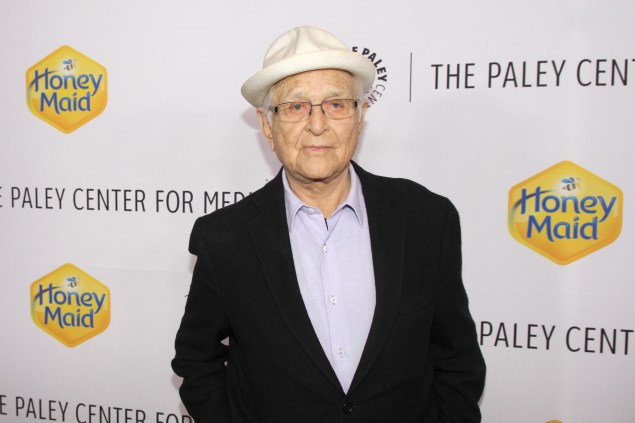 There was a time in the '70s when his programs were viewed by 120 million people a week, each containing a story that dealt with the most serious issues of the day—war, poverty, prejudice —yet still left audiences howling with laughter.
Norman Lear is the television producer of such groundbreaking sitcoms as All in the Family, Sanford and Son, One Day at a Time, The Jeffersons, Good Times, and Maude. He has received four Emmy awards, a Peabody, and the National Medal of Arts.
The 92-year-old television icon is on an aggressive nationwide book tour promoting Even This I Get to Experience, a hefty tome about his personal and professional life that chronicles the good and the bad, including his tumultuous relationship with his father and his financial struggles as well as his creative triumphs, all of it in a compelling narrative.
This tour, Lear insists, has brought him knowledge about himself that he wouldn't have otherwise uncovered.
"With this book," says Lear, "I wanted to open my veins. I didn't know a lot of things about me." He goes on to explain that in his view, the progression of life is not as linear as most people would like to believe it is. "I think we're all on two journeys really. One journey is horizontal, you're learning about this and that, general life stuff, and the other is vertical and you're constantly learning massive amounts of things about yourself – whether you choose to acknowledge these things or not. I don't think that part ever ends. Only in the last couple of days and weeks have I started to put a couple of things together that I never knew about myself, and I've been at this life thing a long time."
To assemble the stories he tells in the book, Lear couldn't rely on journals, because he never kept any, but he was lucky enough to have a lot of his life, specifically his career, documented in other ways. "Fortunately, there were a lot of interviews that I've done over the years. I haven't seen or read many of them until I started to put the book together and they were just full of information."
One of major revelations that Lear has experienced lately has to do with his ever-changing role as a 'performer.' "In the book, I talk about how when the war ended and I was still overseas, I wrote a one page ad for myself to get a job as a public relations person. I was explaining how I had the ability to could push someone else forward. I wanted to remain in the background and push the other guy forward and that's what press agents do. I wrote about how good I am at that and I got two job offers right away, so that worked out well. In my own life, it's only in the very recently that I've come to think of myself as a performer. I was on the stage with a Whoopi Goldberg interviewing me in front of a thousand people and I was funny and interesting, if I may say so, but in that setting I was performing. I allowed myself to see myself performing. I'd never seen that part of myself. Honest to God, I never ever allowed myself to see myself as a performer. That's the kind of vertical journey I'm talking about."
Also in the book, Lear talks about his early influences and says that he learned a valuable lesson from writer Roland Kibbee. Kibbee told Lear, "Just about anything can be improved and reaching for perfection, not necessarily achieving it, is worth the effort,' to which Lear responds, "Yes, that phrase no doubt influenced me and I have no doubt that made me a pain in the ass when it came to working with other writers. I was always thinking, 'That script might be as good as it will get, but I'm still looking for better.'"
That quest to keep revising caused Lear some anxious moments when completing his book. "Putting it to bed was very hard," admits Lear.
With his constant quest for improvement, just how did Lear complete anything? "Deadlines," he declares. "I lived under perpetual deadlines. If I didn't have deadlines I'd still be working on the All in the Family pilot," he discloses.
Speaking of his most famous creation, Lear reveals that his career in television almost didn't happen at all. "I'd made the comedy film called Cold Turkey (about an entire town trying to quit smoking) and since it was pretty well-received, I was offered a deal to write, produce and direct three more films. At that time, Woody Allen and Blake Edwards were the only guys in comedy that had that kind of deal."
It's important to remember that at this stage, there was quite a separation, monetarily and in the hierarchy of media, between television and film, with the latter being viewed as the considerably less desirable of the two entities.
Everyone, including his family urged Lear to take the deal in front of him and make movies. But he stood his ground and insisted that he belonged in the television world. His reasoning for making this choice, is clearly not an obvious one, and is rooted in his past. "A lot if it had to do with my feelings about my father," explains Lear. "This path gave me the opportunity to reflect on real life as I saw it. This was so clear so me, much more so than a film or a few films were. When I decided to do All in the Family, I immediately wrote 75 pages of notes about Archie Justice [the original name of the character]. It came out fast and furious and had a lot of meaning for me right away."
After All in the Family had been on the air a few years, Lear came to the realization that he understood the difference between film and television – at least as he saw it. "You can make love to film," says Lear with a smile. "I mean you can edit it for months, which I think of as 'making love' to it. In television, you have a very finite amount of time to write it, edit it and get it on the air, but you're reaching 40 million people with an idea that you had just six weeks earlier. Shit that's great. I love that."
Lear's ideas for his shows were cutting edge at the time – religion, politics, really anything controversial – and audiences ate it up. Recently, someone asked, "Where is Norman Lear now when we need him most? He was a person who used sit-coms to talk about war, prejudice and the issues of the day." When asked if that was what he set out to do, Lear responded with, "That's where the material was stories about what we were all living with at the moment. All of the writers talked about their marriages, their kids, the economy, what was going on in the world and how all of it was affecting us. We just wrote about what was impacting us at that time and it's interesting we're still facing all of the same issues now as we were all those years ago, but that's how life is – the players may change but there will always be problems and concerns and conversations about those things. It may have seemed like we were laughing at politics and racism, poverty and serious issues like abortion, and we were, but we were also getting people to talk about these things. But, sometimes I feel like we get just a bit too much credit here, it really all comes down to what I just said, that we wrote stories about things going on in our lives. Bottom line that's what we did."
While we have a lot of the same subjects impacting society now, Lear believes we've actually become too politically correct for our own good. "I think we've lost our self-denigrating sense of humor and that's just a shame. It's our ability to laugh at ourselves that allows us to make serious matters funny. You take away and you've really lost something. You lost the entre into letting people talk about serious things through humor and that's really sad to me."
Lear wants to continue to work in the world of television and has a new show he's been pitching. "I've written something I that I think is hilarious. It's called Guess Who Died. It's about people over 60 living in a retirement home and it's funny as hell."
Unfortunately, Lear's project hasn't been met with open arms. "The people obsessed with the 18 to 39 age group allow us one 'Betty White' to represent the entire older demo. Don't get me wrong, I love Betty White but she doesn't a demo make, so sadly, no one will go near a project about older people and I'm learning that my influence, no matter what I've done in my past, is very limited at this stage."
Delving further into the idea of demographics, Lear is passionate about his feelings on the subject. "For me all that is shit," he proclaims. "If I think it's funny, you'll think it's funny. I think it's as simple as that. I do understand that some comedy can be over the heads of this crowd or that crowd, but if I think it's funny for everybody then that's what I wanna go by. I don't want to do focus groups. I know that sounds arrogant but I've seen focus groups and I just don't think you can rest all of your decisions on what they say. They're so fucking ridiculous."
To prove his point, he recalls watching an early focus group for All in the Family. "I stood behind this glass wall and you can see this dial that tells you whether the people watching the show are liking it or not liking. So I see the dial shows that they're reacting very negatively to the show, but then I look at the audience, whom I see from behind, and at first I can see that they're shaking with laughter and then I start hearing them laugh and the thing is, when an audience laughs from the gut, they tend to rise out of their seat and go forward and the come back. It's like a wave. So, on the dial shows that they don't like Archie's attitude about this and that, but then watching them you see that they're roaring with laughter. What does that mean? How do you measure that? Do you go with the dial or how you're seeing these people really reacting? That's why I hate focus groups. They're not conclusive in any way. So why do them?"
While he's still hopeful about getting Guess Who Died on the air, Lear has another project that's close to his heart. "The other thing that I really want to do is a Sunday morning non-denominational service with kick ass music wherein we share our common humanity. Everyone's religion is set to the side, not to be overlooked in any way, but in this case, this is about having a shared positive experience with no boundaries. I want to do this project digitally, broadcasting it into theaters which will work well since theaters aren't in use on Sunday mornings I really think people will be drawn to this type of community gathering."
When asked what advice he has for young writers, Lear recalls celebrated writer and theatre director George S. Kaufman's simple statement, saying, "'The best advice for a write is just write,' to which I would add, write out of conviction. Too often we write thinking, 'what are they looking for,' and basically what they're looking for is truth — your truth, whoever you are. Writing out of one's truth is always the best way to go."
Lear insists that his truth is there for all to read, among the pages of his book. "It's kind of inherent in the title, Even This I Get to Experience. That's the way I really try to approach everything – moment by moment, really. Even if something is difficult, I'm thankful that I got to experience it."
Lear philosophies a bit more, adding, "Maybe we don't understand how important two little words are — they may be the two least understood words — over and next. A lot times, we're thinking, ok, this is 'over' and I'm onto 'next.' I think that the hammock in the middle between 'over' and 'next' is what is meant by 'living in the moment.'"
For a man who's just a few years shy of a century, Lear clearly hasn't slowed down, keeping his foot firmly planted on the gas. He says the secret to that part is easy. "I wake up to a lot of things that matter – my wife matters, my kids matter — so many things matter — but they're at the top. I'm also not inclined to watch TV all day or read all day, I'm inclined to be with people, and I want to do things that matter. That's just the way I am. And, I really feel that everyone should know this, that the revelations in one's life never end. I have more story to tell and now, apparently, more to perform too. What all of it means, I'm not sure right now, but talk to me again in a few days, or a week and it may become more clear."
Norman Lear's autobiography, Even This I Get to Experience, is available through online retailers and booksellers. It's published by Penguin Press.