Every high school in America has a Mohammed Islam in it. Short, pudgy, brilliant. Eager to fit in but unsure which special skill will earn the approbation of his peers. At Stuyvesant High, an elite public high school whose incoming students must who pass a grueling entrance exam—alumna include string theorist Brian Greene, the pianist and composer Thelonious Monk, United States Attorney General Eric Holder (1969) and four Nobel laureates—Mohammed's skill was stock-picking. And his weakness, it is now clear, is a lack of understanding just how fast an adoring and gullible media can turn on you. Especially if you lie.
Mohammed Islam is the 17-year-old Stuy High senior who was the subject of a credulous-to-the-point-of-ridiculous profile in New York magazine, which claimed that he had amassed a fortune "rumored" to be $72 million (the story would only confirm "high eight figures.") The New York Post followed up with its own aggregated valentine. As the Observer revealed yesterday in an exclusive interview with Mohammed and his friend Damir Tulemaganbetov, the entire story was a lie. Mohammed didn't make $72 million, he didn't make eight figures, he didn't make anything—he never invested real money, only making simulated trades.
The Observer's Kara Bloomgarden-Smoke has exclusive details on the process. How did a middle-class 17-year-old from Queens had zero investment returns successfully run the gauntlet of a respected reporter and her magazine's skeptical fact-checking department. So that's the how it happened
But another question is why? Why did Mr. Islam do this? Why did he allow people to believe that he was some sort of master investor who was living a Wolf of Wall Street existence?
It's hard to say. As I wrote yesterday, this seems less like a well-planned scam and more like something that "will be familiar to just about any 12th grader—a fib turns into a lie turns into a rumor turns into a bunch of mainstream media stories and invitations to appear on CNBC."
But today, a fuller picture of the young man has emerged. This morning, in an exclusive follow-up interview with the Observer, again conducted at the offices of 5WPR and chaperoned by the pricey professionals the boys have hired to help manage this crisis, Mohammed shared a good bit more about his life, including the part that touched many—his claim yesterday about how disappointed his parents were with his dishonesty.
Mr. Islam had been too scared to go home on Sunday night after the story broke. But last night, having told the truth, he went home.
"I spoke to my dad. I haven't spoken to my mom yet. So far my dad says I'm in a lot, a lot of trouble with him. I'm already really sorry to him because I caused a whole spectacle and now he hasn't said anymore this morning but he said what are you going to do with this. But I'm done, basically. I'm going to get killed. If there was any way I could not be related to him that'd be good so I don't cause him any more embarrassment."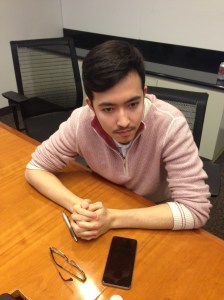 And home was not what might have leapt to mind when all of New York City was green with envy over that supposed $72 million. In fact, according to Mohammed, his home in Elmhurst is "an average apartment. Two bedrooms. I sleep in the living room by myself. My parents and my sister have the bedrooms."
Oh yeah, Mohammed's sister, who is 15 and also goes to Stuy High. That must be something to be walking the halls in her shoes. Mohammed said that since this erupted, "I haven't seen her, nor have I spoken to her." This is a 17-year-old boy who says "nor" and seems to understand what this is doing to his tight-knit, traditional family.
And what of his friend, poetically described in New York as the "son of a Kazakh oligarch, Damir is tall, slim, and cocky, like a cigarette wearing a fedora"?
"Actually, my dad never called me," said Mr.Tulemaganbetov. "I'm pretty sure he knows everything, but I don't know. Maybe he's mad at me. He knows about it."
With Mohammed, we drilled deeper. The New York story spoke of Mohammed having earned enough " to rent an apartment in Manhattan" and "acquire a BMW, which he can't drive because he doesn't yet have a license."
Faced with direct questions about these luxuries, we discovered a boy still trying hard to impress, even as the jig was up. Point blank, "Do you have an apartment?"
"I have an office in Queens. And I do have a BMW."
"Who bought it?"
"The car is my father's. I get to use it."
"Do you have a license?"
"I get to use it when I'm with him, because I have a permit."
But wait. Why would a kid who is now famous for not having $72 million need an office?
Mohammed fidgets with his badly cracked iPhone. Someone named Nolan Parker, who joined Mohammed on BusinessInsider's list of 20 Teen Traders last month and lists his occupation on LinkedIn as "Aspiring Hedge Fund Manager," is buzzing. Mohammed ignores the call.
"The office …" Mohammed reluctantly struggles to get the prosaic facts out of his mouth. "… is a friend of mine's. He lends it to me to use as a tutoring center that I help manage."
So what will become of Mohammed now? And what of his once-promising future? As to be expected from a young man of contradiction—a boy named "Mohammed Islam" who delivered a fiery pro-Israel speech in Arlington, Va. at an AIPAC event earlier this year, a boy who brags of outrageous fortune but speaks so softly a tape recorder must constantly be moved closer to his mouth—the future is uncertain, and the present is day-to-day.
"I'm working on college. I applied E.A. [early action] but I have yet to look at my responses. I applied as backup." As for today … "I've been in trouble w my parents before but nothing of this caliber and that's what makes me nervous to go to school and I don't know what I'm going to do when I go to school, you know. There's thousands of kids at school so … I don't know. I'm just too worried to go. I got out of my house this morning and had to check the hallway first. I got out of the elevator and a guy was there and he knew it was me. I got out of my building and the [taxi] driver noticed me. I thought of wearing a hoodie but I was just too nervous to look at people."
Meanwhile, Damir takes a rosier view, which seems to be the dynamic between the two friends generally.
Damir, who turned 19 in November and lives in a posh Manhattan apartment, already got accepted to a school, though it's not his first choice. "Obviously the thing that happened it's not good what we did. But we're still inspired. We still are going to pursue doing business together, and as individuals. We want to make money, be successful, make our parents proud." Damir reflects a bit, takes off his glasses to enhance his appearance a bit and suddenly a thought forms in his head. "As my father says, 'it's not how you start, it's how you end it.' You can start badly but you can always wake yourself up and end it the way you want it."