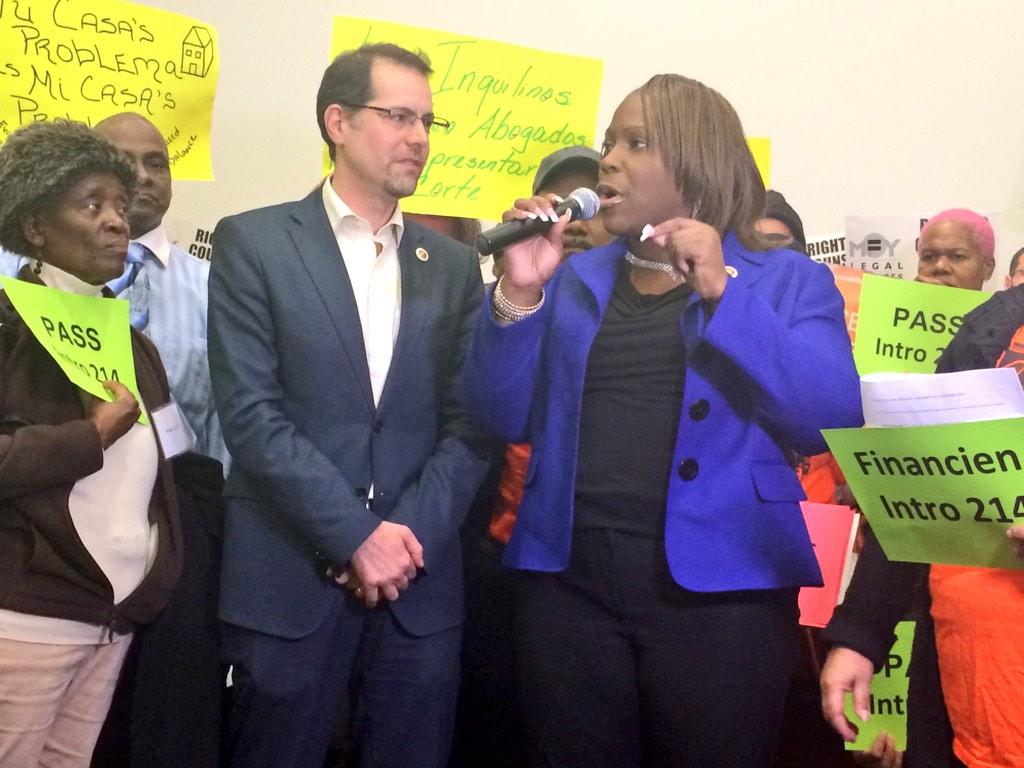 Bronx Councilwoman Vanessa Gibson and Manhattan Councilman Mark Levine and tenant rights organizations rallied at New York Law School to push their bill guaranteeing attorneys to low-income tenants facing eviction—and asserted the legislation has a special urgency now with a new, landlord-friendly Republican majority taking over the State Senate in January.
Unlike criminal court, there is no legal right to counsel in housing court—but the proposed law, Intro 214, would require the city to connect tenants and homeowners living below or slightly above the federal poverty line with qualified housing lawyers. Ms. Gibson argued it is especially important to get the law passed with the city's rent regulation laws coming up for review in a State Senate in the hands of mostly upstate Republicans, many of whom received help in their election efforts from the Real Estate Board of New York trade association.
"This is a downstate issue, rent affordability and tenants rights and rent regulation," said Ms. Gibson, a former assemblywoman. "Tenants will still not understand their rights, and many of them will be victims of unscrupulous landlords who want to take advantage of them—not all, there's a small population—and the right to counsel is going to be even more important, because even more tenants will face eviction."
Mr. Levine suggested the bill—which, according to the Independent Budget Office would cost upwards of $100 million—could still be slipped into the 2015 budget, especially since the city is seeing better-than-expected revenue.
"We've got a budget that is $75 billion, there's a mid-year adjustment, tax receipts are ahead of schedule. This is something we've got to finance," he said. "I'd love to see it come in the mid-year, and if not, in next year's."
The bill has 35 co-sponsors in the Council, more than enough to put it on Mayor Bill de Blasio's desk, but the mayor has yet to commit to supporting it. His Human Resources Administration and Department of Social Services Commissioner Steve Banks, however, spoke in sympathy with the spirit of the law shortly before Mr. Levine's and Ms. Gibson's rally.
"How do we prevent people from entering the shelter system? Providing counsel is one solution," Mr. Bank told the audience at New York Law School, which is hosting a day-long event on tenant issues.
Mr. Levine and Ms. Gibson both suggested the mayor is reluctant to take on the bill's costs. But Mr. Levine said the bill could bring unexpected savings, noting the costs of sheltering and caring for the homeless, one-third of whom enter city shelters immediately following an eviction.
"The little money we spend up front for an attorney, $2-or-$3,000 a case, could save us $38-or-$40,000 on the back end," Mr. Levine said, referring to the average cost of housing a homeless person. "When you avoid homelessness, you're saving the DOE money. They have to spend less money on educating a homeless child, on busing and other needs. You're saving money on needs for mental health counseling."
He also argued that the bill could assist in the mayor's ambitious plan to create or maintain 200,000 units of affordable housing.
"The de Blasio administration's spending billions on this affordable housing plan. But every unit we keep in rent regulation, because we avoided eviction—we know it's going to go market rate if they leave—is going to save hundreds of thousands," Mr. Levine said.
For her part, Ms. Gibson argued the bill is a matter of justice, positing that currently the scales are skewed in favor of landlords.
"Many of our property owners have lawyers, so they have the ability to have representation in court. Tenants are in court for a reason, they are facing eviction for a reason. Either they don't have a job, they've lost a job, they're in between jobs," Ms. Gibson said. "So what this bill does is level the playing field, so that tenants do have representation in proceedings."