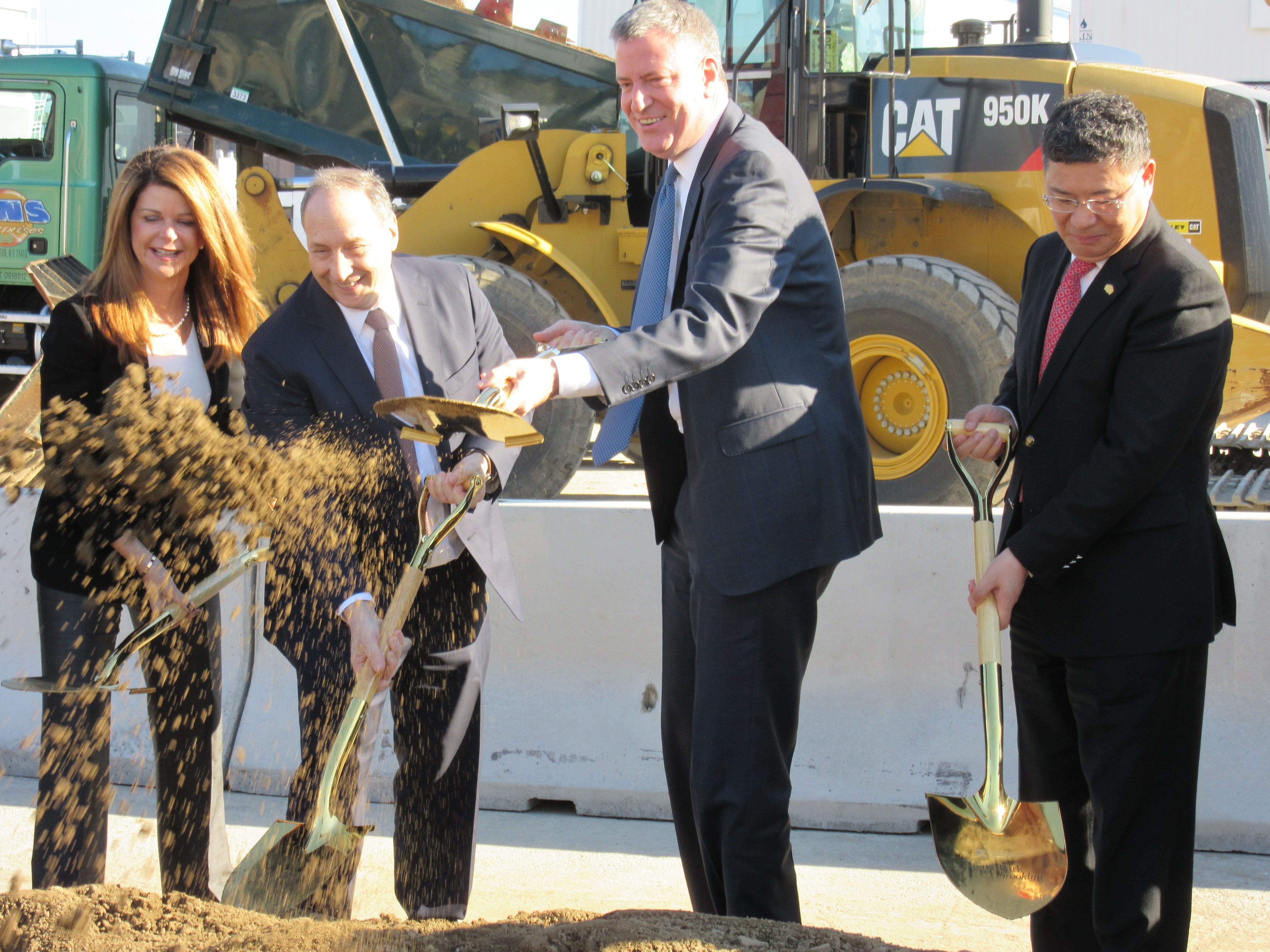 Mayor Bill de Blasio joined executives from Forest City Ratner and the Chinese-government owned Greenland Holding Group in lifting symbolic shovelfuls of dirt to illustrate the start of construction on a "100-percent affordable" building at Brooklyn's Atlantic Yards site, rebranded Pacific Park this fall.
Mr. de Blasio framed the new 298-apartment structure—named for its address, 535 Carlton Avenue—as a fundamental building block of his ambitious plan to preserve or create 200,000 new units of affordable housing in the next decade. He gave his administration credit for accelerating the development by a decade, and for negotiating more low- and middle-income units with Forest City Ratner and Greenland Holding Group—even though the Atlantic Yards project was inaugurated under his predecessor, former Mayor Michael Bloomberg.
"We've made major strides in bringing more affordability to this development," he said. "We're speeding up the process for development that achieves affordable housing."
He then embraced the often-controversial Forest City Ratner founder Bruce Ratner, who in turn heaped praise on the mayor, a longtime ally.
In June, the de Blasio administration announced a deal that would fast-track the affordable housing portion of the mega project, giving an $11.75 million in cash subsidy for each building; the deal specified that ground must be broken on the first by December 30. However, the previously delay-ridden project hit a new stumbling block in late summer when Skanska, the contractor on modular B2 tower and joint-owner of the factory where they were being produced, refused to move forward, claiming design flaws. Forest City Ratner bought out Skanska in November, however, construction on the tower has not yet resumed; Greenland does not own a stake in B2.
Mr. Ratner characterized the groundbreaking as the latest in a chain of Mr. de Blasio's successes in everything from education to traffic to policing.
"Look what's been done, whether it's pre-K, or housing, or pushing this project along, or something called 'Vision Zero,' which is very, very important, and safety and security. This year, this city will be the safest city we've ever had," the real estate magnate said, throwing in a quick reference to the administration's efforts to convince the Democratic National Committee to hold its 2016 convention at Atlantic Yards' Barclays Center. "Plus, we're going to get the convention!"
Mr. Ratner then introduced the Deputy General Consul of the People's Republic of China, Chang Lei. Mr. Chang described the venture as the latest step in the city's and country's 42-year relationship with the communist government of China—and a recognition of the strength of the housing market in New York City, and in Brooklyn in particular.
"This great groundbreaking ceremony first represents a vote of confidence by China," he said. "Confidence is more valuable than gold."
Greenland Holdings last year purchased a 70 percent stake in Atlantic Yards from Forest City Ratner, which initiated the development more than a decade ago.
Also on hand was Brooklyn Borough President Eric Adams. Mr. Adams cited his borough's large Asian population and its increasing expensiveness and gentrification as part of the significance of the bi-national arrangement, and praised Mr. Ratner for fighting a long legal and financial battle to see the development through.
"What type of city and borough are we going to be as the years continue to move forward? Will we continue to have the beautiful tapestry of human experiences?" he said. "This building is an exclamation point, 'yes, it is!'"
Of the new units, 90 will be set aside for people making 60 percent of the area median income—a federally set average of earnings in the New York metropolitan area that stands at $65,000 for an individual and $85,900 for a family of four. Another 15 apartments will be reserved for people making 40 percent of the AMI, 59 will go to those making between 80 and 145 percent of that figure, and the remaining 149 flats will be for individuals and families earning 165 percent of the AMI.
Mr. de Blasio was an aggressive advocate for the controversial Atlantic Yards development as a Brooklyn councilman, citing the affordable housing component as justification for using eminent domain to remove homeowners and tenants living in the project's footprint. He even went so far as to help then Borough President Marty Markowitz purge opponents of the project from local community boards.