We all have those family members and friends that refuse presents during the holidays, but we all know it's still the thought that counts. So instead of buying them a sweater that they will never wear, here is a list of five charitable gifts that give back this season. So for those who say, "I already have everything they want," here are gifts that keep on giving.
1. International Rescue Committee Rescue Gifts
Price: $18-180
Make a difference for children and families affected by conflict and disaster. For less than $40, you can provide school supplies and education for a young girl for an entire year, vital medical supplies to help safely transport pregnant women to medical aid facilities and provide a honeybee harvesting kit or seeding supplies to help farmers earn extra income by selling produce. These are just a few of the many options that directly help people in need.
Link to Purchase: gifts.rescue.org/shop/best-sellers
About the Cause: The International Rescue Committee responds to the world's worst humanitarian crises and helps people to survive and rebuild their lives. At work in over 40 countries and 22 U.S. cities to restore safety, dignity and hope, the IRC leads the way from harm to home.
2. LilySarahGrace Eye Charm by Helen Ficalora
Price: $75-300
To help support the LilySarahGrace fund's efforts to support arts education in underfunded public schools, jewelry designer Helen Ficalora designed a special charm, based on a drawing by Sarah Badger (the 'Sarah' in the organization's title). The charms are available in yellow, pink or white 14k, solid-gold – with a diamond charm or without – and sterling silver. Pricing ranges from $75 to $300. 25% of the proceeds go to the LilySarahGrace fund.
Link to Purchase: shop.helenficalora.com/products/lilysarahgrace-eye-charm
About the Cause: The LilySarahGrace (LSG) fund was founded by Matthew Badger and his partner, Abby Ballin, after his daughters – Lily, Sarah and Grace – tragically passed away in a fire on Christmas of 2011. All three girls were diagnosed with dyslexia, and art was their passion. Since April 2012, LSG has given $1 million in supplies to teachers in underfunded public elementary schools to teach their curriculum through the arts and supported more than 160,000 children through arts-based learning in every state in the U.S.
3. Alex and Ani Prints of Love Charm benefitting the ASPCA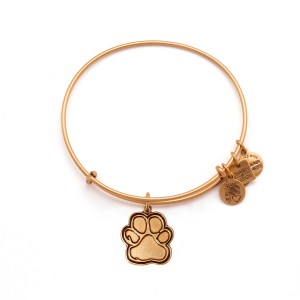 Price: $28.00
Animals hold an important place in our natural world, in our culture, and most importantly, in our homes. Loyal, intelligent companions that give affection freely, animals lift our spirits and enhance our lives. Embrace your essential role as a caretaker and guardian of Earth's creatures. Share your love openly and take action to make a life-changing difference for animals across America with the Prints of Love Charm. Alex and Ani will donate 20% of the purchase price from the Prints of Love Charm, with a minimum donation of $20,000, between October 2014 and December 2015 to the American Society for the Prevention of Cruelty to Animals® (ASPCA®), to provide effective means for the prevention of cruelty to animals throughout the United States.
Link to Purchase: www.alexandani.com/prints-of-love-charm-bangle.html
About the Cause: The ASPCA works to directly impact the lives of homeless, abused and neglected animals across the country.
4. Gabrielle's Angel Foundation Keysocks
Price: $11.95
Gabrielle's Angel Foundation for Cancer Research has partnered with Keysocks, a special design of sock that allows you to wear ballet flats or heels with jeans and doesn't fall off your foot. The Gabrielle's Angel Keysocks feature the Foundation's logo embroidered on the heel of the sock as a symbol of support for the cause. Net proceeds from the sale of each pair will go directly to the Foundation to help fund cancer research.
Link to Purchase: www.keysocks.com/products/gabrielles-angel-special-edition-black-light
About the Cause: Gabrielle's Angel Foundation for Cancer Research was created in 1996, when Grammy-nominated songwriter and philanthropist, Denise Rich lost her daughter Gabrielle, a vibrant 27-year-old actress and Hodgkin's lymphoma survivor to acute myelogenous leukemia.  Gabrielle's mother and sisters, Daniella Rich Kilstock and Ilona Rich Schachter, believed the best way to honor Gabrielle's memory was to create a Foundation that would fund the best and brightest scientific investigators with the hope that less toxic treatments, and ultimately a cure, might be discovered. Gabrielle's Angel Foundation funds junior scientific investigators conducting research in the fields of leukemia, lymphoma, and related cancers.  Since its inception, Gabrielle's Angel Foundation has awarded grants totaling $25 million to the top physician-scientists in America.  Gabrielle's Angel Foundation maintains its status as one of the largest non-governmental sources of grant support for blood cancer research in the United States.  In 2012, the Foundation announced the creation of its sister chapter, Gabrielle's Angel Foundation UK, which expands its mission to fund similar research in the United Kingdom.
5. The Christopher and Dana Reeve Foundation "The Big Idea" Campaign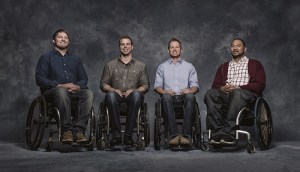 Price: $36
The Christopher & Dana Reeve Foundation, with the help of its partners, have been funding spinal cord research for decades. Now, they're continuing this research with 36 new participants. Just $36 will help 36 new patients undergo life-changing epidural stimulation for individuals living with spinal cord injury (SCI).
Link to Purchase: www.reevebigidea.org
About the Cause: The Christopher & Dana Reeve Foundation is a national nonprofit organization dedicated to curing spinal cord injury by funding innovative research, and improving the quality of life for people living with paralysis through grants, information and advocacy.