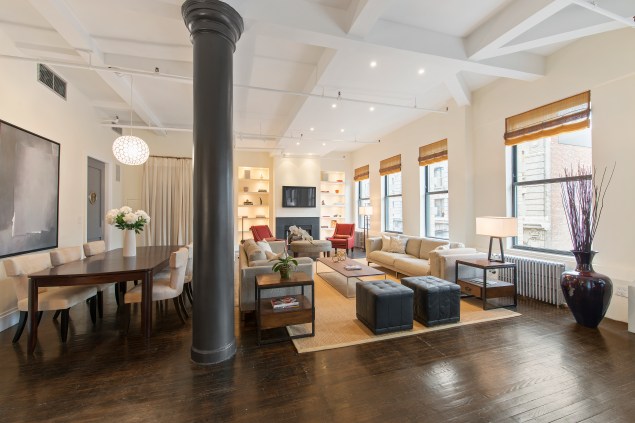 Gilded isolation is, arguably, the dominant principle underpinning New York luxury development at this moment in time—a belief that wealthy residents should be insulated in all respects from the city that sprawls beneath their jewel-box aeries, the near-totality of their desires met within the confines of the building such that they scarcely need interact with the city below.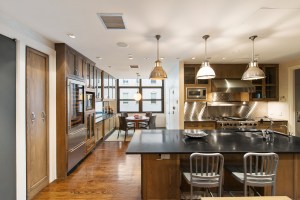 This is very much not the case with the floor-through penthouse at 8 West 19th Street, which fosters a far more intimate relationship with its surroundings. Located on a quiet block bookended by two bustling shopping thoroughfares, the 11th-floor prewar loft is situated at the ultra-urban equivalent of the tree line, its windows peeking out just above or below the rooflines of the neighboring buildings. And from the media room, one can make out a veritable forest of water towers—we counted at least seven.
"It's probably one of the best water tower views in the city," opined Warburg broker Rebecca Edwardson, who has the $8.99 million listing. "It's a very quintessential city view. Most people love it."
The eight-unit Flatiron condo also makes do with a virtual doorman rather than a coterie of uniformed helpers.
Not that the 4,100-square-foot spread lacks for lavish appointments. There is, for example, a "suburban-sized" eat-in kitchen, as Ms. Edwardson described it, with a 48-inch Viking range and stainless steel backsplash to complement the myriad metallic appliances. Other creature comforts include a heat lamp in the master bath "to ward off that touch of chill when you get out of the shower," a master bedroom with a hideaway office space and closet equipped with a rolling library ladder. The oak floors are original and there are exposures on all four sides—five if you count the skylight.
Those with young children may be drawn to the kids' room(s)—one of the home's three bedrooms that has been split into two interconnected but distinct spaces, with nautical windows on the bottom of the sliding doors "so you can see the little feet running around and say, 'oh, you're not in bed.' " Though buyers who don't care for the current configuration are welcome to tear down the walls, none of which are load-bearing, in the bedroom or anywhere else in the house.
And should one crave a bit of gilded isolation after wading through the tide of ever-avid shoppers on Fifth or Sixth avenues, the massive private roof-deck offers more than adequate opportunity for secluded relaxation. It has built-in banquettes, pergolas galore, a cooking range and refrigerator, an outdoor shower, mature rose bushes, the set-up for an outdoor movie projector, a children's play area and two of your very own water towers, which the current owners frequently lit up for a very dramatic effect during rooftop dinner parties.