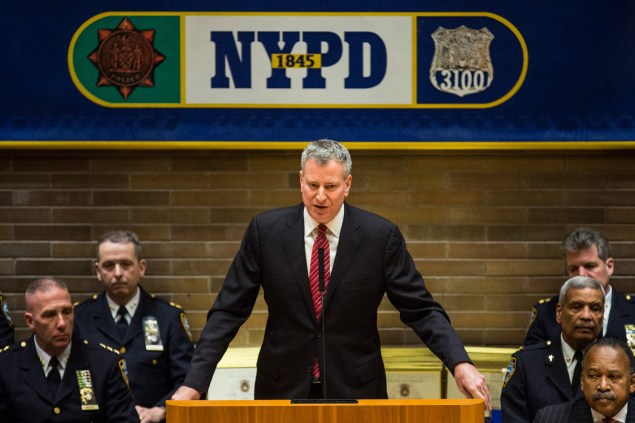 The president of the city's most prominent police union saw a villain in City Hall. The mayor accused the union boss, seemingly bent on the Democratic mayor's destruction, of irresponsible rhetoric motivated by the desire for a better contract.
The gulf between the two appeared to be unbridgeable. The year was 1992.
As Mayor Bill de Blasio confronts a pair of hostile police unions convinced that he is responsible for the deaths of two police officers Saturday, he is reliving a conflict familiar to past mayors rather than reaching the absolute nadir of relations between City Hall and police. To many New Yorkers, the sight of NYPD officers turning their backs on the mayor as he walked through Woodhull Medical Center in Brooklyn was chilling and unprecedented–but to anyone who has watched the showdowns between mayors and high-profile police union bosses, it was just another chapter in an ongoing saga.
"This is a recurring theme," said Kenneth Sherrill, a longtime professor of political science at Hunter College. "Police respond with anger when mayors try to exercise authority over how they relate to the civilian population."
Former Mayors David Dinkins, Rudolph Giuliani and Michael Bloomberg all endured that animus, despite their wildly divergent ideologies and approach to governing. Just about any time a mayor tried to pay police less than they thought they deserved or impose a new form of oversight or accountability, the vitriol flew–and no clash between mayors and police was quite as bitter as what the city witnessed 22 years ago, when Mr. de Blasio's old boss, Mr. Dinkins, failed to tame an actual police riot.
"He never supports us on anything," one police officer complained to the New York Times about Mr. Dinkins, the city's first and only black mayor. "A cop shoots someone with a gun who's a drug dealer, and he goes and visits the family."
On September 16, 1992, thousands of police officers stormed City Hall and stopped traffic on the Brooklyn Bridge to protest Mr. Dinkins' eventually successful attempt to create an all-civilian Civilian Complaint Review Board, as well as express their general frustration toward his administration. Just as police union leaders and their backers view Mr. de Blasio's desire to address the grievances of minorities who feel unfairly targeted by police as a thinly-disguised pretext to undermine law enforcement, they blamed Mr. Dinkins for undercutting police in an environment plagued with far more crime and unrest.
"The 300 uniformed officers who were supposed to control the crowd did little or nothing to stop the protesters from jumping barricades, tramping on automobiles, mobbing the steps of City Hall or taking over the bridge," the Times reported. "In some cases, the on-duty officers encouraged the protesters."
Ken Sunshine, Mr. Dinkins' first chief of staff, said parallels could be drawn between that protest and the rage cop leaders feel toward Mr. de Blasio now. But he insisted that New York in 2014–now far safer and less white than it was two decades ago–would change how the dynamic is experienced this time.
"It actually had effect back then, unfortunately," Mr. Sunshine, a public relations executive and de Blasio ally, said. "Now, it's pathetically old New York when they try that crap because they can't get away with it again in the new New York."
The man who would unseat Mr. Dinkins in 1993, Republican Rudolph Giuliani, was a ringleader of the 1992 police protest. At the time Mr. de Blasio was a young, unknown aide to Mr. Dinkins, one witness to the dawn of what became a two-decade drought for Democrats at City Hall.
And now Mr. Giuliani has emerged as a leading critic of Mr. de Blasio, blaming the mayor, like Patrolmen's Benevolent Association President Patrick Lynch and Sergeants Benevolent Association President Edward Mullins, for igniting the cop-hating atmosphere that led Ismaaiyl Brinsley, 28, to ambush and kill Officers Wenjian Liu and Rafael Ramos in Bedford-Stuyvesant, Brooklyn on December 20.
Mr. Giuliani, however, didn't enjoy a much warmer relationship with one of Mr. Lynch's predecessors, Lou Matarazzo. When the Republican refused to give the PBA the raises they sought, union leaders assailed Mr. Giuliani as a cheapskate–the Republican mayor was the brunt of a "zeros for heroes" campaign, and knew that when he ran for president a decade later, the PBA wouldn't dare lend their endorsement.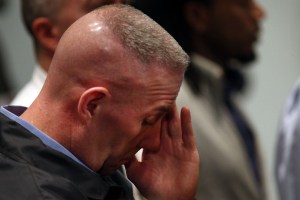 "Giuliani has wrapped himself firmly in the cloak of 9/11 for his own political purposes," Mr. Lynch stated in 2007. "But the real heroes of 9/11, those who helped to evacuate those towers and lived to tell the tale and all those who participated in the recovery and cleanup, know the truth. Rudy Giuliani has no real credentials as a terrorism fighter. His only credentials lie in managing the cleanup after a terror attack."
Michael Bloomberg, a Republican-turned-independent, did not have much better luck with Mr. Lynch. Yet another contract dispute in 2004 between City Hall and the PBA brought union members to a noisy 1 a.m. protest outside Mr. Bloomberg's Upper East Side townhouse. In 2011, Mr. Lynch called Mr. Bloomberg a "liar" over a disagreement about pension benefits.
Once more, Mr. Lynch is locked in heated negotiations with City Hall over a new contract. De Blasio aides have insisted much of Mr. Lynch's wrath amounts to a bargaining ploy to get his union the best deal.
But critics of Mr. de Blasio, many of them in agreement with Mr. Lynch's Saturday decree that "blood on the hands starts on the steps of City Hall, in the office of the mayor," say the city is quite divided under Mr. de Blasio, an observation that polling and anecdotal evidence supports. A MoveOn.org petition calling for Mr. de Blasio's resignation had about 55,000 signatures as of Sunday night. A top aide to State Senator Martin Golden, a Brooklyn Republican, tweeted that Council Speaker Melissa Mark-Viverito, a liberal de Blasio ally, should also resign.
Republican lawmakers and many white voters have been seething since Mr. de Blasio, in the wake of a Staten Island grand jury's decision not to indict a white police officer in the death of Eric Garner, a black man, said he spoke with his biracial son about the dangers of interacting with police. Mr. de Blasio's decision to allow anti-police brutality protesters to repeatedly block bridges and highways only further enraged the city's conservatives, mostly dormant since Mr. de Blasio, a strong critic of stop-and-frisk, swept into power last year.
"Extreme anti-police sentiment and public unruliness have been permitted to fester for far too long," said Assemblywoman Nicole Malliotakis, a Staten Island Republican.
But whether the public will unite behind Mr. Lynch remains to be seen. For all the talk of Mr. de Blasio presiding over a newly-divided New York, it's been rare when the city, rented by race, class and religion, has been in harmony on the most fundamental political questions.
One moment may have come in February of 2002, months after the September 11 attacks. The first Quinnipiac University poll taken of Michael Bloomberg's tenure found an almost equal number of blacks and whites backed the new mayor.
A month later, 70 percent of whites still approved of Mr. Bloomberg, up from 69 percent in February. But, inevitably perhaps, only 58 percent of blacks approved of Mr. Bloomberg, down from 65 that first month. By the fall of that year, barely a third of the city's blacks were behind the billionaire.