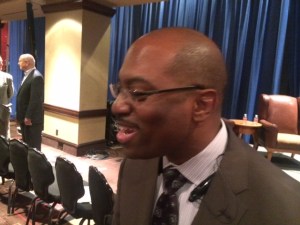 TRENTON – Mercer County Freeholder Samuel T. Frisby asserted that his possible denial of the leadership of the Mercer freeholder board is "retaliation" for his potential run for a 15th Legislative District Assembly seat.
"That's exactly what it is," said Frisby on Friday. Frisby, a Democrat, announced last month that he was forming an exploratory committee to evaluate a possible run for the LD 15 seat vacated by U.S. Rep.-elect Bonnie Watson Coleman (D-12). "This is retaliatory, and this is ridiculous if they go this route."
Frisby referenced a letter dated Dec. 18 that he sent to Freeholder Chairman Andrew Koontz in which he registered his concerns to Koontz. Frisby indicated in the letter that Koontz has told him that if he runs for the open LD 15 seat at the scheduled special LD 15 Democratic convention on Jan. 24, the votes for the freeholder chairmanship "would not be there," according to a copy of the letter obtained by PolitickerNJ.
Mercer County Executive Brian Hughes declared his support in July for Mercer County Democratic Chair Liz Muoio to step into the state Assembly seat soon to be vacated by Watson Coleman, which includes municipalities in Mercer and Hunterdon counties.
The regular freeholder board protocol that Frisby expected to be adhered to at the Jan. 2 reorganization meeting was that the board's vice chair, a position now held by Frisby, is voted in as chair after holding the lower-ranking spot for a year.
"I'm just saying that I will potentially run at the convention," Frisby said. "I'm staying within the confines on the party system, but I think that I could have a viable candidacy [in LD 15]. There is no precedent for them not ascending the vice chair to the [freeholder] chairmanship. What I want to know is, what is different about this year? Have the rules changed?"
"In no way do we seek to punish Mr. Frisby," countered Koontz. "What we're looking at from the freeholders' point of view is for someone who if they want to be chair, that they really want to do that and commit to the one-year term. I spoke to other freeholders, and he has the votes for chair if he can commit to serving [as chair] for the duration of 2015 and he wasn't running for an Assembly seat. If not, we have to look somewhere else. We ordinarily operate in a rotation, that is correct. But this is not an ordinary situation."