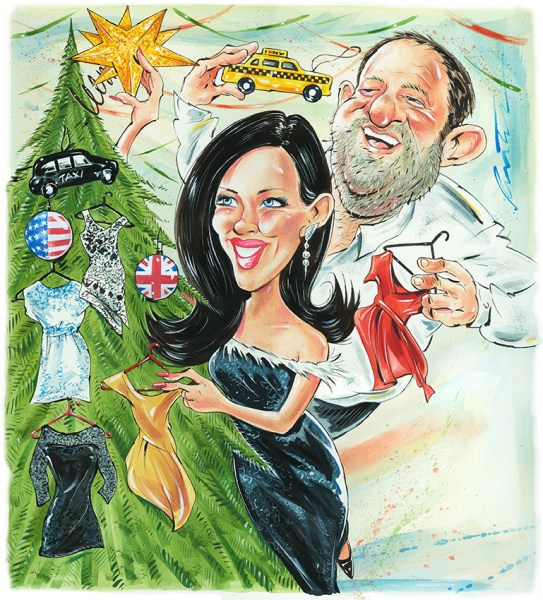 At last week's reception for the Duke and Duchess of Cambridge at the NeueHouse, all eyes were, er, torn. As stunning as the Duchess of Cambridge was, more in command of the room, according to some, was another Brit, Georgina Chapman. In contrast to the Duchess' smart but rather somber black attire, the Marchesa designer's pretty flower-print dress, tanned legs and ballerina-style, lace-up pumps were pure New York. With husband Harvey Weinstein very much in the background—"I'm the plus one!" he joked to one guest—Ms. Chapman dazzled with her infectious, easy smile.
This holiday season, the 38-year-old founder of red-carpet favorite Marchesa, celebrated a banner year. In September, her fashion line passed its 10-year anniversary by showing in London for the first time. She was soon after rewarded with an appointment to the board of the Council of Fashion Designers of America (CFDA).
"It was a dream of ours one day to show in London where [Marchesa co-founder Keren Craig] and I started out," Ms. Chapman says. "Every show is emotional because you put so much work into it and everyone's so tired. You've given birth to a collection and it's always a high. But it was a big deal to show in London in front of so many friends and family."
But this year is only slightly more remarkable for Ms. Chapman than the ones that have gone before. The daughter of millionaire businessman Brian Chapman and journalist Caroline Wonfor was given every advantage from the start, from elite schools to world travel. The curse of many privileged
children is that, by virtue of their serendipitous circumstances, they never develop the discipline and drive that made their parents successful. This fate did not befall Ms. Chapman. A creative spirit, arts and fashion design captured her attention early on. By age 13 she had taught herself to sew and began making her own clothing.
At 18, she whipped up enough money to bounce around Australasia for two years including, in what has now become a famous tale, an ill-advised trek into the Himalayas in flip-flops when she struggled with walking and the insect-life thanks to her footgear. When she returned to London, she threw herself into studying costume design at Wimbledon College of Art and took on three part-time jobs to make ends meet—one as a waitress, one as a coat check girl and one sharpening skis. These jobs didn't last long after she caught the eye of a modeling agent. She even dabbled in acting, appearing in Shanghai Knights and Match Point. Poised to become famous for her looks, she steered away and stuck to her goals. If her incredible good fortune is enough to spark envy, it is worth noting that Ms. Chapman is clearly appreciative of all the opportunities she has had.
"Modeling was fantastic; I studied while earning money in an industry I wanted to become an important part of. Having the opportunity to wear all those incredible dresses helped solidify my feeling that fashion was what I wanted to do." Acting was part of that baptism, too, and now, years of red-carpet experience have given the designer an added, unique insight into her product.
"Part of being a woman designing for a woman means I understand how it must feel to be analyzed by thousands of people. At Marchesa, we want women to feel beautiful," Ms. Chapman says. "I understand the pressure these actresses are under. They're scrutinized from every single angle. It's a crazy thing."
An empathetic nature accounts in some way for Ms. Chapman's success. As a judge on Project Runway, she was frequently less harsh than her co-judges, finding positives in even the most ridiculous student creations and encouraging the losers at crunch-time. She often spoke on the show of recognizing the ambitious spark in contestants that drove her own career.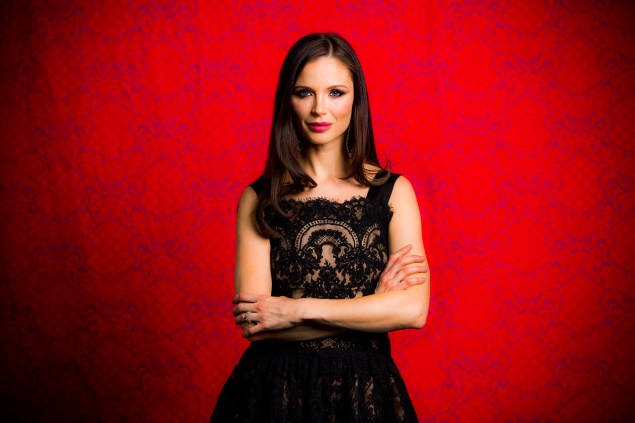 Ms. Chapman scored highly as soon as she arrived in New York to promote Marchesa in 2004. From persuading powerful retailers to stock her new clothing range, to meeting her notoriously prickly husband Harvey Weinstein, everything more or less just fell into place. 
The two met when Mr. Weinstein approached Ms. Chapman at a party, according to Vogue. "I had no idea who he was," she told the fashion tome. "He's not a person you can sort of ignore or brush off. He's incredibly charming and so charismatic, it sort of draws you in."
The tabloids were quick to credit powerhouse producer Mr. Weinstein for Ms. Chapman's burgeoning success. Mr. Weinstein had just split from ex-wife Eve Chilton, with whom he had three daughters when he met Ms. Chapman in 2004. Outsiders sniped it was certainly convenient for the aspiring designer.
But this false assessment ignores the fact that Ms. Chapman is utterly not the type to serve as arm candy. She had already established fashion connections in England before she met Mr. Weinstein, New Yorkers would have bought Marchesa anyway. It could be said that legendary British fashion eccentric and star-maker Isabella Blow was Marchesa's first fan. Ms. Blow was seated with Ms. Chapman and Ms. Craig at a Louis Vuitton dinner in England when the two were preparing to launch a line of loungewear in the early '00s. Ms. Blow, who was known for her keen eye for talent, took one look at Ms. Chapman's self-designed gown, said she and Ms. Craig were crazy to design anything but eveningwear and requested a dress of her own, making it Marchesa's first commission. Then, Renée Zellweger wore the newly minted British fashion line Marchesa to the 2004 London premiere of Bridget Jones: The Edge of Reason. Her classic, romantic but sexy outfit sent a wave of A-list actresses running to Ms. Chapman for red-carpet looks. Marchesa designs were voluminous and full, reminiscent of Charles James, interrupting the post-grunge, experimental and extreme body-con looks on the red carpet at the time.
But, however you credit the earliest success of Marchesa, the outcome remains the same—the line has grown into an empire including diffusion collection Notte by Marchesa, contemporary line Voyage, plus bridal, handbags, beauty, fine jewelry, fragrance, stationery and tabletop home decor. Her relationship with Mr. Weinstein has also born fruit. The two married in 2007 and have two children, daughter India Pearl and son, Dashiell, whom she lovingly calls Dashy. Despite the couple's high profile, their children are kept completely and deliberately out of the spotlight.
Ms. Chapman's star now shines as bright as her husband's in their respective industries. Her recent appointment to the CFDA board, which brought the total number of board members to a mere 26, provides official recognition of Ms. Chapman's talents.
"I was a little taken aback, I wasn't expecting it," she confesses. "When we first brought Marchesa to New York, the CFDA helped us find a home here. It's an incredible honor for me and the CFDA is just an unbelievable organization. I hope this gives me the opportunity to give other young designers a feeling of a home in New York."
New York is certainly home at this point for Ms. Chapman, a West Village resident. "For me, it really is about family this time of year," she says. She recently took her children and a gang of friends to the Jingle Ball concert at Madison Square Garden, which she jokingly calls a "kiddie mosh pit." The family will spend the holidays in London this year and feast on a Christmas dinner full of British classics. "I'm quite traditional, I always make mince pies, an English delicacy you can't really find here. I do a Christmas pudding we pour brandy over and set on fire, which the kids love. We have crackers on the table; instead of a turkey we might do a goose. We sometimes spice up pre-dinner cocktails with a lychee martini," Ms. Chapman says.
"It's a time to be indulgent and I'm always a great believer in taking opportunities to be glamorous," she confesses. "My daughter loves dressing up, too." The love of glamour is obvious in Marchesa's clothing; there is a touch of Barbie dolls about the whole Chapman package, in fact. However, unlike the famously plastic doll, Ms. Chapman's glamour errs totally toward good taste. Few designers have clothing that spans such a wide range as Marchesa.  Daring, sexy upstarts including Rihanna and Rita Ora are as likely to wear the label as establishment stalwarts Sarah Jessica Parker and Sandra Bullock.
After London, the Weinstein-Chapman clan will head off for a New Year's ski trip to fashionable Gstaad, Switzerland, with the entire family and a slew of friends in tow. A fashionable end to a fabulous year.