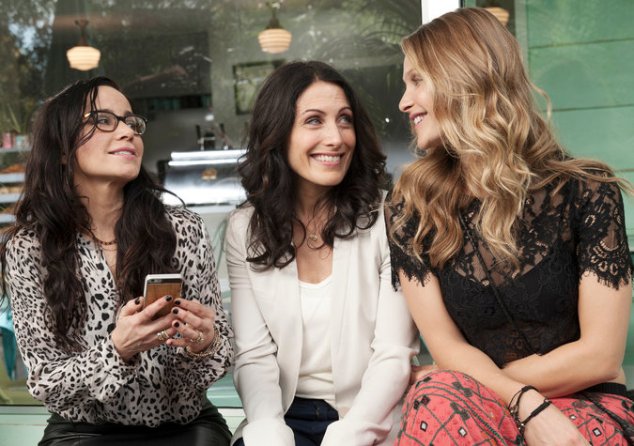 Divorce isn't an easy thing to go through no matter who you are, but it's especially painful when you've built your career, and much of your identity, around the idea that you're an authority on how to maintain a positive relationship with your spouse.
This is the premise behind Bravo's new series–it's first trial with the scripted format–Girlfriends' Guide to Divorce.
The series centers around Abby McCarthy, a successful self-help author whose crumbling marriage puts a strain on both her personal and professional life. She finds herself surrounded by women in similar situations and together they attempt to help each other through the ups and downs of coupling and uncoupling.
Co-Creator and Executive Producer Marti Noxon, herself divorced, explains the genesis of the show saying, "I was talking with producer Meryl Poster (Chocolate, Chicago) and she said to me, 'I wish you would write about divorce, so many of my friends are going through it. In this day and age, it's so different than it used to be for a lot of us where women might be the breadwinner or it's not uncommon for women now to pay alimony and for the men to have raised the children and all that,' and I said, 'this was so compelling, but I just think divorce as a concept sounds like it's such a bummer. I just wish that we could say it's not going to be a huge downer.' She thought for a second and said, 'Well, did you ever read the Girlfriends' Guide to Pregnancy', and I was like, 'Of course, it's one of the books you get when you're pregnant." That's when Meryl mentioned that Vicki Iovine who wrote that guide was writing the Girlfriends' Guide to Getting Your Groove Back when she found out that her husband was cheating on her and her marriage fell apart, and I was like, 'Well that is a show!' Right then, Meryl texted Vicki, saying 'What do you think about doing a show called Girlfriends' Guide to Divorce,' and Vicki immediately texted back, 'Yes,' and that was the beginning."
Noxon admits that her own experiences going through the divorce process helped in creating the central characters of the show. "One of the things that I found really fun and unexpected about going through a divorce is that you end up being friends with other people who are going through the same thing, and that doesn't necessarily mean they're people you would have been friends with had you not been in this place in your life."
She goes on to say that the basis for the character of Abby's pal, Phoebe, is a woman she met and immediately perceived to be a 'trophy wife.' "Well, that was what I thought," says Noxon, "but once I got to know her my assumptions were blown away and that was really the inspiration for that character."
Abby's other confidante, Lyla, is also modeled after one of Noxon's real-life acquaintances. "Lyla is based on a friend of mine who's just going through a really, really ugly divorce and I always feel like she's my rage. She's the voice of vengeance, but also there's vulnerability underneath that."
When it comes to the main character, Noxon reveals, "Abby is the person I wish I could have been at times. She's braver and more open to having more feelings than I was at certain times, and she also gets to say the things I wish I'd said in a moment."
With a series about gal pals that involves single women and their complicated relationships, obvious comparisons to the successful series Sex and the City come to mind, to which Noxon responds, "I'm flattered by that because that show obviously was such a phenomenon, so I think in terms of comparison, yes, you could say Abby is the new Carrie, because just like on that show, it's about the quest."
Also like SATC, GGTD works hard to find that sweet spot between comedy and drama, a concept Noxon explains a bit more, saying, "I think there are a lot of lighter moments in the show, but it was never intended to be a comedy first. I wish that we could be in the same world as some of (Director) Richard Curtis' films (Love Actually, Notting Hill), which are romantic comedies that have a lot of funny people in them but they're not afraid to dip in to the much more serious side. We wanted to have it where we can shift tones readily and some of the episodes are much more romp like. For example, there's a scene where Abby and the girls go to Vegas, but even then we get to serious stuff in the end."
Within the writing staff of the show, only Noxon herself is divorced. In fact, two of the Executive Producers of GGTD are a married couple, Elizabeth Kruger and Craig Shapiro. "They're very funny and they've been together a long time and they bring a lot of kind of fact checking about a marriage into the writer's room," says Noxon.
Noxon's background in television writing has certainly shaped her storytelling abilities and the skills she brings to the writing process on GGTD.
Having worked on a wide range of shows including Glee, Mad Men, Private Practice and cult favorite, Buffy the Vampire Slayer, Noxon notes that she's learned a lot from her previous co-workers and mentors, particularly Joss Whedon (Buffy) and Matt Weiner (Mad Men).
"Both Joss and Matt went to Wesleyan. They were actually there at the same time, which is really funny because, " Noxon says, laughing herself, "at one point they were dating and competing over the same girl. But seriously, Joss first and foremost taught me, that the personal and specific are universal. He taught me that the more you feel like you're kind of telling your dirty secrets, the more people actually relate to what you're doing. Matt taught me so much about not always sticking too specifically to structure. I'd been trained to write under specific (broadcast, not cable) network constraints and he kind of beat that out of me."
The network Noxon is working with for GGTD, Bravo, might seem a bit unconventional for this particular show as the network is primarily known for it's non-scripted fare, which accounts for all of Bravo's programming. In fact, GGTD is the network's first foray into scripted material, which is good news as far as Noxon is concerned. "We've had an incredible amount of support from Bravo and it's exciting, but I mean, obviously, if we fall flat on our faces, that will be a bummer," admits Noxon, "but it still feels very exciting to be able set the tone and start a conversation that I think a lot of viewers will be interested in."
Girlfriends' Guide to Divorce premieres Tuesday, December 2nd at 10/9c.