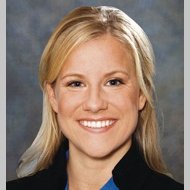 Tiffany Haas, who served as communications director and legislative counsel
for U.S. Rep. Donald M. Payne, Jr. (D-10), announced that she was leaving Payne's Washington, D.C. office as of last Friday.
"Today is my last day in Congressman Payne's office. I will be moving from the Hill but plan to still be around often and hope to keep in touch," Haas wrote in an email on Friday.
"I am very grateful for the opportunity to work for a wonderful boss who truly cares about doing good for the people he represents. I am also thankful for the time I have had to work with amazing and dedicated staff both on the Hill and in the district."