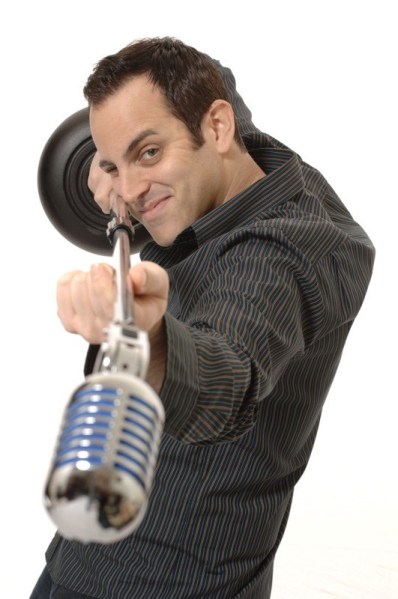 Traditionally, New York Jews can feel lost during Christmas, as our gentile neighbors kiss under mistletoe, exchange hand-wrapped gifts with friends and family, feast on glazed ham and drink egg nog (admittedly, we don't understand that last tradition–such icky yellow swill.) While movie houses serve as a typical refuge, Jews in the city can enjoy several other entertaining options this December 24 and 25.
WEDNESDAY, DECEMBER 24
Praised by Back Stage magazine as "Best Emerging Artists" and among "Ten Standout Stand-Ups Worth Watching," Ray Ellin hosts A Reasonably Jewish Christmas, at Comic Strip Live. The show features, according to a press release, both "Jewish and non-Jewish comedians," including Greer Barnes from Chappelle's Show, America's Got Talent finalist Dan Naturman and Sherry Davey (NickMom Nite Out).
Comic Strip Live, 1568 2nd Avenue, NY, NY, shows at 7p.m. and 9:30 p.m., $25, www.raycomedy.com 212-861-9386
***
Literally thousands of eligible Jews (as well as some Shiksa gods and goddesses) wait all year for the MatzoBall, one of the biggest singles events in New York. Kibitz with a cutie at Capitale, a grand columned ballroom in the former Bowery Savings Bank that Stanford White designed in 1893.
Capitale, 130 Bowery, 9 P.M., $40  http://matzoball.org/nyc/ 
***
Trade the bouche de noel in for Tiger Shrimp dumplings at Chinese Christmas Eve at Sons of Essex. The Lower East Side restaurant's Christmas Eve menu will also feature General Tso's Crispy Chicken, lo mein noodles, veggie rolls and sticky rice. Because, really, to hell with fruitcake. Sons of Essex, 133 Essex Street, starts at 6 p.m., (212) 674-7100
***
THURSDAY, DECEMBER 25 
The Jewish Museum gives parents a holiday gift, programming several events for children on Christmas Day. Budding painters can attend the Vacation Week Art Workshop from 12:30 to 4 pm and create canvases inspired by Lee Krasner and Norman Lewis.  At 11:30 and 2 p.m., Oran Etkin's Timbalooloo performs an eclectic mix of Afrobeat, jazz and klezmer. Ben Ratliff of The New York Times praised Etkin as "an excellent improviser."
​Tickets: $20 Adults; $15 Children.
http://thejewishmuseum.org/calendar
***

Metropolitan Klezmer, performs two Christmas day shows at 3:00 p.m. and 5:00 p.m.. Members of the acclaimed band have played with Rufus Wainwright, Bonnie Raitt, Bruce Springsteen and Jimmy Scott.
Cornelia Street Cafe, 29 Cornelia Street, $20 plus $10 minimum, http://corneliastreetcafe.com
***
Gospel and Jews? And why not? Joshua Nelson and the Kosher Gospel Choir, which combines "Jewish liturgical lyrics with one of America's best-known indigenous musical forms," plays the Museum of Jewish Heritage. Hallelujah.
1 p.m. and 3:30 p.m., Museum of Jewish Heritage, 36 Battery Place, $35 adults, $25 students/seniors; $20 members