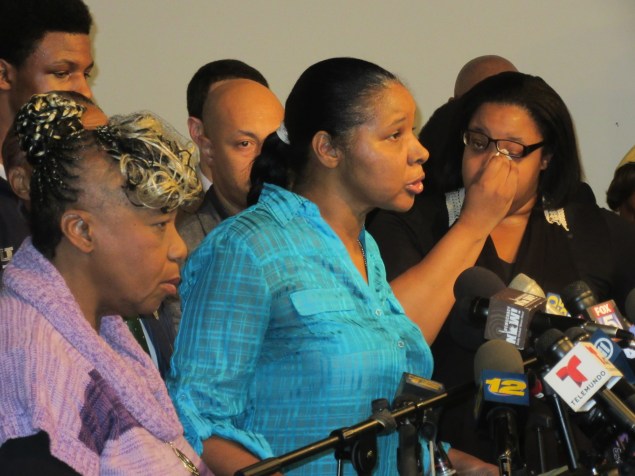 Esaw Garner, the widow of Eric Garner—the Staten Island man who died after NYPD Officer Daniel Pantaleo used an apparent chokehold to arrest him—angrily rejected the police officer's sympathies tonight, just hours after a grand jury decided not to charge the cop with any crime.
Mr. Pantaleo offered the family his condolences in a statement released after the decision today, and said he felt "bad" about Garner's death—a death a medical examiner ruled to be a homicide. Speaking from the podium at Rev. Al Sharpton's National Action Network in Harlem, a teary-eyed Ms. Garner lashed out at the cop, recalling the video recording of the killing, in which Garner repeatedly yelled "I can't breathe" as Mr. Pantaleo and several other cops wrestled him to the ground to apprehend him for allegedly selling tax-free cigarettes.
"Hell, no!" Ms. Garner declared when asked if she accepted Mr. Pantaleo's sympathies. "The time for remorse would have been when my husband was yelling he couldn't breathe. That would have been the time for him to show some type of remorse or some type of care for another human being's life. When he was screaming 11 times that he can't breathe!"
Ms. Garner also voiced rage that Mr. Pantaleo has simply been put on desk duty following the incident. She said she and her family are struggling both emotionally and economically since the 43-year-old father of six and grandfather of two died in July.
"He's still working, he's still getting his paycheck, he's still feeding his kids and my husband is six feet under, and I'm looking for a way to feed my kids," Ms. Garner said. "Who's going to play Santa Claus for my grandkids this year? Who's going to play Santa Claus for my grandkids?"
The remarks were a sharp departure from the rhetoric the family employed the rest of the evening, which was generally restrained, and insistent upon a peaceful response to the grand jury's decision.
"We need all your support, but we need peace throughout your support. We want you to rally, but rally in peace. Make a statement, but make it in peace. Do what you have to but do it in peace," said Garner's mother, Gwen Carr.
The family reiterated calls for the U.S. Attorney's office to open its own investigation into the incident, and into the killing of 18-year-old Michael Brown in Ferguson, Mo.
"I'm determined to get justice for my husband, because he shouldn't have been killed in that way. He shouldn't have been killed in any way. He should be here and celebrating Christmas and Thanksgiving with his children and grandchildren. And he can't. And why? Because a cop did wrong. Somebody who gets paid to do right, did wrong and is not held accountable for it. But my husband's death will not be in vain," Ms. Garner said.