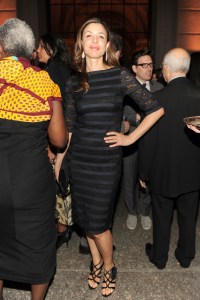 It seems odd that the De Niros—as in Robert—would rent. Mr. De Niro generally makes the impression of a practical, no-nonsense fellow who wouldn't deign to throw away cash—even if he's got plenty to burn. (He is, after all, engaged in a bitter dispute with an upstate town over a property assessment he considers too steep.) But then again, he and his wife, Grace Hightower, had good reason for checking into a $125,000 per month floor-through at 15 Central Park West in the fall, what with the fire at the Brentmore that ravaged their triplex, necessitating a gut renovation. We can't have him living on the street, after all! And as city records have it, his adoptive daughter, Drena De Niro, has been renting, too—albeit something considerably more modest, a two bedroom in Tribeca that goes for less than $7,000 a month.
Fortunately for young Ms. De Niro, it looks like pops has decided to give her a hand; the two appear as buyers on the deed for a penthouse at 32 Morton Street, which they closed on for $2.852 million.
The listing for the West Village co-op held by Corcoran's Paul Kolbusz and Sara Gelbard shows a bright, airy loft with "panoramic city and Hudson River views through industrial sized metal casement windows." There are 13-foot beamed ceilings and blonde hardwood floors. The kitchen appears to be no more than a narrow dead-end alley with sleek dark cabinetry, but then, we don't expect that Ms. De Niro, an actress and producer, will be doing such a tremendous lot of cooking.
Nonetheless, appliances are "top of the line," obviously, and the living room features a wood burning fireplace with a marble hearth, plus a wet bar—fun for the whole family.
Among Ms. De Niro's most recent roles was a turn in the French-American Welcome to New York, a thinly veiled telling of the Dominique Strauss-Kahn scandal that drew mixed reviews and threats of legal action from Mr. Strauss-Kahn, who alleged slander. But having played an executive assistant in the film, Ms. De Niro is unlikely to suffer in the courts. And certainly, her continued stay in the city ought to be a good deal more pleasant than the protagonist's.