If you had to pick one booth at PULSE Miami Beach not to miss, stop by Davidson Contemporary, booth B5, for works by Kim Rugg and art duo Ghost of a Dream. Ms. Rugg's wall-sized installation of all 50 states, hand drawn on individual sheets of paper, are recognizable from afar but up close it becomes clear that there's one important thing missing: borders. The names of major cities, large towns, mountains, lakes, and state parks make up each state, but "it's essentially a useless map without the lines," said Charles C. Davidson of the gallery.
Not entirely useless, though; it's an excellent conversation starter and visitors and collectors have been drawn to it to spot their hometowns, Mr. Davidson told us. The states are being sold individually, but are shown as one complete installation. Illinois has already sold, another collector has shown interest in four separate states (family all over?), and one pair of women came by just to take a photo of Long Island. Fun fact: the states are drawn to take into account population, only showing cities of above a certain size. And while Fargo, Oklahoma is population 364 (after some quick googling) art-famous town Marfa (much bigger by far) is nowhere to be seen in Texas, pointed out Mr. Davidson.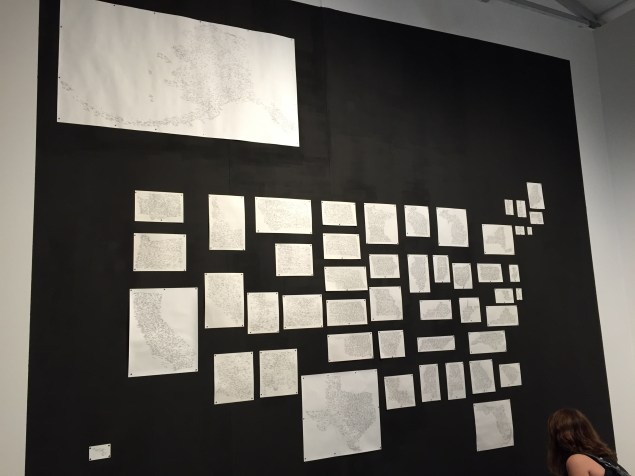 And then there's "The Center of Convention" by Ghost of a Dream, art duo Lauren Was and Adam Eckstrom. The installation nearly takes up a whole booth by itself, every inch of the space from floor to walls covered with paintings, murals, and sculptures made from the recycled ephemera that normally gets tossed after art fairs. Materials used include carpeting intricately woven together to form chevron-patterned paintings and motifs, and mounted onto wood panels made from art shipping crates — some still bare the markings of previous artwork titles on the back.
When asked if they'd be taking a piece of PULSE with them, Mr. Eckstrom replied, "Absolutely." He's got his eyes on the plushy gray carpeting, which is atypical of the fairs, he says, because it easily frays when cut. But he's psyched to add a new gray tone to the mix. With news that the Miami Beach Convention Center, where Art Basel Miami Beach is being held, is to be gut renovated and built anew this year, we suggested he try and snag some of its truly clashing patterned carpeting before it's all gone.
PULSE Miami Beach runs from December 4 through 7 at Indian Beach Park in Miami Beach.