No matter how many times you've seen George Balanchine's The Nutcracker—and I must have seen it at least 50 times—there's always something new to think about and respond to. It's a work of such richness that there's no end to it. For students of New York City Ballet, it is, among other things, a learning tool for younger dancers and a gauge of how management (i.e. Peter Martins) feels about them. And appearing in the central role, the Sugarplum Fairy, is a rite of passage in the journey from member of the corps to ballerina. That's why critics are so eager to keep up with casting—to follow a talented dancer from Hot Chocolate to Coffee to Marzipan to Dewdrop to Sugarplum, though not always in that order.
Sugarplum is a strange role. Is there another full-evening classical ballet in which the ballerina appears in only one act? In The Sleeping Beauty, she must evolve over three acts from a naive young girl to a wife and queen. In Swan Lake, she's two completely different women, Odette and Odile, good and evil. In Giselle, she's first an innocent peasant girl, then a Wili—a ghost. But Sugarplum doesn't evolve or transform, she's just there, the hostess of the Land of Sweets. And yet she has two very different functions to perform, and not every ballerina performs them equally well. Sugarplum is far more complicated than it first appears.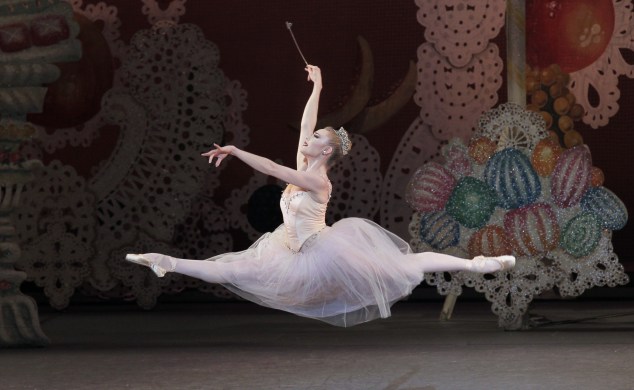 This season I saw two strikingly unalike premier dancers in the role, with strikingly different results. Sugarplum's initial responsibility, at the start of Act II, is to welcome the little prince and princess to her court and to introduce and orchestrate the upcoming entertainment. This Sugarplum has to be a charmer—and to be charmed by the children who are her guests; she's warm, radiant, giving, and she's captivated by the story of the battle with the mice, which the prince mimes for her. Although she has a delicate and far from easy solo, her main job is to make you—and the children in the audience—love her. She's in pink.
And then at the end of the act—at its climax—she reappears, now in shimmering pale green, to dance one of Balanchine's and Tchaikovsky's most thrilling pas de deux. This is classical ballet at its grandest, its most heightened—and its trickiest; there's no hiding behind charm.  
Sterling Hyltin is everything you could ask for as the first Sugarplum. She's quicksilver, happy, adorable—exactly what a child would hope to encounter in Candyland. But when it comes to the majestic pas de deux she simply lacks the command, the grandeur. And she's not quite strong enough—not a Suzanne Farrell, a Kyra Nichols, a Tiler Peck—so the pas de deux is diminished. It's a perfectly pleasing effort, but not the ballerina vision toward which the entire ballet has been moving.
Whereas Sara Mearns (though even she had her shaky moments in the pas de deux) projected, as she always does, complete confidence and authority, she's not a subtle dancer, she's a commanding one. On the other hand, charm is not her strong point—she's passionate rather than warm—and her early Sugarplum passages were pro forma. She came across as more focused on her performance than on the children.
The last completely satisfying Sugarplum was the young Darci Kistler, who had captivating charm, and also the expansiveness the pas de deux requires. Maria Tallchief, the original, was more grand than warm. Allegra Kent and Patricia McBride were exemplary, as was Nichols later on. And as for Farrell, she was a different creature every time she danced the role, but all of them were riveting, even when she seemed to be dancing Swan Lake.
Of course Nutcracker survives far less talented ballerinas than Hyltin and Mearns. In a way, it's dancer-proof—yet another reason to be grateful for it.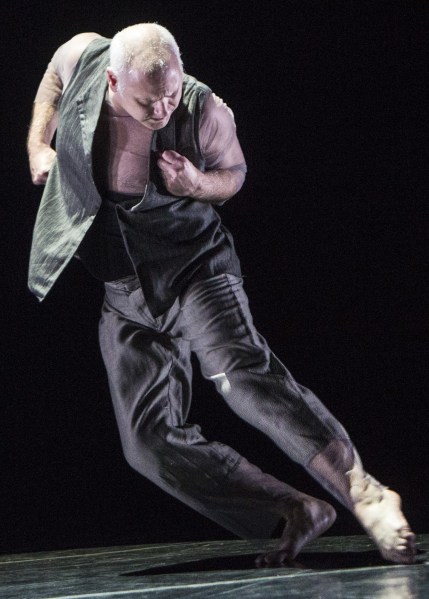 Ever since I first saw, and fell in love with, Doug Varone's Castles 10 years ago, I've been waiting for it to come back, and it did me that favor last week at the Joyce. It may be a little tamer than it was a decade ago—as far as I know it's a new cast—but the surging, whirlpooling movement is just as gripping and involving. Varone's dancers, as they rocket on and off stage to Prokofiev's "Waltz Suite, Opus 110," never hold back, neither in their exciting athleticism nor in their honesty and depth of feeling. It's the humanity of his work that I find so moving, and so rare in today's world of minimalism and/or exhibitionism. Varone's complicated contrasting of aggression and tenderness rings true, both in the duets—one for two men, one for man and woman—and the galvanic group passages. There's a buried narrative here, perhaps a reflection of Romeo and Juliet, although the music is more related to Prokofiev's Cinderella than to his Romeo, but the real story is the physical and emotional energy on stage, fully committed and fully exposed. (I was particularly struck by Alex Springer, whose rather bland good looks belie the subtlety of his every gesture.)
There were two new pieces. First, a solo, The Fabulist, Varone himself performing for the first time in a number of years. He is no longer young, and this is a retrospective piece, set to an extended David Lang song called "Death Speaks." His dance vocabulary is as subtle and intricate as ever, but the dynamics are muted—just as they were a decade ago in the works he made for the middle-aged Larry Hahn. Age stimulates Varone rather than diminishing him, and our attention is held completely. My only cavil: too much inventive lighting, which becomes distracting.
The lighting for the other new work, Dome, is equally assertive, but here it casts a strange and moving spell, a kind of orange glow, over the challenging world (post-apocalyptic?) the dance inhabits. The eerie light is in odd consonance with Christopher Rouse's abrasive, tumultuous—and highly danceable—"Trombone Concerto," to which the piece is set. Whereas Castles is richly anchored in a well-furnished present, Dome is bare, its population apparently exposed to obscurely menacing forces. The dancers struggle to their feet, they crash to the ground, they grope toward a meaning that eludes them. But even with isolation as a basic condition of its worldview, Dome demonstrates Doug Varone's engagement with who we are and how we live. In this he resembles Paul Taylor, which may explain why I respond so strongly to his work.