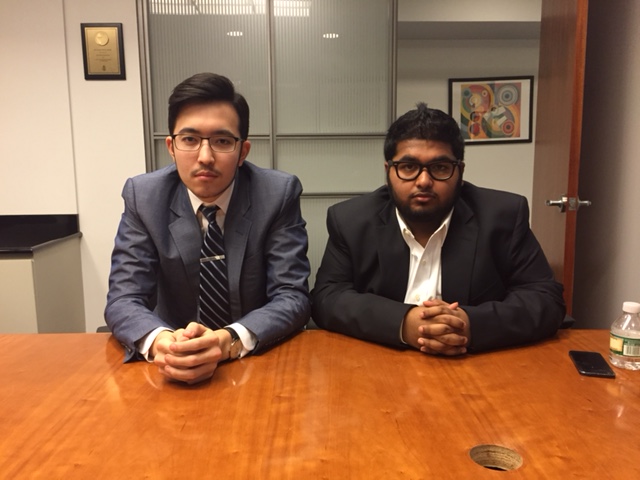 Yesterday, New York magazine's annual "Reasons to Love New York" issue included a story by Jessica Pressler about Mohammed Islam, a senior at Stuyvesant High School, who claimed that he made a fortune investing in the stock market. By the end of the day, the story unraveled when Mr. Islam admitted in an interview with the Observer that it was false. The teenager did not make $72 million investing in stocks during his lunch break. In fact, he didn't make any money.
This morning, New York magazine issued an apology. "We were duped. Our fact-checking process was obviously inadequate; we take full responsibility and we should have known better. New York apologizes to our readers," the magazine wrote.
So what was the fact checking process?
Mr. Islam and his friend, Damir Tulemaganbetov, who is also featured in the story, described the process in an exclusive interview with the Observer this morning.
"New York magazine wanted a document, and I showed them what they wanted to see," Mr. Islam told us in a conference room at the 5WPR offices, the PR firm that Mr. Islam hired to do damage control. Mr. Islam said he met Alex Yablon, a fact checker at New York magazine, at the bottom of the Stuyvesant bridge "for maybe 10 seconds or so." He said he showed the fact checker a single sheet of paper that he had doctored to prove what was in his bank account. Although Mr. Islam declined to name the exact figure, he said it "was nowhere near" the $72 million quoted in the story as his rumored worth.
"Though he is shy about the $72 million number, he confirmed his net worth is in the 'high eight figures,'" Ms. Pressler wrote (the smallest eight-figure number Mohammed could have "confirmed" would be $10,000,000). "More than enough to rent an apartment in Manhattan—though his parents won't let him live in it until he turns 18—and acquire a BMW, which he can't drive because he doesn't yet have a license."
Mr. Yablon tried to meet twice with Mr. Islam before catching up with him at the bottom of the overpass that spans the West Side Highway. But according to Mr. Islam, nobody at New York magazine asked for evidence that he had bought an apartment or BMW with his windfall. The high school student does not actually have a place in Manhattan; he lives in a two-bedroom apartment in Elmhurst with his parents and younger sister. Mr. Islam said he sleeps in the living room. The BMW, he said, belongs to his father, who lets him drive it when he is with a licensed driver (he has a learner's permit).
Mr. Islam and Mr. Tulemaganbetov met with Ms. Pressler on two separate occasions. The first was at the Mandarin Oriental 35th Floor restaurant, where the bill came to around $200, Mr. Tulemaganbetov recalled. The second time they met with Ms. Pressler, it was at Mari Vana, a Russian restaurant on East 20th Street over apple juice and caviar, which was described in the story. Mr. Tulemaganbetov, whom Ms. Pressler described as "the son of a Kazakh oligarch" and has money to throw around on meals designed to impress a reporter, told the Observer that he paid for both meals. He recalled paying nearly $400 in cash for the caviar and fresh pressed juice at Mari Vana (although he said that Ms. Pressler offered to pay before the bill came).
Ms. Pressler is scheduled to start at Bloomberg News as an investigative reporter early next year. Bloomberg declined to comment on how the news organization is handling the fallout for their new hire from the Stuy Kid story.
Yesterday evening, an hour after the Observer's story broke, an editor at New York magazine sent Mr. Islam the following text message, which the Observer saw this morning: "Hey Mo, this is David from New York magazine. I read the piece in the observer. We would like to do a follow up story. Will you give me a call please? Thanks." The number belonged to deputy editor David Haskell, who did not respond to the Observer's request for comment. Neither did Ms. Pressler.
When the Observer saw the text this morning, Mr. Islam had not yet shown it to his lawyer or PR firm. He hadn't answered.
"It's not good, what we did. But we are still inspired. We still want to pursue doing business together as individuals," Mr. Tulemaganbetov said. "We still want to be successful and make money and make our parents proud. And I think if they were to make a movie about this, it would be about the end, not the beginning."