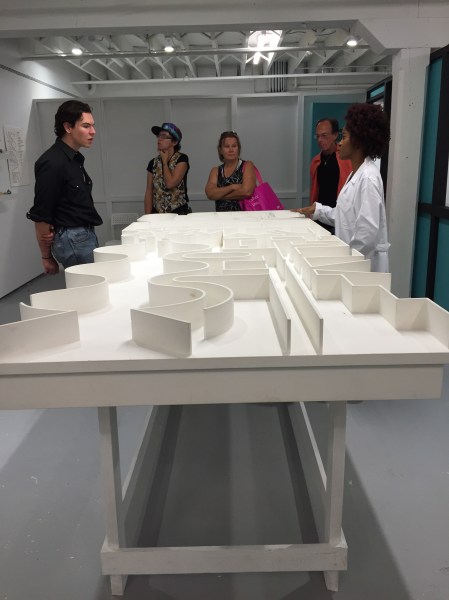 There was so much going on in Miami this week for Art Basel Miami Beach that it was nearly impossible to pick and choose without missing out. A lot of the action was centered in Miami Beach, but the Design District was bustling with activity as well, especially at the newly opened Institute of Contemporary Art Miami. The museum's opening week coincided with the art fair madness, and its two inaugural exhibitions by Andra Ursuta and Pedro Reyes provided ample opportunity for fairgoers to find a little zen.
The ICA Miami is currently housed in the Moore Building: a five-story building with an airy atrium that doubles an exhibition space, and a large second floor gallery. It won't move to its new home in the Design District (a brand new building to be designed by Spanish firm Aranguren & Gallegos-designed) until 2016, but it's making the most of the unconventional exhibition halls until then.
Andra Ursuta's survey exhibition "As I Lay Drying" occupies the exposed I-beams in the atrium; kinetic sculptures are placed precariously at intersections and hang from the building's joints. Her hanging garden of woven, knitted, and inflated forms (the pieces titled Soft Power 1 and 2 expand to looks like a fist and then deflate and resemble a penis) can be seen from every floor of the building, truly letting viewers view the sculpture in the round.
On the second floor, volunteer "therapists" greet visitors and walk them through the various treatment rooms of Pedro Reye's "Sanatorium"—a serious of art-based therapy exercises and interactive activities. The Philosophical Casino asks visitors to write down a general question (anything from "What does this all mean?" to "What will I get for Christmas?") and post it to gallery wall. Then, they roll one of five giant dice that are printed with the musings of history's philosophers, from the Greek to 20th-century contemporaries for an answer. The Observer scribbled down one of the all-time great queries, "What is the secret to a long and healthy life?" We turned to the Eastern Philosophers for guidance. And our answer landed on Lao Tzo: "To lease people walk behind them." We mulled it over.
Other therapies included The Museum of Hypothetical Lifetimes, a room filled with trinkets and oddities that visitors could use to curate their life from birth to death in a model museum. Citileaks let visitors write down a secret and deposit it in a bottle. In exchange, they could fish out and read one secret left behind by someone else. We'd divulge more here if we could, but the secrets stay with the artist.
Both shows run at the ICA Miami through March 15. See more photos from the inaugural exhibitions below: