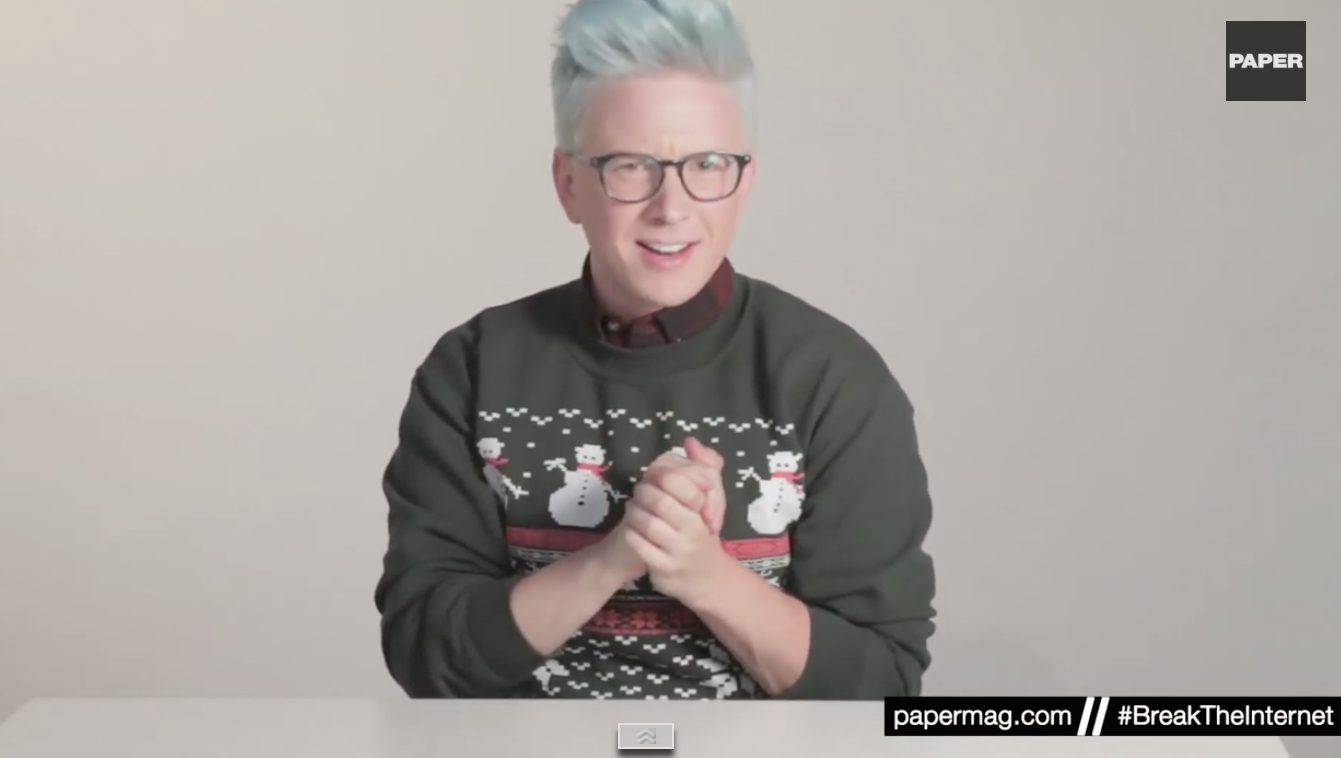 It's been said, that if you don't recognize the name Tyler Oakley, it's because you're old. But regardless of age, if you live in New York City and still don't know who he is then the problem may be that you're blind.
Be it on subways, billboards, or recently, New York's Town Hall marquis, the YouTuber's mug is basically everywhere. And since he was recently in town–perhaps you heard the herds of screaming preteens–we just had to find out what all of the fuss is about it.
It takes nothing more than a quick scroll through the #TylerOakley thread on Instagram to see that Mr. Oakley is perhaps one of the most well-liked members of the Youtube clan. You may even find, after a few minutes spent on his self named YouTube channel, that his bubbly personality and honest-to-goodness positivity make his video blogs a joy to watch. But don't take our word for it, millions of people agree. His YouTube channel has been viewed roughly 314,000,000 times, with individual videos receiving countless likes, comments, and shares. Whether he's eating mystery cans of dog food with his internet BFF or interviewing Michelle Obama, the 25 year old vlogger is on to something.
When we spoke after the NYC leg of his tour, Mr. Oakley explained that he began making videos more than seven years ago while attending Michigan State University, but back then the videos were more about efficient story-telling than internet notoriety. Instead of calling all of his friends individually to fill them in on the ins and outs of college life, Mr. Oakley took to YouTube as a quick way to share the stories with his friends. "I remember one of the videos got 100 views" he told the late Joan Rivers on her YouTube show In Bed with Joan, "and I was like, I don't even know 100 people!" Realizing his video diaries were slowly gaining popularity, a then teenage Mr. Oakley began addressing the questions piling in from viewers and conducting livestream Q&A's from his living room in Michigan. The increasingly popular videos slowly gained him a loyal audience. "It didn't happen all at once, it was definitely more of a slow burn, but I think it's better than way. It makes you appreciate what you have so much more." he told the Observer. Five years later, Mr. Oakley reached one million subscribers, who continue to tune in for Mr. Oakley's unique facial expressions, colorful hair, and hilarious commentary.
But it is his warmth that sets him apart from the countless others creating content online. He's the type that can manage to smile while he's talking–which would be annoying if he wasn't so damn likable. Over the last seven years, Mr. Oakley has been particularly open about his life and sexuality in his videos. So much so that Ricky Martin tweeted that Oakley's video– "National Coming Out Day"– inspired the pop star to publicly come out about his own sexuality. The moment–Mr. Oakley describes as "surreal"–taught him a valuable lesson about the power and expanse of the videos he was creating in his living room. "It taught me that you never know who's watching and you never know who you can help." Though many of his videos are light hearted and fun —"Hey Mom, My Nude's Leaked"—he takes his role as influencer very seriously and works to send a positive message to the millions of (mostly young) people watching his videos.
Mr. Oakley– who works closely with an organization working to prevent suicide in the LGBTQ community known as the Trevor Project–asked fans to raise $150,000 for the cause. "For my birthday, I wanted to raise $150,000 for @TrevorProject. Y'all raised $500,000″ he announced on Twitter. His ability to raise awareness and galvanize his fan base earned the 25 year old a Teen Choice Award, a 2014 Streamy Entertainer and Activist Icon of the Year, and a meeting with President Obama.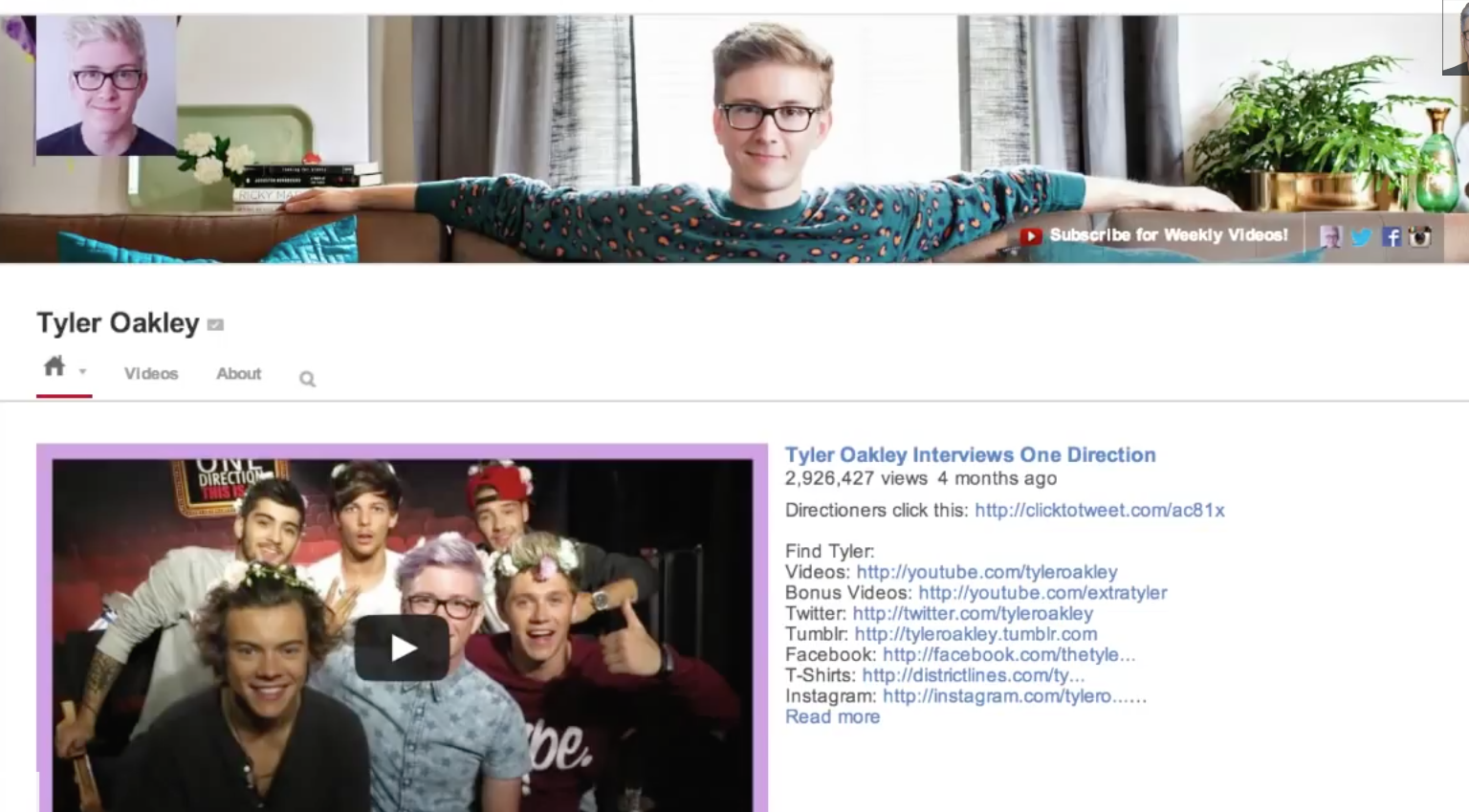 But it's hard to pinpoint the one thing Mr. Oakley does on his channel. For example, in a game of word association Mr. Oakley's name could not simply call to mind videos about kissing his straight best friend, traveling to Singapore, or Q&As regarding his sexuality. Instead, he does all of it. His channel is a mashup of everything he finds interesting and it seems his now 6 million subscribers do too.
Something of a social media expert, the YouTuber —who has a masters degree in communication— utilizes a number of platforms. With 3.4 million Twitter followers and more than 3.1 million Instagram followers, Mr. Oakley was named the 8th most influential YouTube personality in study by Birmingham City University. A consistent online presence is part of the job, Mr. Oakley told us, which is why he often gets more views in one video than some network television shows do all season. The strong connection with his fan base keeps him in the loop with what viewers want to see. And though it seems easy to post a video to the hugely popular website, serious bloggers, like Mr. Oakley, study analytics charts and trends. They know what their audience is responding to based on minutes watched, likes, and of course, the comments.  Suffice to conclude that the key to being a successful YouTuber is a lot of time spent online and if you're curious about the longest amount of time he spends offline, Mr. Oakley put it this way: "I spent nine months in my mom's womb. The Wi-Fi was terrible."
Mr. Oakley is now parlaying his internet success into the multi-city tour Tyler Oakley's Slumber Party. Something of a hybrid between a stand up comedy show and a variety show, Tyler Oakley's Slumber Party involves amusing personal stories, real-time Twitter Q&A's and live phone calls from his internet-famous YouTube friends. Audiences know to come dressed in PJs thanks to, what else, Twitter. "The set looks exactly like my living room at home so it's just like slumber parties I do online." Mr. Oakley told the Observer. The show was originally scheduled for two cities but after selling out in 72 hours, 7 additional cities recently were added to the tour.
But fans of his YouTube videos need not fear. Despite his rapidly accelerating career, Mr. Oakley tells us "I always said I would continue to make videos as long as it was still fun and seven years later, it's still fun. I still love it." We can practically hear the relieved sighs being typed into the Youtube comments as we speak.