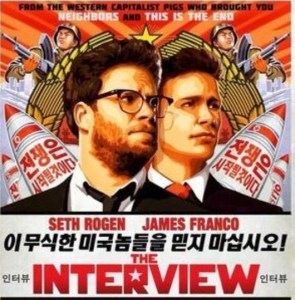 Collectors are betting that Sony Pictures' cancellation of its satire Interview, originally slated for a Christmas day release, will send the value of merchandise from the film soaring.
On web auctioneer eBay, the number of listings of posters and commemorative cups advertising the Seth Rogan-James Franco movie has climbed into the hundreds over the past two days. Sellers began listing the material when the film's New York premiere was cancelled due to hacker threats of violence. Shortly afterwards, national distribution of the film was cancelled entirely, birthing, in some people's eyes, some sort of a instant censored cult classic.
The controversial satire ends with the death of North Korean prime minister Kim Jong-un.
One poster, added two hours ago, carries a minimum bid of $10,000 but there are no bidders as yet. A few posters changed hands in the hundreds of dollars earlier in the week. Indeed, prices seem to be falling, not rising, as the sheer amount of material available becomes apparent.
No one should bet the farm on Interview memorabilia. While there's a big collectibles market for first editions of censored books, the highest prices in the movie-poster collecting field ($100,000+) have been paid for rare mint-condition posters from films that were hugely successful, such as Frankenstein, Dracula, King Kong, and Fritz Lang's Metropolis.