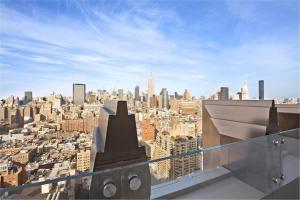 Unsurprisingly, the deed that turned up in city records today for Penthouse 2 at Walker Tower, that is 212 West 18th Street, lists as the buyer an anonymous corporation–BBC Chelsea, LLC, to be exact. Douglas Elliman's Vickey Barron, who handles sales at the building, declined to name the proud new owners when she spoke to the Wall Street Journal in November about the $40.73 million deal's closure, saying only that they were Californians planning to use the 6,700 square-foot place as a pied-à-terre. This, too, was unsurprising. We can't expect such frugal, all-cash buyers, who couldn't find it in their hearts to pay the full, $47.5 million original asking price, to squeeze into such a closet full time, after all.
And the aforementioned deed does reveal the buyers' primary address, 112 Emerald Bay, in Laguna Beach, which ranks with Orange County's most opulent and expensive homes, selling in 2008 for $25 million, according to the broker's website. A modern beachfront mansion with a cylindrical glass elevator and curving copper roofs, that home is known locally as Cresting Wave and was purchased, according to the Orange County Register, by LA Fitness CEO Louis Welch and his wife Michu.
So much for that Walker Tower gym!
Penthouse 2 does not have quite the sandy-beach views that Cresting Wave enjoys, but it does occupy a full floor of the Ralph Walker-designed conversion, employing floor to ceiling tilt-and-turn windows to take full advantage of 360-degree exposures. There are five bedrooms, three wood-burning fireplaces and rich French herringbone oak floors kept toasty through winter months by radiant heat. For warmer seasons, there is also an expansive north-facing terrace. "An unparalleled way of life within Chelsea's premier new address," in the listing's words, the penthouse is of course replete with all the fancy fixtures and appliances on offer throughout the building, and these are very fancy fixtures and appliances indeed.
But we don't want to oversell here, lest Property Markets Group principal Elliott Joseph grow angry with us. A co-developer of the building, he's currently trying to offload a pair of units he bought on the 18th floor as a combination, for $44.5 million.