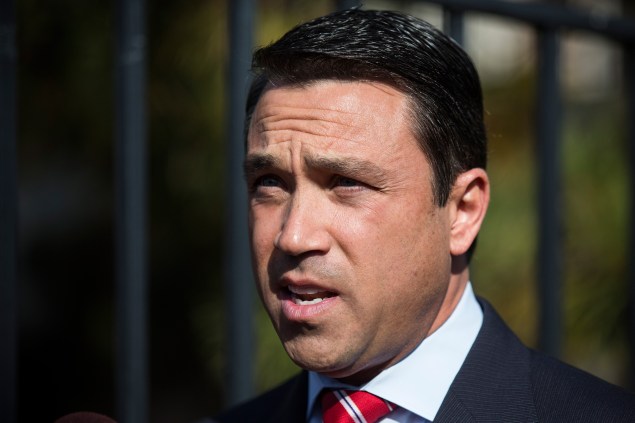 The calls for Congressman Michael Grimm to resign have begun.
Congressman Jerrold Nadler, a Democratic lawmaker, said tonight the Staten Island Republican should immediately step down in the wake of news that he will plead guilty to a tax evasion charge tomorrow.
"Obviously his conduct was disgraceful and apparently felonious. He ought to resign his seat forthwith," Mr. Nadler told the Observer. "We shouldn't have convicted felons serving in Congress."
After professing his innocence throughout his successful re-election bid this year, Mr. Grimm is set to plead guilty to a singe felony charge of tax fraud, the Daily News reported today. Mr. Grimm was indicted in April on a host of charges and in turn accused the federal government of undertaking a politically-motivated witch hunt against him, easily beating back a Democratic challenger who highlighted his legal troubles.
A call for Mr. Grimm to step down from Mr. Nadler, a Manhattan and Brooklyn lawmaker, is not surprising. Mr. Nadler aggressively supported Mr. Grimm's challenger, Domenic Recchia Jr., and frequently knocked Mr. Grimm, a former marine and FBI agent.
Mr. Grimm was set to be tried in February.
"Now that he's pleading guilty, given the fact that he knew he was guilty, he should have saved us the expense of an election," Mr. Nadler said tonight. "He was lying incessantly to the public."
Unlike state lawmakers, members of Congress are not forced to automatically resign if they are convicted of a crime. The Republican-controlled House can vote to expel him if he doesn't resign, an outcome Mr. Nadler said he saw as a possibility. House Speaker John Boehner, an Ohio Republican, has not yet indicated what he plans to do.
But Mr. Grimm, as Mr. Nadler pointed out, was alienated from the GOP establishment after he was indicted. With a large majority and little tolerance for additional distractions, the Republican leadership doesn't have much incentive to stand behind Mr. Grimm.
"I assume they would be loath to tolerate him if he tried to stick around," Mr. Nadler said. "I would presume he would have some shred of dignity and resign."
If Mr. Grimm steps down, Gov. Andrew Cuomo would be required to call a special election to fill the seat, leaving it up to the local Democratic and Republican organizations to nominate a candidate for the Staten Island and Brooklyn-based district. Mr. Cuomo failed to call special elections for vacant state legislative seats this year.
Mr. Grimm did not immediately return a request for comment.
Updated to clarify that Mr. Cuomo, unlike with state legislative vacancies, would be required to call a special election if a congressional seat is vacant.