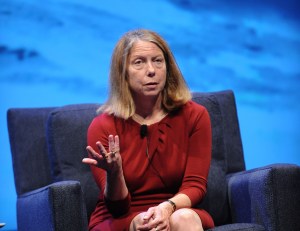 Who needs The New York Times? Not Jill Abramson.
The Times' former executive editor wrote a lengthy reported feature about the dearth of investigations into pedestrian fatalities for a community newspaper chain. "The Tragedy After," her 3,000 word story, will run in Straus Media (formerly Manhattan Media) papers The West Side Spirit, Our Town, Our Town Downtown, The Westsider and The Chelsea Clinton-News. The story is scheduled to publish online today, and print copies will be available in free newspaper boxes around the city tomorrow.
"If you want to kill someone in New York City and get away with it, the weapon of choice should be a vehicle," Ms. Abramson wrote. "It's the perfect crime. Fewer than 7 percent of the drivers in fatal crashes that kill pedestrians are ticketed and only a tiny fraction, usually only those who were driving drunk, face any criminal charges."
As long-timeTimes readers will remember, Ms. Abramson has a personal interest in the subject. She was hit by a delivery truck in 2007. In May, Ms. Abramson wrote a lengthy Times story about her accident and painful recovery, as well as the similar experiences of other Times staffers. Her story ran less than two weeks before she was abruptly fired from the top spot at the paper.
Of course, writing for the community newspaper chain is not the only thing Ms. Abramson has been doing since her controversial and highly publicized departure from the paper of record. This fall, she and Steven Brill announced a new journalism startup that will pay writers extremely handsomely for longform pieces. She has also been teaching a non-fiction seminar at Harvard, her alma mater.
Ms. Abramson's story is no doubt impressive. But still, we can't help but point out that this reporter wrote about pedestrian fatalities for East Side paper Our Town while in journalism school back in 2011. And while we don't know what Ms. Abramson was paid for the piece, as far as we remember, the fee back then was $100 per story.