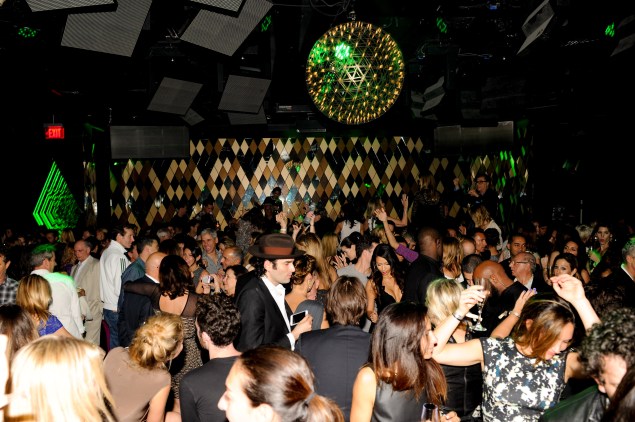 Despite the fact that the San San International does not exist, Jonah Freeman and Justin Lowe—the freewheeling artist duo who have previously trapped audiences in meth labs and pummeled pretty Hamptons eardrums with punishing noise rock—spent nearly an hour telling hundreds of Basel's best and brightest all about the San San International Thursday night. It was perhaps the biggest party evening of the week, and not the expected time revelers would sit down to hear a Borgesian exploration of a giant expo made up by art world provocateurs. But the exact contents of the performance had been kept such a secret for the weeks prior, and all that does is drum up hype. No one knew exactly what they were in store for with "Shadow Pool: A Natural History of the San San International."
"This is where they have a marching band from Ghana," said Mr. Freeman, who was pointing at an old image, provenance completely unknown, of a drumline walking through a packed convention center.
Mr. Freeman explained that the San San International took on a variety of subjects, from horse racing to gaming to technology to software to pornography—"the biggest one, by far"—to clothing, each topic examined exhaustively. Mr. Freeman explained the fake history of the fake fair in great detail. This went on for a while. People in their seats checked their phones, chatted, went to the bars in the back to find them closed, and before long started pouring out, unable to discern exactly why they were there. I scribbled some ideas in my notepad—perhaps this was an inevitable response to the Basel madness, a big middle finger that had to get very publicly flicked at some point. It was a marquee event that turned out to be something opposite of everything happening: a party with no cocktails and canapes, a spectacle that was impossible to Instagram, an event sans sponsors or purpose.
Maybe if it were not at the exact time as Dom Perignon party at the W South Beach, the wildly over-the-top centerpiece to this rollicking week of art parties, those with a sense of humor and maybe some antipathy toward the whole ordeal could sit and enjoy the hilarious stunt without extreme FOMO. But, given the timing, many people left before the punchlines could get delivered—the San San International also contained a fair devoted to the selling of contemporary art.
"As you can see, it's modeled almost exactly like Art Basel," Mr. Freeman said as a picture of an art fair was displayed on the screen. Pictures of The Armory Show and other fairs came up. It became clear that, when it comes to the people who were so bored they rushed to some fancy party, the joke is on them.
"It's kind of boring, but also kind of lucrative," Mr. Freeman said of the contemporary art component of the San San International, and also, effectively, of real art fairs.
Nearly 45 minutes of this meta-critique of Basel excess passed before our host mumbled something about a performance happening. All of a sudden, men and woman in send-ups of recent fashion trends started walking the paths through the crowds as if they were runways. You had some normcore kids, woodsmen, huge guys in military garb, and women in caftans. Capping it all was a totally naked girl smiling as she walked through, carrying a tray with some strange foodstuffs. Suddenly there was something very Instagrammable—though, if anyone posted a picture in earnest, the joke was, again, probably on them.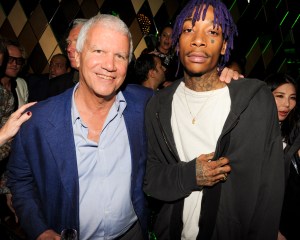 All of the proceedings made the event that followed all the more outrageous. Each year, the billionaire real estate tycoon Aby Rosen hosts a dinner for collectors and movie stars and Alex Rodriguez at the W South Beach, and then young guns Alex Dellal, Stavros Niarchos and Vito Schnabel take over the smoke-filled nightclub WALL, invite the upper crust of the Basel kingdom, stock the bars with Dom Perignon, and blast hip-hip until the walls shake.  It was such the polar opposite of Jonah Freeman and Justin Lowe's performance—a void of All Things Basel versus the epitome of Basel extravagance notched up to the nth degree—that it just as deftly explains the entire phenomenon. It's the kind of party where Larry Gagosian hangs out with Wiz Khalifa, where Vera Wang calmly taps on an iPad in the corner, where Owen Wilson acts as a de facto doorman as he stands by the entrances opening the door for Palm Beach socialites in shimmery dresses, where Baz Luhrmann corrals me in the corner to yell about Truman Capote and inevitably compare the entire thing to one of Gatsby's parties, where Tommy Hilfiger tells me about the Miley Cyrus show at the hotel he owns by saying she's an artist and that her work is "very, very contemporary art," where Paris Hilton stands on one of the risers Facetiming friends and chaining cigarettes and rapping along to Lil Wayne and popping open bottles of Champagne that spray Leonardo DiCaprio in the face causing him to summon Tobey Maguire and Lukas Haas and have them occupy a new table, where Venus WIlliams dances in the DJ booth with a half dozen Victoria's Secret models, and where Aby Rosen and the cluster of billionaires surrounding him holding thousand-dollar bottles of champagne that spill on the floor all summon all air in their lungs to belt out the lyrics "Tommy used to work on the docks, the union's been on strike, he's down on his luck, it's tough, so tough."
Say what you will about the unapologetic excess, but one thing's for sure: they don't have a Dom Perignon party like this at the San San International.