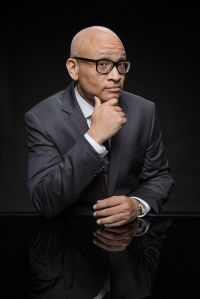 Executive producer of both ABC's black-ish and 2002's The Bernie Mac Show Larry Wilmore will host the 67th Annual Writers Guild Awards New York ceremony, the Writers Guild of America, East announced today.
Mr. Wilmore is also a long-time onscreen presence, serving as The Daily Show's all-important "senior black correspondent" since 2006. Starting January 19, 2015, Mr. Wilmore will serve as anchor of Comedy Central's The Nightly News with Larry Wilmore. 
The Writers Guild Awards honor stellar writing in pretty much every platform imaginable, from television and movies to new media, video games and graphic animation. The New York ceremony will be held on February 14 at the Edison Ballroom in New York, simultaneous with the Writers Guild, West ceremony in Los Angeles.
Mr. Wilmore himself has been nominated for four Writers Guild Awards in the past, once for his time on The Bernie Mac Show and three times for The Office.